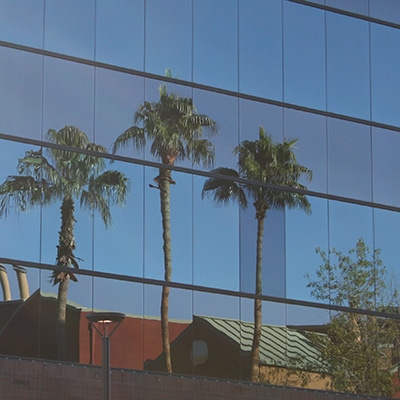 Sessions College is located in Tempe, Arizona
About Sessions College
School Administration
Founded in 1997, Sessions College is recognized as a pioneer in online education: the first accredited online school of design. Celebrating over 20 years in existence, Sessions College is still committed to advancing the quality of online education, serving students better, and staying on the cutting edge of online learning, technology, and design.
Ms. Granatowski directs the business operations and financial management of Sessions College. A formerly licensed CPA, Ms. Granatowski holds several advanced degrees, including an MS in Education and an MS in Accounting. Prior to joining Sessions College, Doris was in public accounting with Ernst & Whinney, Arthur Young, and the Financial Accounting Standards Board. After leaving public accounting, Doris served in various domestic and international executive roles in technology and service companies, including International Thompson, E-Share Technologies, Imrex Computer Systems, and Cheyenne Software, as well as several start up and growth companies. Ms. Granatowski's background in education, technology, and finance equips her well for day-to-day direction of school strategy and operations.
Gordon Drummond has served as the President of Sessions College since February 2011. Gordon is an educator and instructional designer with a passion for art, design, and technology who joined Sessions in 2001. As President, Gordon's role is to provide the leadership to help our school directors achieve their goals in education, operations, marketing, and student services teams. His key tasks include managing accreditation, licensing, and relations with government agencies and other institutions, coordinating strategic and educational planning, and representing the school at conferences, seminars, Webinars, and other public events. Prior to Sessions College, Gordon gained cutting-edge instructional design and online content expertise in director roles at Kaplan, Inc., and LearningBrands. Throughout his career, Gordon strives to create a positive environment for teaching and learning and a culture of planning, execution, and accountability. Outside of Sessions College, Gordon has extensive experience in school accreditation. Since 2007 he has served on the Middle States Association Commission on Secondary Schools, where he was Commission Chair from 2013-15 and served on the MSA Board of Trustees. Since June 2017, he has served on the board of the Distance Education Accreditation Commission (DEAC). Gordon holds an MA in English Literature from the University of Edinburgh in Scotland.
Executive Vice President Louis Schilt serves as the Military Liaison and Financial Advisor for the school's numerous military programs, among other responsibilities. Lou holds New York State teaching licenses for the primary and middle school academic levels, as well as being a licensed NY State Public School Administrator through Superintendent. During his teaching tenure, Lou pioneered programs in individualized instruction that emphasized the homogenous grouping of students and teaching methodologies that addressed students' various learning styles. Lou is active in the Council of College and Military Educators (CCME) and recently served as Executive Officer to the CCME Board of Directors.
Carole Anne Bailo directs financial management and strategy at Sessions College. Carole Anne is a seasoned financial professional with an extensive and varied background in both profit and not-for-profit organizations. She has worked extensively with venture capitalists to fund start-up companies and has played a major role in bringing several companies through the IPO process and/or merger and acquisition. Carole Anne has served as Chief Financial Officer for the Center for Developmental Disabilities, a not-for-profit organization dedicated to children and adults with developmental disabilities. Carole Anne is a Certified Public Accountant who holds degrees from Pace University, Queens College, and an MBA in Taxation from St. John's University.
Dr. Meryl P. Epstein is the Dean of Academic Affairs at Sessions College. In a dynamic and evolving role, Meryl is responsible for faculty training and evaluation, outcomes assessment, and curriculum development. Working with our Sessions College Faculty, Department Heads, and our Advisory Board, Meryl directs program planning and institutional improvement activities, providing academic leadership and guiding program development, accreditation, and more. Dr. Epstein is focused on helping the innovative Sessions College team to continue to achieve the mission of preparing design professionals. Meryl strives to inspire excellence and is consistently focused on supporting the existing creative and positive environment of Sessions College.
Outside of Sessions College, Meryl has extensive experience in design, education, and leading academic teams and has served as Dean of Academic Affairs, Program Chair, Doctoral Development Faculty, Art Director, Graphic Design Manager, Higher Education Faculty member (online and on-ground), Change Agent, and Exhibiting Artist/Photographer. Highlights from her career include implementing and leading the graphic design of three different museums (Scottsdale Museum of Contemporary Art, Arizona Science Center, and Arizona Historical Museum) and receiving the first Arizona AIGA fellow award. Meryl holds an EdD in Educational Leadership from Argosy University, MFA in Fine Arts (Photography) from Arizona State University, and BFA in Graphic Design from University of Illinois at Urbana-Champaign.
As Senior Director of Admissions, Jessica's goal is to help students find the best path to achieving their career goals. She has spent nearly a decade in the print industry, learning to take designs from the digital screen and bring them into a tangible reality that clients can hold in their hands. As a working mom, she can relate to the challenges inherent with finding time in an overloaded schedule to broaden one's education, and she is passionate about guiding students who feel the pressures of a full-time agenda. When not at Sessions, Jessica can be found balancing freelance design with spending time with her kids, playing video games, and checking out Arizona's growing number of craft breweries
As Senior Director of Admissions, Kimberly mentors the Admissions Team to guide incoming students, as well as organizes marketing and communications to prospective students and alumni. She held an active role as the Vice Chair for her city's Arts and Cultural Commission for three years, where she managed projects that encouraged cultural diversity and improved livability through art. Prior to joining Sessions College, she was a Graphic Designer and Marketing Coordinator at ICM Document Solutions. Kimberly earned an Associate in Applied Science in Graphic Design from Glendale Community College and a Bachelor of Science in Business Administration from Oregon State University. She is currently pursuing a Master of Science in Business, with a focus in Marketing and Analytics. Aside from the professional world, Kimberly enjoys studying environmental justice issues, hiking, kayaking, and coffee.
Tyler Drake is the Senior Director of Student Services at Sessions College. Tyler manages our Student Services department focused on the academic success of our students. A veteran in online education administration, Tyler has 9 years of experience working in Admissions and Student Services helping students reach their potential as well as their educational goals. Tyler earned his Bachelors Degree in Interdisciplinary Studies from Arizona State University and has completed a Masters Degree in Sports Leadership from Concordia University Chicago. He is passionate about sports, movies, music, family, and overall the benefits that come from having a quality education.
Christine Colotla is the Director of Finance, supervising the team responsible for accounting and financial aid processes. Christine is a seasoned financial professional with more than 10 years of finance, financial aid, and accounting experience at firms ranging from H & R Block to JC Penney and Overstock. In her most recent role, Christine managed an accounting team at Ameritech College of Healthcare in Draper, Utah. In the role she was responsible for company reporting regarding cost management, budgeting, forecasting, and revenue.
As Senior Director of Technology and Operations, Jason Wollard is responsible for supporting our office facilities, technologies, networks, and operational processes. Jason has extensive experience in financial report and analysis, budgeting, forecasting, and general accounting practices: Including full month and year-end cycle, and a solid experience working with CPA firms and auditors. He fuses this experience with his expertise in server and network administration and telecommunications systems.
As Director of Marketing Strategy, Jeff Bolds oversees our search marketing and lead acquisition processes. Jeff is a marketing director with over 15 years of experience in planning, developing and managing the digital efforts of leading education organizations. Jeff's successful track record is easily noticeable in the details of each of his past and current employers as he applies his natural management style which makes him a great transformational leader. Jeff is also an extreme originator – capable of seeing the big picture and generating vision that creates excitement and motivation from those around him. Previous organizations include Northcentral University, Pima Medical Institute, National College, and Universal Technical Institute.