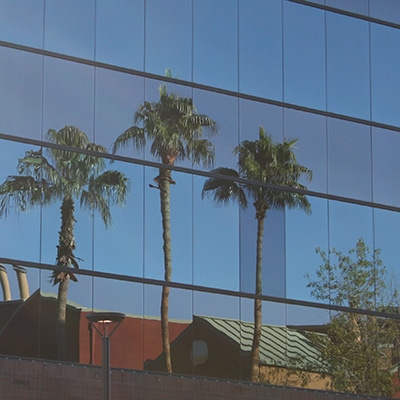 Sessions College is located in Tempe, Arizona
About Sessions College
School Administration
Founded in 1997, Sessions College is recognized as a pioneer in online education: the first accredited online school of design. Celebrating over 20 years in existence, Sessions College is still committed to advancing the quality of online education, serving students better, and staying on the cutting edge of online learning, technology, and design.
Ms. Granatowski directs the business operations and financial management of Sessions College. A formerly licensed CPA, Ms. Granatowski holds several advanced degrees, including an MS in Education and an MS in Accounting. Prior to joining Sessions College, Doris was in public accounting with Ernst & Whinney, Arthur Young, and the Financial Accounting Standards Board. After leaving public accounting, Doris served in various domestic and international executive roles in technology and service companies, including International Thompson, E-Share Technologies, Imrex Computer Systems, and Cheyenne Software, as well as several start up and growth companies. Ms. Granatowski's background in education, technology, and finance equips her well for day-to-day direction of school strategy and operations.
Doris Granatowski
Gordon Drummond was appointed the President of Sessions College in February 2011. As president, Gordon's role is to provide the leadership for the school executive team to achieve their education, operations, marketing, and student services goals. Key tasks include maintaining and enhancing school accreditation, licensing, and relations with government agencies and other institutions, working with the CEO and CFO to manage annual strategic planning and budgeting, representing the school at conferences, seminars, Webinars, and other public events. To help Sessions College meets its mission of preparing design professionals, Gordon will create a positive environment for teaching and learning and a culture of planning, execution, and accountability.
Outside of Sessions College, Gordon has extensive experience in school accreditation. Since 2007 he has served on the Middle States Association Commission on Secondary Schools, where he was Commission Chair from 2013-15 and served on the MSA Board of Trustees. Since June 2017, he has served on the board of the Distance Education Accreditation Commission (DEAC). Gordon holds an MA in English Literature from the University of Edinburgh in Scotland.
Gordon Drummond
Executive Vice President Louis Schilt serves as the Military Liaison and Financial Advisor for the school's numerous military programs, among other responsibilities. Lou holds New York State teaching licenses for the primary and middle school academic levels, as well as being a licensed NY State Public School Administrator through Superintendent. During his teaching tenure, Lou pioneered programs in individualized instruction that emphasized the homogenous grouping of students and teaching methodologies that addressed students' various learning styles. Lou is active in the Council of College and Military Educators (CCME) and recently served as Executive Officer to the CCME Board of Directors.
Louis J. Schilt
Carole Anne Bailo directs financial management and strategy at Sessions College. Carole Anne is a seasoned financial professional with an extensive and varied background in both profit and not-for-profit organizations. She has worked extensively with venture capitalists to fund start-up companies and has played a major role in bringing several companies through the IPO process and/or merger and acquisition. Carole Anne has served as Chief Financial Officer for the Center for Developmental Disabilities, a not-for-profit organization dedicated to children and adults with developmental disabilities. Carole Anne is a Certified Public Accountant who holds degrees from Pace University, Queens College, and an MBA in Taxation from St. John's University.
Carole Anne Bailo
Deluvine is the Admissions Manager at Sessions College. Deluvine oversees our admissions process to ensure a positive student experience. As Admissions Manager, her goals are to make sure we enroll students who are the best fit for Sessions College. Her mission is to help our knowledgeable Admissions staff provide superior service for prospective students. Deluvine has been in the college admissions field since 2008, serving in management and team lead roles at a range of institutions. Deluvine earned her BSBM at University of Phoenix. During her free time, she loves to travel. She prefers a beach or a cabin in the woods but is always up for a new adventure!
Deluvine Carnelia
Tyler Drake is the Director of Student Services at Sessions College. Tyler manages our Student Services department focused on the academic success of our students. A veteran in online education administration, Tyler has 9 years of experience working in Admissions and Student Services helping students reach their potential as well as their educational goals. Tyler earned his Bachelors Degree in Interdisciplinary Studies from Arizona State University and has completed a Masters Degree in Sports Leadership from Concordia University Chicago. He is passionate about sports, movies, music, family, and overall the benefits that come from having a quality education.
Tyler Drake