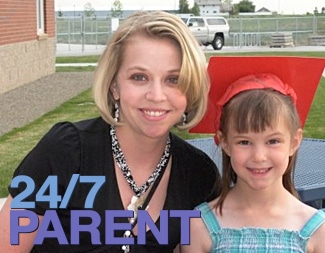 Military spouse and full-time mom Kim Wood pursued her education and graduated on-time while maintaining her family responsibilities.
Degree Program Scholarships
24/7 Parent
Parenthood can be a professional gap, but it can also be a time to retool your career and your education. With our flexible online programs, we've been fortunate to work with countless moms (and dads) who were able to pursue their creative education while holding down the fort as primary childcare provider in the home.
What's more creative than been a mom (or Dad)? Nothing, except perhaps earning a degree in Graphic Design or Digital Media. That's why we are offering up to $2,000 in 24/7 Parent scholarships to degree program students.
How to Apply for the 24/7 Parent Scholarship
Scholarship applicants will submit an essay of no more than 500 words entitled "Educating Mommy (or Daddy)." Describe the challenges of going to school as a primary home childcare provider and explain why an online program will help you overcome those challenges.
All applicants must submit all applications by the seasonal application deadline. Applicants must be the primary provider of childcare in their household. Award recipients will be asked to provide evidence to validate their parenting role. For complete Designed for You scholarship terms and conditions, please see scholarship program rules.
View other scholarships:
Request Scholarship Information
An Admissions Advisor will contact you to discuss program options. We will never share your information and you may choose to opt out at any time. Privacy Policy.