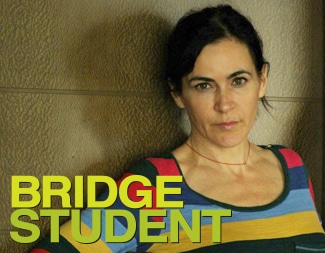 Myriam Keaton transferred her vocational certificate program credits into a degree program, graduating in 15 months.
Degree Program Scholarships
Bridge Student Scholarship
The Sessions College vocational certificate program has always been a breeding ground of talent. Product designers, art directors, interactive leads, and agency heads are among our many thousands of certificate program graduates.
We are furthering that tradition by providing more opportunities for top certificate program graduates to turn their certificates into a degree. That's why we are offering up to $2,000 in Bridge Student scholarships to students applying to degree program classes. We are easing the path to earning a design degree.
Did you know that the Certificate/AOS Bridge program allows certificate program graduates to transfer up to 21 credits into an Associate of Occupational Studies program? Bridge students with general education or art/design credits from other schools can earn their degree in fifteen months or less. See complete Bridge Program information.
How to Apply for the Bridge Program Scholarship
All applicants must submit all application materials by the seasonal application deadline. Applicants must be graduates of Professional Certificate programs who started programs Fall 2008 or later. Scholarship applicants will submit an essay of no more than 500 words entitled "Why Online Learning Works for Me." Describe what makes online learning the perfect solution for your education.
Bridge scholarship awards will be based on the grades and overall quality of certificate program work. For complete Designed for You scholarship terms and conditions, please see scholarship program rules.
View other scholarships:
Request Scholarship Information