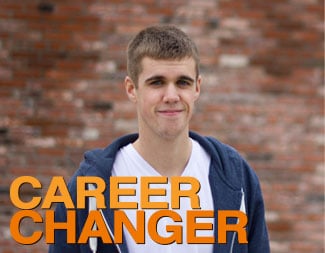 Associate Degree Graduate Kyle Gilbreath made the switch from nuclear engineering to a career in Web design.
Degree Program Scholarships
Career Changer
Since 1997, Sessions College has been proud to serve adult learners. With our flexible online programs, we've helped thousands of busy working adults pursue their education while fulfilling their career or family obligations.
What if you always wanted to go to art school or utilize your right brain for a living? We've helped people in all lines of work develop their art/design skills for career changes. We believe that creative people need to be doing creative jobs.
That's why we are offering up to $2,000 in Career Changer scholarships to students applying to the Associate degree program. We want to be part of your life change.
How to Apply for the Career Changer Scholarship
Scholarship applicants will submit an essay of no more than 500 words entitled "My Creative Career Change." Describe your career and explain why you are pursuing a career change to an art/design role.
All applicants must also submit complete degree application materials by the seasonal application deadline. Applicants in this category must provide a professional resume and two professional references. For complete terms and conditions, please see scholarship program rules.
View other scholarships:
Request Scholarship Information