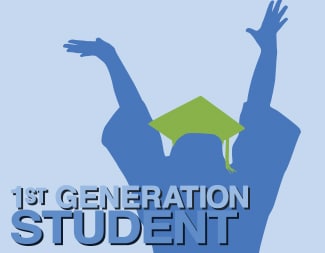 Getting a degree can be an important investment in the future for a first-generation student and his or her family.
Degree Program Scholarships
First Generation
Getting into college is a goal throughout our society. Beyond the pure value of getting an education, studies show that earning a degree correlates with better career prospects and higher income.
A 2010 study by UCLA found that 1 in 6 college students in the U.S. are first-generation students, defined as those whose parents did not receive education beyond a high school diploma. And yet the same study found that first-generation students face unique challenges in adjusting to college and graduating with a degree.
Extending access to education is a national goal. That's why we are offering up to $2,000 in First Generation scholarships to students applying to the degree program.
How to Apply for the First Generation Scholarship
Scholarship applicants will submit an essay of no more than 500 words entitled "First in My Family." Describe the difference a degree in design will make to you and your family.
Applicants must submit all application materials by the application deadline. Applicants must be U.S. citizens who are able to document their family education background. Applicants must document their financial need via a completed FAFSA application.
For complete Designed for You scholarship terms and conditions, please see scholarship program rules.
View other scholarships:
Request Scholarship Information