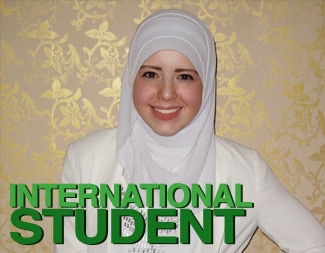 Living in industrial Saudi Arabia didn't stop Hiba from earning her degree in Graphic Design.
Degree Program Scholarships
International Student Scholarship
Founded by designers from three continents, Sessions College has always been a truly international school. We've graduated students from more than 80 countries. We believe in reaching an international community of students to foster art/design talent all over the globe.
Just as important, we know that our design school benefits from the perspectives of international students. That's why we are offering up $2,000 in International Student scholarships to students applying for degree program classes. We think the world of our students.
How to Apply for the International Student Scholarship
Scholarship applicants will submit an essay of no more than 500 words entitled "Design in [My City or Country of Origin]." Describe why earning a design degree will help you build a career that will benefit your local community, city, or country. All applicants must submit all applications by the seasonal application deadline. Applicants must not be citizens or residents of the United States. Proof of nationality will be required of potential scholarship winners.
For complete Designed for You scholarship terms and conditions, please see scholarship program rules.
View other scholarships:
Request Scholarship Information