Explore the Magic of Creative Storytelling
Digital Media and Digital Photography Scholarships Available
Explore the magic behind storytelling with images and video by pursuing an online degree in Digital Media or Digital Photography.
You already think outside the box and find inspiration in the world around you. Our online programs can give you the tools you need to create effective videos or photos that will make an impact on the world.
Enroll in the January 2018 semester start and be eligible for a $500 tuition grant.
"I was never sure that I wanted to be a graphic designer, or a video editor, but I soon learned that I love to tell a story in my own way"
– AOS in Digital Media graduate Janel Damiani talks about launching her digital media career.
Unleash your Digital Storytelling Powers
Real World Skills
Learn to effectively stage and style your subjects by understanding lighting, shooting conditions, and other methods to successfully express your vision.
Range of Creative Projects
Master pre-production, production, and post-production techniques, and gain exposure to challenging projects in a range of commercial settings, including weddings, night life, fashion, and fast-action sports.
Learn from the Pros
Our faculty of professional filmmakers and photographers will guide you as you problem solve creative challenges. Upon completion of your program, you will be prepared to work in a range of professional contexts.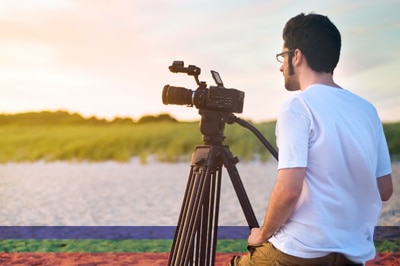 Request Information
Complete this form to request information or set up an appointment with an Advisor. Or call us at 800-258-4115.
An Admissions Advisor will contact you to discuss program options. We will never share your information and you may choose to opt out at any time. Privacy Policy.