Sessions College 15-year Anniversary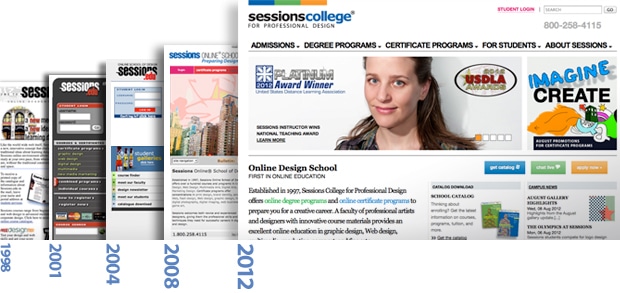 Sessions College celebrates a remarkable anniversary this Fall: 15 years as an online school. Now an accredited, degree-granting college, Sessions was founded in New York in 1997 during the heyday of the dot com era. Simply named "Sessions.edu" for its first five years of existence, the school has evolved from a pioneering e-learning company into a respected leader in online arts education.
Time travelers returning to 1997 would find a very different Internet/technology landscape from today.
In 1997, Google founders were just registering the domain "Google.com." Facebook founder Mark Zuckerberg was in middle school, writing his first software programs in BASIC. The majority of Internet users were still "surfing" the Web on dialup modem connections. Early Web designers were creating graphics using Adobe Photoshop 4.0 on Mac OS 8.
Sessions.edu, or Sessions Online School of Design as it was soon called, was inspired by a vision that online classes would provide the ideal environment for art/design students from all over the world to learn design, submit work, and get feedback from their instructors. In 2001, the vision was validated as the school became the first accredited fully online school of design.
Fifteen years later, we celebrate that vision. As online education as grown in popularity and acceptance, Sessions College has emerged to become the premier provider of online arts education.
Institutional Recognition. We've earned an array of accreditations, awards, and approvals since 2001. Sessions College has been recognized by the DETC, Middle States Commission on Secondary Schools, Arizona Board of Private Postsecondary Education, the Arizona Dept. of Veterans Affairs, USDLA, and more.
Cutting-Edge Curriculum. Launched in 1997 with just three groundbreaking courses, Sessions College now offers an expanding range of degree and certificate programs. Students can now earn credentials in graphic design, Web design, digital media, and many more.
Teaching Talent. Sessions College is powered by a faculty of more than 30 design professionals. We bring expert talent to the online classroom, with our teachers earning national accolades for teaching, animating the video games of tomorrow, and writing the best selling books in design technology.
Westward Home. Though founded in New York in 1997, Sessions College moved its center of operations to Tempe, Arizona in Fall 2009. A growing and talented team of admissions, marketing, and student services personnel provide the energy and support to keep an online school ticking.
Student Achievement. Sessions College continues to attract a diverse and talented student body, as you can see in our student interviews, our alumni profiles, and our student ambassadors team. We have thousands of program graduates from more than 80 countries around the world. And they continue to inspire us with stellar work, as you can see from our student gallery. Our 2012 Commencement Ceremony features over 200 students, eight awards, and one very inspiring guest speaker.

Join us as we celebrate 15 years in online education and look forward to the next chapter in our history.

Sessions Staff is a restless soul who loves to share Campus News stories with current and prospective students.