Alumni Profile: Annetta Killian, Outstanding Graduate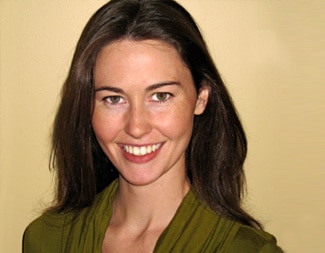 Once a year, the staff at Distance Education and Training Council (DETC), the primary accreditor for Sessions College, asks us to nominate an outstanding graduate.
Our outstanding graduate this year was Annetta Killian, who earned her Graphic Design Advanced Certificate with concentrations in Print Design and Web Design in March 2010. As the wife of a US Navy officer, Annetta was able to take her program through the Military Spouse Tuition Aid Program and complete her coursework while moving all around the country.
During her time as a Sessions College student, Annetta distinguished herself with straight A and A+ grades and impressed her instructors with her work both as a designer and an illustrator. Annetta also created the winning entry for a school-wide design competition for American Cancer Society. Annetta combined design and illustration to communicate positively about a sensitive subject. As the competition winner, Annetta worked directly with the client to refine the finished piece.
Where are you from and what brought you to Sessions?
I was born and raised in Southern Maine. I followed a general course of studies in high school, but always knew that I was interested in art and design and therefore attended the Maryland Institute College of Art for college. I received a BFA in Environmental Design. After school, I realized that I was not interested in working specifically in architecture, and simultaneously was marrying into the Navy and would need a career that was flexible. I knew that I needed to strengthen my skills in Graphic Design as well as be able to take classes while moving all over the country and found Sessions to be just the right fit.
How did being a military spouse impact your decision to study design online?
Being a military spouse greatly influenced my decision to study online. In the first three years of our marriage, my husband and I have lived in Ohio, Florida and Virginia due to his flight school training. It made it difficult to settle into any curriculum without having to transfer credits, schools, etc. Sessions allowed me to work and take classes at my own pace and move around the country. The only changes I had to make were to log-on and change my address in my profile! It really made all the difference.
How did the Sessions program help shape your design interest or career goals?
I started out at Sessions knowing that I wanted to learn as many skills as possible, including package design, branding, Web design, and layout. By taking classes in each of these, I realized my strengths and weaknesses. I knew that Web design was something that I should learn to stay current in the design industry, but in the end, found that I was more interested in print design. If I hadn't taken classes in both print and Web design, I wouldn't know that about myself. Joss Parsey who taught Graphic Design I and Advanced Product Design was my favorite instructor. She was available for advice and gave very good constructive criticism.
During your Sessions program you were the winner of a design competition for a very prestigious client, American Cancer Society. How did you approach the project?
I was very excited about the project because it combined illustration, layout, and logo design, some of my favorite aspect of the design process. I knew that the subject matter was very sensitive and wanted to be as respectful as possible. By using a silhouette, I was able to illustrate the serious nature of what the wig program offered while at the same time keeping it upbeat and colorful with a feminine, retro feel.
You have a degree in Environmental Design as well as your Sessions College Certificate in Graphic Design. Where has this path led you in terms of your career goals now?
With both my degree and certificate, I feel that I have gained experience in two very important aspects of design, architecture and graphic design. The analytical thinking required for my degree in environmental design definitely influenced how I went about finding creative solutions for graphic design projects. Essentially, no matter how many different technical skills you learn, having an understanding of critical thinking is always going to inform and enhance your work, no matter what the media. I hope to offer myself as a creative problem solver, whether it is in the field of graphic design, illustration or environmental design.
Visit sessions.edu for information on online graphic design courses and graphic design certificate programs.

Sessions Staff is a restless soul who loves to share Campus News stories with current and prospective students.