Alumni Profile: Jeremy Willmott, Digital Art Director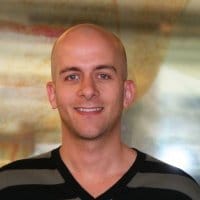 This article is the first of a series of profiles on Sessions College graduates.
Design Graduate Profile: Jeremy Willmott, Web Design Certificate
Where are you from and what brought you to Sessions College?
I'm a Londoner born and bred — grew up in north London and went to school in Hertfordshire. I studied Psychology at degree level in Sussex University before venturing to Bermuda to run a seafood restaurant. I loved living and working in Bermuda in my twenties but really was looking for a change of career for my thirties so opted to study online at Sessions. I enrolled in the Advanced Web Design certificate program, which covered many topics I wanted to learn and focused on Flash.
Completing the program was a two year endeavor. It required a lot of my spare time and days off. But I gained a great deal of knowledge and a pretty decent portfolio of work.
What have you been doing since finishing your studies at Sessions? What kind of design work do you do and where do you work now?
After I graduated, I returned to London in 2006 and took a huge pay cut from my previous job to work as a junior creative developer at GT (now http://london.vml.com/ ). I learned a lot on the job and put together many a Flash banner there while honing my design and coding skills. I left in 2009 to work at http://leanmeanfightingmachine.co.uk/ as an interactive designer.
Most recently I became a Senior Designer at Weapon 7, http://www.weapon7.com/w7/. At Weapon 7, I'm responsible for all the major site designs and work closely with all teams, managing freelancers and ensuring a high level of creative output. In my time there I've worked on several accounts, from the BBC to Microsoft, Audi, Mercedes-Benz, Samsung, Bacardi, HTC, and Emirates.
On my own time, I've continued to work on my portfolio over the years, as you can see at my portfolio site.
What client, project, or employer would you consider your break into design?
I guess my break into design was really with Canon whilst at GT as it was my first job for a client at this level. I've come a long way since then but building these banners taught me everything I could possibly learn about Flash as I had to squeeze every last k out of these 30kb banners. They also had to be localised into several languages which taught me that I should work in a very structured manner and how best to organise my work in a commercial environment. Deep end it certainly was!
Who was your favorite instructor at Sessions?
Flash instructor David Witt was my favorite instructor at Sessions. He was always there to help you with words of wisdom and encouragement through my studies. His help was great because he was totally honest. I wanted proper criticism of my work so that I'd know what people really thought of it. This really helped me push my creative limits through my studies. He was also extremely supportive and went above and beyond regularly to help.
David Witt and I actually stayed in touch beyond the course and have both followed each other's careers. I stayed active on student forums to help new students and I even met my instructor for a drink whilst he was in London one year. It's this kind of interaction that takes you beyond studying in your "bedroom" to the real world with real advice. It was an invaluable process. Having the interaction of a class full of other students and an instructor meant that I could study at my own pace but also be motivated to succeed in ways that I'd never have achieved from books alone.

Sessions Staff is a restless soul who loves to share Campus News stories with current and prospective students.