Creative Classes Without The Commute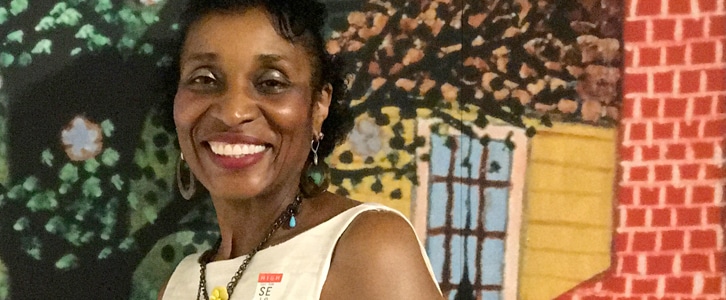 Pernell Andrews
Conyers, GA
Associate Degree in Illustration
When she's not traveling the world or running marathons — or enjoying life as a grandmother — our November student of the month Pernell Andrews is developing her artistic skills in the Sessions College AOS in Illustration program. Exploring drawing, illustration, and painting without having to commute to college has given Pernell inspiration to pursue a range of outlets once she graduates. 
Q: Describe your journey that led you to study illustration and design.
My journey into and love of design basically started when I was between 10 and 14 years old, when I became fashion aware and I have a natural talent for drawing and sketching. I began to design my own clothes by drawing them on paper. I could look at a picture and recreate whatever I saw. However, once I discovered that in order to become a fashion designer, I had to know how to sew that desire left me because I really had no interest in sewing! I'd really rather create and let someone else sew!
At that point I created a host of fashion drawings for myself because of the sheer joy of creating. I did not initially pursue a career in illustration and design, I chose to enter the corporate world and I built a successful career with a fortune 500 company. But my passion for illustration and designing never left me.
Now at 53 years old life has presented me an opportunity to reinvent myself, so that love for illustration and design prompted me to follow my dreams. I decided why not pursue a career in a field that I was passionate about. Sessions is paving the way for me in a career that has enabled me to take charge of my future and see where it takes me.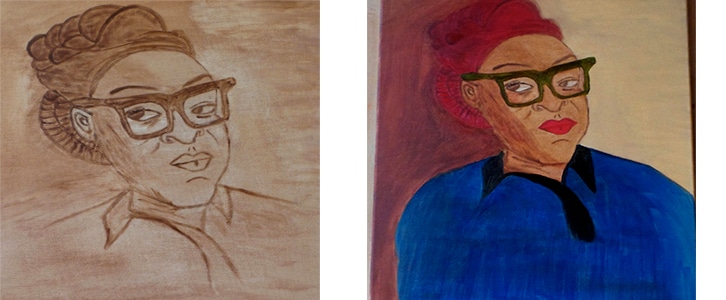 Q: Outside of Sessions, what do you like to do? What are your outside passions or interests?
What I love to do outside of Sessions is world travel. Earlier this year my husband of 32 years and I traveled to and spent a month in Kuala Lumpur, Malaysia. (Yes I continued to turn in my Sessions classwork online!) Over the years we have been to many countries – Costa Rica, Belize, Singapore, and France, just to name a few. I also have a love for fitness so I run marathons, attend LA Fitness on a regular basis, and do 5 mile hikes with my husband at least 3 times a week as well as spend quality time with my grandchildren.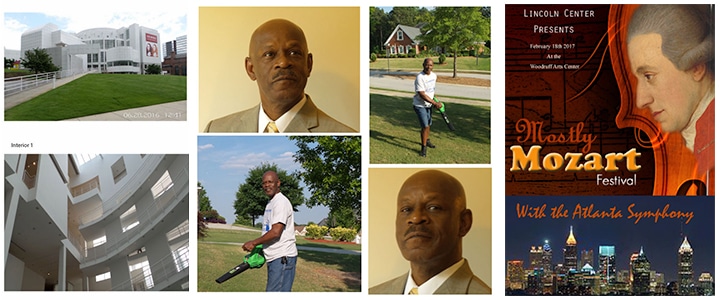 Q: What are the benefits of studying online at Sessions?
I feel the benefits of studying online at Sessions for me are many! Being able to work from home and online classes at Sessions does not interfere with travel anywhere, or anytime, as long as there is an internet connection.
Being able to schedule my time and work at my own pace is a definite plus. The ability to obtain a degree from a top notch accredited college without the hassle of commuting, burning gas, and getting stuck in traffic is also high on my list. The experience has been great.
Q: What are your professional goals after graduation?
My professional goal after graduation is to create my own business, by freelancing. With this degree from Sessions I feel it will open up a whole variety of outlets for me and will enable me to do everything from storyboards for file sequences, to designs for book covers and digital album art to public and private industry logo creation.
Q: Words of wisdom for any aspiring designers out there?
Follow your dreams and hope for the best. I know what I am about to say is cliché, but for me it's simple, just believe in yourself, work hard, never give up, and when a positive opportunity presents itself, as it did for me, take it! There is a quote by Maya Angelo that I love, which says "Hope & Fear cannot occupy the same space, invite one to stay."
To learn more about online Graphic Design programs at Sessions College, visit our Undergraduate Certificate or Associate Degree pages and talk to an Admissions advisor.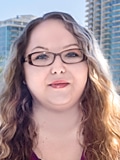 From 2018-2020, Angella was a Student Advisor at Sessions College. She has a Master's Degree in Educational Policy from ASU, and likes to use her knowledge of graphic design to make invitations, holiday cards, t-shirts, and more.