Creative Director Discusses New Campaign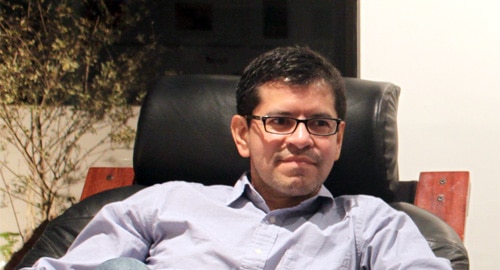 On July 1st, Sessions College launched its new Creative marketing campaign for fall classes. The campaign is an eye-catching addition to a Web site that has already won a GD USA design award this year. To find out how the campaign developed, we talked to the school's Creative Director Patricio Sarzosa. Mr. Sarzosa is a veteran graphic designer and Web designer who has guided the Sessions brand for ten years and teaches at SVA in his spare time.
Q: Can you talk about the inspiration and process for the new campaign?
We have been teaching design for more than ten years, and one of our main strengths is the diversity of our students, who come from all over the world. Students are our core, our reason to teach design, our inspiration.
When we developed the concept of the new campaign, we thought about them, and the need to give them the space to show their abilities, their character, and their work. We had a growing Student Profile section, but we realized we have more to show from our students. So we decided to choose a student to represent each program, and to represent our military students, international students, and recent high school graduates too.
We asked our students questions about why are they studying design—and what studying with us meant to them. Those questions helped us to identify inspirational messages to create all the elements for the campaign. Because we have some great students, we got wonderful messages, and the content flowed from there.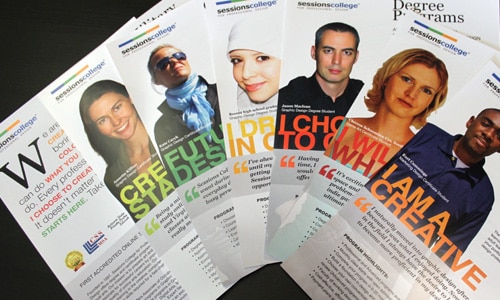 Q: One of the main campaign messages is "creativity starts here." What does creativity mean to you?
For me, creativity means learning how to use everything that you do with your hands and communicating something with them. It doesn't matter what it is, what's important is to play with your elements, use any tool available, and create something that makes sense and is interesting.
Q: The campaign has many parts (folder, a tri-fold brochure, an electronic brochure, Web ad banner, and even some new apparel design!). How did it all come together?
We created sketches to find a good balance in the composition. Then it was a matter of placing those elements in each piece of the campaign. Since each piece is different, and we were designing for Web and for print, we often had to find how to make the best of both worlds.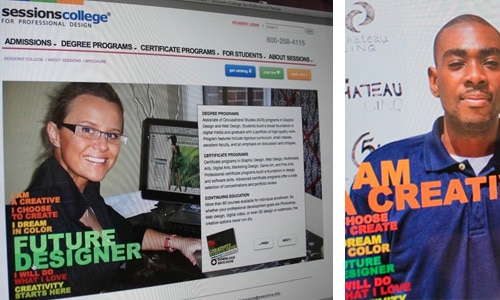 With the interactive brochure, thanks to our in-house developer, we were able to present the campaign in a dynamic way: the content flowed smoothly from page to page, and the transitions between images were fluid. To use a print example, in creating our folder, we took advantage of the internal pocket to use it as a base line for the messages on each folder insert. Each message uses a different color, which also helped differentiate each insert.
Q: For the campaign you used Helvetica. Why was this classic typeface a good choice? We also like the two-toned campaign colors. How did you make these colors work in relation to the three main Sessions College colors?
Since our main content is online, we generally use generic fonts that you can find in any browser. For a print campaign I wanted something different and wasn't concerned about overuse of the Helvetica typeface. I used this typeface specific for the messages on the campaign, but not for the main content. I think each message reads well when every thing is capitalized, with the Helvetica font, plus the use of colors allows the text to stand alone.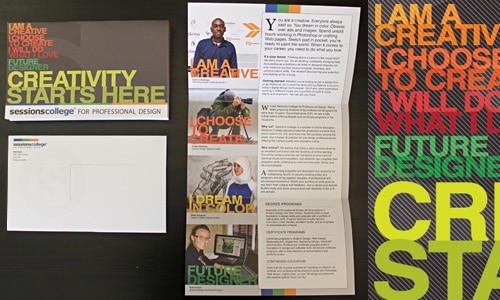 When it came to color choices, my first thought was to use the Sessions colors. But then when we start developing the pieces, it didn't make sense. We were showing people, individuals, so why not create a different color for each one? The use of the two tones was developed after I chose a specific color, and the plan was just that: emphasize the message. I didn't treat the message with one line as a regular font and second line with bold. Instead of doing that, I used two colors.
Q: The new apparel store is a great new way to wear Sessions. What are some of the challenges and how did you get involved in apparel design?
I guess I got into clothing design at home. My wife is a fashion designer at Tommy Hilfiger, and she is good explaining all the steps involved when you are creating an apparel piece! From there I got the idea to learn silkscreen, and I started to develop our own kids' clothing line in my own time.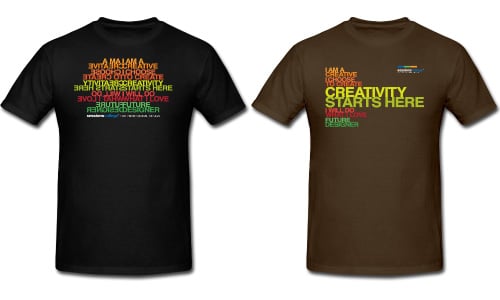 For the Sessions T-shirts, the challenge was to find a provider that would allow us to produce with them and to sell online. We had to work with them on production issues. You have to consider the use of colors (how many?), the printing area for each piece of clothing, and the quality of the fabric.
The best tip for apparel design: Try to design a piece that you would like to wear!
Q: What message do you hope people take from this campaign?
We want to emphasize that Sessions College is here for our students. We are not just an interesting Web site, logo, or page layout. Our students are the ones designing every interesting visual element we present in our campaign, and on our site. The campaign is a visual mirror of our students.
I hope people can see we are not just another school in their neighborhood; we are an online school, and people can take advantage of that, learn from wherever they are, interact with other students, and create amazing things.
Q: You've seen the Sessions brand change many times over the last ten years. What do you hope to see the school do in the future?
Any organization needs to evolve, and so does their brand. At Sessions College we are at a stage where we are more than a Web site. We have better programs to offer, more interesting branding, and more interactive content than ten years ago. I'm excited about our branding, and I keep thinking of new places I'd like to see it. Every day I take the subway in New York, I dream of seeing a Sessions College ad hanging in a subway station or a subway car. There are so many opportunities to get our message across.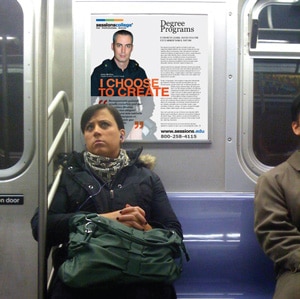 Visit sessions.edu for more information on Degree Programs and Undergraduate Certificates at Sessions College. Make sure you request our latest catalog and check out Degree and Undergraduate Certificate admissions.

Sessions Staff is a restless soul who loves to share Campus News stories with current and prospective students.