DETC 87th Annual Conference Report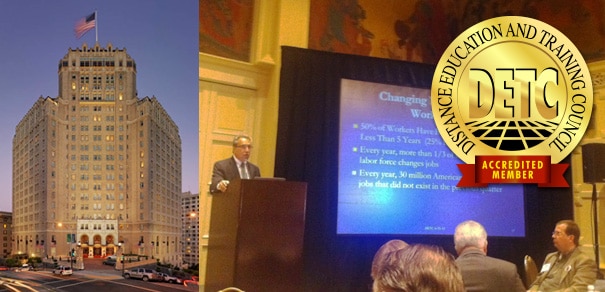 Sessions College President Gordon Drummond attended the 87th Annual Conference of the Distance Education and Training Council (DETC) on April 14-16th at the Mark Hopkins Hotel in San Francisco.
Sessions College has been proudly accredited by DETC since 2001. Founded in 1926 as the National Home Study Council, the DETC has evolved since the 1990s into a leader in online education. In fact, DETC is the only national accreditor focused on quality assurance and school improvement for online institutions.
Issues in Higher Education
The 87th DETC Conference brought together some interesting perspectives from leading voices in U.S. Education.  Terry Hartle from American Council on Education (ACE) and Ralph Wolff, Executive Director of Western Association of Schools and Colleges (WASC) spoke about the important role of accreditation in a rapidly changing regulatory landscape. Hartle described the consequences of a massive boom in Federal Student Aid since 2008 as a Department of Education ambitiously tries to tackle issues of college completion, student debt, skyrocketing tuition, and transparency through a negotiated rule-making process.
In his presentation, Mr. Wolff shared some staggering statistics on college affordability. Since 1985, college tuition has risen 500%, at a higher rate than the costs of medical care. At the same time, the average student graduating in the United States graduates with $23,000 of student loan debt. A student aid system geared towards traditional college aid students seems ill-equipped to help, as only 17% of students in the U.S. today fit the traditional age 18-24 student demographic.
Mr. Wolff also argued that education needed to better address the challenges of preparing students for the workplace. Some mind-boggling industry statistics he shared include:
50% of workers in the United States today have been in their jobs for less than 5 years
More than 1/3 of the labor force in the United States changes jobs each year
Given this challenging environment, you'd like to see more emphasis from the U.S. Department of Education on rewarding schools like Sessions College that focus on making education affordable and help students prepare for careers. Nevertheless, even in 2013, organizations like DETC sometimes have to fight an uphill battle to communicate the credibility and quality of online learning in the mainstream media.
As DETC staff were proud to note, one place that DETC has earned respect this year is Washington D.C., where the DETC's Federal Recognition was unanimously extended for another five years by the NACIQI oversight committee in June, 2012.  The "clean bill of health" extended to DETC in the recognition process speaks volumes of the rigor and consistency of their standards. In a similar move, CHEA, the Council for Higher Education Accreditation, extended its recognition of DETC.
Executive Leadership Change
The conference provided the opportunity for DETC members to wish long-serving DETC Executive Director Michael P. Lambert a fond farewell on his retirement.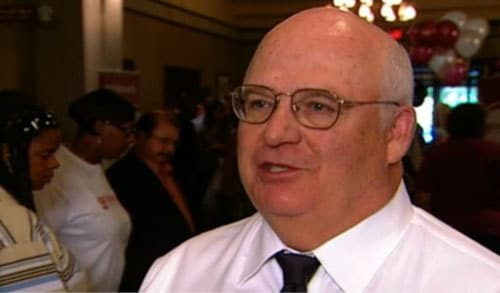 Mike Lambert, outgoing DETC Executive Director.
A universally popular and tireless advocate of distance education, Mike Lambert joined DETC in 1972 and had served as its Executive Director since 1992, racking up more than 400 accreditation visits to schools in his many years of DETC service. Mike's leadership, expertise, political savvy, and relentless good humor has helped hundreds of schools and millions of students, achieve their goals over the last 40 years.
At the same time DETC members welcomed an extremely capable and charming new Executive Director in Dr. Leah Matthews (pictured right). Dr. Matthews comes to DETC from a recent position as Vice President for Recognition Services at the Council for Higher Education Accreditation (CHEA). Prior to that, Dr. Matthews served for seven years in senior leadership at the Accrediting Commission for Career Schools and Colleges (ACCSC).
These experiences should serve Dr. Matthews well as she leads DETC and its 110 member schools into an exciting and challenging educational world ahead of us.
Visit sessions.edu for information on accreditations and approvals at Sessions College. Visit deac.org for more information on the DEAC (Distance Education Accrediting Commission.)

Sessions Staff is a restless soul who loves to share Campus News stories with current and prospective students.

Request Information
We'll gladly send you info on our online programs.