Learning Revit: Fiorella in Space (3D)
When is the learning process complete for an accomplished artist? Never, says Sessions Fine Arts instructor Fiorella Shalat, who's close to completing her Master of Architecture degree at City College Spitzer School of Architecture in New York after a varied career as a photographer, illustrator, sculptor, instructor, and textile designer.
One of Fiorella's final projects is learning the 3D design program Autodesk Revit, and she is applying the skills she is learning in an interior design project for a restaurant.
Q: Since you're Italian, I'll ask about the restaurant first. Outside of class you are using Autodesk Revit to do a rendering of a restaurant that your architect husband is restoring. How did the project come about and how does the 3D design program facilitate your vision for the space?
My husband Neal and his brother run an architecture office that does residential and commercial projects.  One of their clients, who owns several restaurants, wants to open a new place in NYC.  The idea is to have an interior that is a combination of traditional American steak house and contemporary style.
The 3D program helps us visualize quickly what the space will look like and how the different materials work together. One can decide the color and materials of walls, floors, ceilings, furniture, and change them in the drawing if needed. Also very important is the lighting set up. With the rendering one can see where there is the need for more or fewer lighting fixtures. Be able to do these kinds of adjustments is very important because doing them after or during construction is much more expensive, time consuming, and difficult.
The Autodesk Revit tool incorporates "Building Information Modeling" (BIM), a process for incorporating both digital and functional information in a design, making it more immediately useful for builders and engineers. How does that affect your 3D design work?
When I use Revit I have to think in a different way. I am not drawing lines as I would do with AutoCAD (another program used to make architecture drawings). I start by choosing the material of construction right away.  There is a library of pre-designed material I can choose from and customize if necessary.  I choose the type of wall—let's say a generic wall, 12" thick, structure in metal studs, interior finish in gypsum board, exterior finish in wood. I can draw in plan view (view from above) the outline of the building with my chosen wall. I will then choose the interior walls, floors, doors, windows, and so on.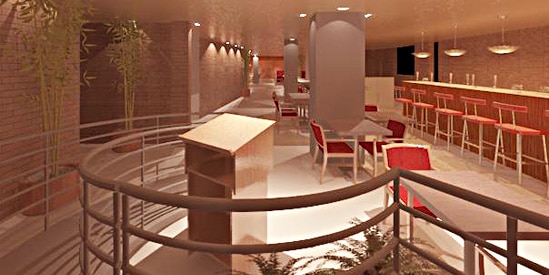 Why did you take up architecture at this stage in your life and career? What kind of work do you aspire to do after graduation?
I remember wanting to study architecture when I finished high school but for several reasons I did not do it at that time. I believe architecture is the apex of my artistic career.  It takes all my artistic talents and experience and condenses them into one discipline.
Architecture is a profession that has many branches and directions for artistic people. Lately we have been hearing a lot about building green, sustainability, and alternative sources of energy, ad nauseam, but I was always thinking green. I grew up in a very frugal family, back in Italy. Nothing was wasted; we learned to do a lot with very little.  This is the way also the American founding fathers started this great country. Today I see a lot of wasted resources, money, energy, etc. I believe we should design buildings that will last a long time and that do not need much energy and capital to run and be maintained.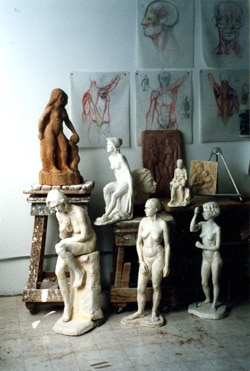 As a trained illustrator and sculptor, you already have many years of experience in imagining and creating scenes, spaces, and objects in three dimensions. What was it like switching from hand drawing to digital drawing and working with a suite of digital tools?
The change from hand drawing to digital drawing was not easy.  At the beginning I did not know what I could do with the various programs, or I did not know how to make those beautiful images I saw in magazines and books. The process is less spontaneous than taking pen and paper and starting to draw.  One thing I realized is that you must have in mind how the image you are creating should look before you start.  The idea is king, the rest is figuring out how to do it, choosing the right program, and being able to work with more than one program to achieve what you want.
What advantages do you think you bring to the field with your diverse background that someone purely focused on architecture might lack?
It is very important to have a wider background than just architecture school. At City College undergraduate students are encouraged to get a Master's in some other subject, such us urban design or landscape design, to get a larger sense of the world of design. I must say that even if digital drawing is very helpful and fast in certain aspects of the process, it is still a plus to be able to do preliminary sketches by hand.  Eye/hand coordination is very important and it is something that gets lost in the digital process. In architecture to be able to do some watercolor rendering is still very much appreciated.
Your story of courageously tackling new fields is inspiring. What advice would you have for an artist or designer contemplating a new creative direction?
Just go ahead and do it. It is never too late. Some people know right away what they want to do in life.  Other people, for various reasons—upbringing, societal constraints, economic factors, or just having too many interests—take longer to find their direction. Art is so vast and various that is rare to find an artist who does only one thing. I always thought that life was a constant learning experience.
My inspiration came from my father who is a self-taught artist, illustrator, photographer, inventor, among other things. He learned to use the computer in his late 60s and now (80 years old) is able to not only use it but also fix it (he earned a high school diploma in electronics in the 1950s). He has the enthusiasm of a child for anything that is new and interesting. He just sent me some images that he took with his homemade 2000mm zoom lens.
Every time we get involved into something new it is like opening a door to a new world. We discover that there are many things we never heard about and many people who are involved in this new activity. I also noticed that after a while you start making connections between the various fields. What you learn in one subject you can apply to another field that may at first  seem unrelated.
Visit sessions.edu for more information on Online Certificate Programs at Sessions College. Make sure you request our latest catalog and check out Vocational Program Admissions. 
Sessions College does not currently offer Revit classes but does offer classes in the 3d Design program Autodesk Maya.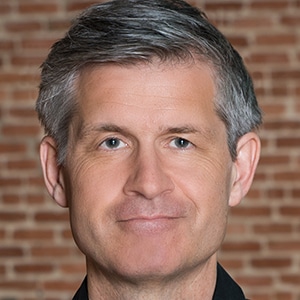 Gordon Drummond is the President of a Sessions College, where he is Director of Instructional Design, among many roles. He's passionate about education, technology, and the arts, and likes to surround himself with more talented people.