Instructor News: Award for HTML5 Lecture
Students may be interested to know that Sessions College Web Design Program department head recently won an award for a lecture on HTML5 at the 2010 National Conference for Higher Education Web Professionals, run by the HighEdWeb Association October 10-13th.
Christopher's lecture focused on the hot topic of HTML5, providing attendees with an overview of the HTML elements in the new standards, explaining the emphasis on semantic coding, and discussing how HTML5 form elements,  audio and video without Flash, and new JavaScript API-like geolocation will be implemented.
The story behind development of the new standards (in the words of Tim Berners-Lee "the attempt to get the world to switch to XML… didn't work") and the news that some of standards can be implemented right now proved a magnet for conference attendees, who are Web developers and designers working in schools and colleges. A packed house for his presentations and rave reviews earned Christopher Schmitt the coveted "Red Stapler" award (see below), and also the less exciting distinction of being asked to deliver his presentation twice!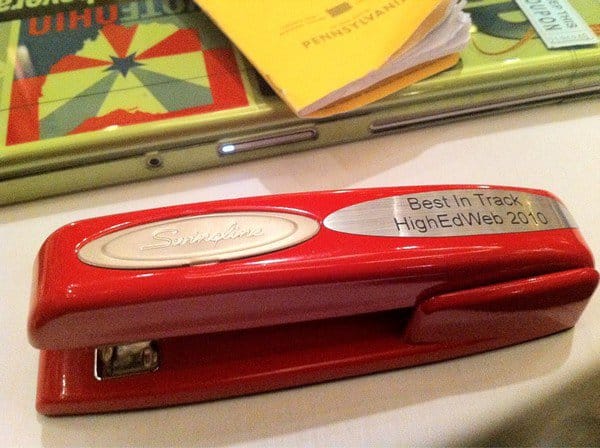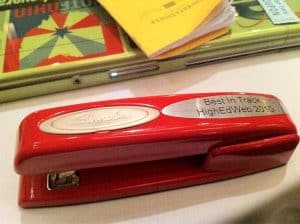 Coveted award with practical value.

Among Christopher's many commitments in the technology field is his tireless work in support of the Web Standards Project (WaSP) as a member of the WaSP Interact Curriculum team. WaSP is a group organized to promote the use of Web standards by everyone responsible for the way in which Web pages are created or viewed: everyone from browser manufacturers, to design software makers, to educators, developers, and designers.
A few years ago, WaSP realized that education was the most effective way to promote wider acceptance of Web Standards. And so the WaSP Interact Curriculum team was formed to "provide educational resources that can help our peers learn standards-compliant methods that are in their interest and that of their clients and site users." It will be exciting to see if Christopher's presentation helps colleges across the U.S. improve their Web content delivery. Even more exciting, we're beginning to work with Christopher to integrate some of these hot new technologies into the Sessions College curriculum.
Visit sessions.edu for more information on Web Design Degree and Web Design Certificate programs.

Sessions Staff is a restless soul who loves to share Campus News stories with current and prospective students.