New Instructors: Sudin and Zaikowski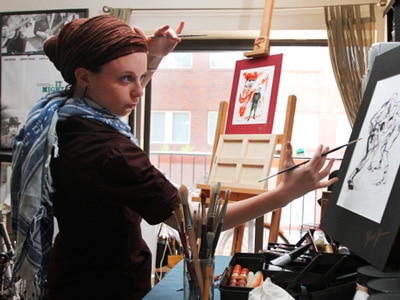 This fall, Sessions College welcomes two new instructors to our degree program faculty: Elke Sudin and Carolyn Zaikowski.
Elke Sudin (above) is an acclaimed visual artist and illustrator whose "Hipsters and Hassids" painting series has been featured in publications including The New York Times, NY Daily News, NY Press, EL PAÍS, The Hartford Courant, and Tablet Magazine. In 2010, Sudin founded the media outlet Jewish Art Now with the goal of redefining Jewish art in the 21st Century.
Heavily involved in the New York art scene, she has curated programs at Works In Progress, the Flomenhaft Gallery, Gallery Bar, and Industry City.  Sudin received a BFA in Illustration from Pratt Institute in New York.
Elke is joining Sessions to teach Life drawing and Illustration.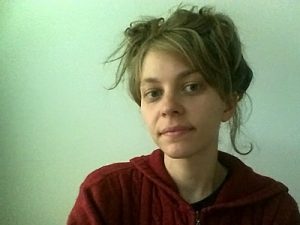 Carolyn Zaikowski  is a writer and educator with degrees in psychology and creative writing. Carolyn is the author of the novel A Child Is Being Killed (Aqueous Books, 2013). Her fiction, poetry, and essays have been published widely.
She has worked variously as a teacher, case manager, crisis counselor, and community organizer. Zaikowski holds a B.A. with honors in Psychology from the University of Massachusetts-Boston and an M.F.A. in Creative Writing from Naropa University.
Carolyn is joining Sessions to teach English and General Psychology.
Please join us in welcoming these two talented artists to the Sessions College faculty.

Sessions Staff is a restless soul who loves to share Campus News stories with current and prospective students.

Request Information
We'll gladly send you info on our online programs.