New Programs: Certificates in Print Design, Advanced Web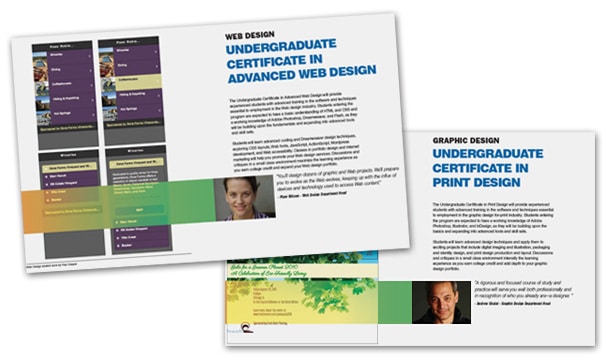 Since 1997, Sessions College has provided a wide selection of programs designed to advance the skills of designers at all levels. Whether you are a total beginner or an experienced professional upgrading your skills, we offer a flexible, affordable, and rigorous online program to take your skills to the next level.
Effective December 22nd, 2014, we are excited to announce the addition of two intermediate level credit-bearing Undergraduate Certificate programs in Print Design and Advanced Web Design. Both programs are geared to designers who already have a technical/software foundation in their field, and are looking to build a deeper portfolio or add advanced skills.
Classes for the two-semester, 24-credit programs start in January, May, and September, and all credits can be transferred to an Associate Degree program at Sessions College.
Undergraduate Certificate in Print Design. Suitable for intermediate-level designers with experience in Photoshop, Illustrator, and InDesign, this certificate offers an advanced graphic design training with a focus on developing a strong portfolio. View the Undergraduate Certificate in Print Design.
Undergraduate Certificate in Advanced Web Design. Suitable for intermediate-level Web designers with experience in HTML, CSS, Dreamweaver, and Photoshop, this certificate offers advanced Web design training in WordPress, Web type, CSS, and more.View the Undergraduate Certificate in Advanced Web Design.
To find out more about these exciting new programs, find out admissions requirements, or ask about financial aid, please contact our Admissions Department via email, phone, or live chat.

Sessions Staff is a restless soul who loves to share Campus News stories with current and prospective students.

Request Information
We'll gladly send you info on our online programs.