New Sessions College/HOW Design University Partnership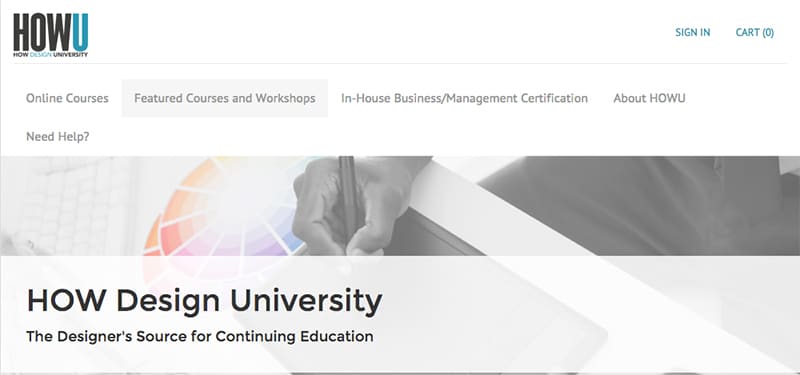 Beginning in January 2016, Sessions College is excited to announce a partnership with HOW Design University to offer courses to HOW Design University members.
Most Sessions students will already be familiar with HOW Magazine. Founded in 1985, HOW serves professional graphic design community in a variety of ways: through its award-winning design magazine, through events and competitions, and through its annual conference, the biggest design conference in the United States.
Since 2011, HOW has served online education too, with the launch of HOW Design University, an education portal that provides online design courses in formats ranging from one-week workshops to intensive self-paced courses and certification programs.
They say good things happen when like minded organizations work together. That's why we're proud to announce that Sessions College courses are available to HOW Design University members via a partner program.
For Sessions College, the partnership expands access to professional designers. According to Gordon Drummond, Sessions College President: "The design industry is constantly changing, and not everyone has time to go back to school for professional development. We're excited to serve HOW members, a tremendously skilled and knowledgeable group who can take advantage of the many flexible learning options we offer."
For HOW Design University, the program expands its online curriculum. According to Jinnie Compton, Online Education Manager at HOW Design University: "We offer designers a place to learn new skills and to keep current skills up-to-date. By partnering with Sessions College, we are able to broaden our course offerings and provide our students with a richer learning environment."
For Sessions College students, the partnership is another recognition of the quality of education that continues to be offered at the pioneering online education provider.
For more information on Sessions College programs, visit Admissions. For more information on HOW Design University, visit https://www.howdesignuniversity.com/. 

Sessions Staff is a restless soul who loves to share Campus News stories with current and prospective students.