School President Appointed to Middle States Commission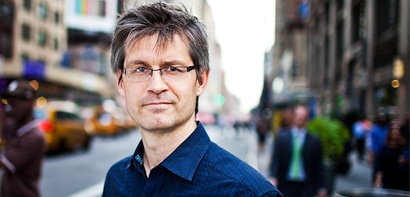 NEW YORK (July 11th, 2011) Sessions College for Professional Design, a fully online college for creative arts, is pleased to announce that school President Gordon Drummond has been asked to serve as the chair-elect for the Middle States Association Commission on Secondary Schools.
The Middle States Association Commission on Secondary Schools (MSA-CSS) is a regional accrediting organization that serves public and non-public schools in Delaware, Maryland, New Jersey, New York, Pennsylvania, and the District of Columbia, as well as schools in the Caribbean as well as various locations around the world. MSA-CSS is recognized by the U.S. Department of Education.
Drummond has served as a member of the MSA-CSS since fall 2007. Beginning in July 2011, he will serve as chair-elect on the Commission for two years before beginning a two-year stint as the chair. Duties of the chair include coordination of commission meetings, training new commission members, and liaison with the Commission on Elementary Schools. The chair sits on the Middle States Board of Trustees.
"Working with the Middle States Commission on Secondary Schools has been a wonderful professional development opportunity for me," remarked Drummond. "It's been a chance to both contribute to and learn about the process of accreditation from the inside, and to see the difference that accreditation makes to many fine schools in the Middle States region and beyond. I have tremendous respect for the organization and its goals and I look forward to the new role."
"Gordon's selection as chair-elect is an excellent one," said Henry G. Cram, Ed.D., president of Middle States Association Commissions on Elementary and Secondary Schools. "It reflects the commission's interest in keeping pace with the growing use of technology and on-line learning as a viable and well-respected alternative to traditional education."
Michael P. Lambert, Executive Director of the Distance Education and Training Council (DETC), commented, "The appointment of Gordon Drummond as the Chair-Elect of the MSA-CSS is another indication of not only the ever-growing reputation for quality of Sessions College, but also a significant acknowledgement of the growing respect being accorded to DETC and all that it represents in American education. We are absolutely delighted at the news and warmly congratulate Mr. Drummond and Sessions College on this incredibly important recognition."
The Middle States Commission on Secondary Schools was established in November 1920 to promote the improvement of secondary education and to secure better coordination and understanding between secondary schools and institutions of higher education. The commission serves public and non-public middle, intermediate, and/or secondary schools, non-degree granting vocational technical and postsecondary institutions, special purpose schools, supplementary education centers, and distance education institutions.
About Sessions College for Professional Design
Sessions College for Professional Design offers degree programs and professional certificate programs in the visual arts. Sessions College students learn from and are mentored by working, professional artists and designers who are trained in best practices for online education. Proprietary courses are developed and taught entirely online with a mission to help students build a well-rounded portfolio of design work for presentation to clients and prospective employers.
Founded in 1997, Sessions College (sessions.edu) is accredited by the Distance Education and Training Council and at the certificate level by the Middle States Commission on Secondary Schools. The school is licensed by the Arizona State Board for Private Postsecondary Education with its main campus located in Tempe, AZ. Sessions College is GI Bill and VocRehab eligible and is a Servicemembers Opportunities Colleges ("SOC") certified Institution of Higher Learning.

Sessions Staff is a restless soul who loves to share Campus News stories with current and prospective students.