Sessions at the DETC 88th Annual Conference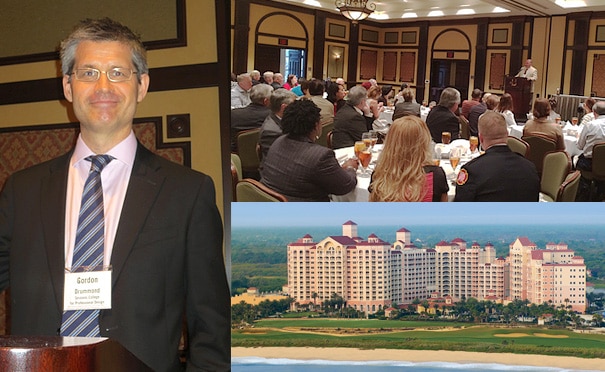 Where are the top online schools? One good answer last week was the DETC 88th Annual Conference held April 6th-8th in Hammock Beach, Florida. The conference, one of the best attended in recent years, attracted hundreds of educators and administrators representing schools and colleges accredited by the Commission of the Distance Education and Training Council (DETC).
[Note: The DETC is now the Distance Education Accrediting Commission (DEAC).]
Representing Sessions College at the event was the school's President Gordon Drummond, who had the honor of being asked to chair the conference. Sessions College has been accredited by DETC since 2001, and is about to embark on its fourth accreditation cycle.
The conference attracted several high profile speakers who are shaping the education landscape right now. The caliber of the event was a tribute to the influence of new DETC Executive Director Dr. Leah Matthews, who is providing a welcome new strategy and direction for the venerable  accrediting organization.
The keynote address of conference was proved by education futurist John Sener, author of The Seven Futures of American Education: Improving Learning and Teaching in a Screen-Captured World. Mr. Sener's speech, like his book, focused on some of the overarching trends in new forms of education delivered via computers and other modalities at a distance. His speech posed interesting questions: Will the increasing momentum and acceptance of online education make it just part of education? Will free market forces continue to transform education or commoditize it? Will the classroom become more and more "flipped" as students demand and get increasing power to shape their own educational experience?
A welcome guest of the conference was the Dr. Marshal Hill, Executive Director of National Council for State Authorization Reciprocity Agreements. Dr Hill gave a presentation focused on the efforts of the SARA initiative to set up reciprocity agreements between states to recognize distance education.
The state authorization issue is a major concern for online educators, as it appears that recent U.S. Department of Education legislation will have the long-term effect of forcing online institutions or programs to seek state approval in every state in which they serve students. Over time, this would impose a huge regulatory burden for all online programs, a setback for distance education in the United States that would create a situation which would ultimately benefit only the largest online schools.
The SARA initiative proposes a simple solution much like a driver's license: Schools are licensed in their home state, and that license is accepted in other states that sign the agreement. Dr. Hill offered statistics that show that the SARA initiative is rapidly gaining ground (as of early March, SARA-enabling legislation has passed in nine states, legislation is pending in 11 more). It certainly appears to provide an answer to a regulatory boondoggle that is in his words: "inefficient, time-consuming, expensive, and ineffective in supporting the overall quality our country needs to gain the maximum benefits possible through distance education."
On day two, Vickie Schray, Senior VP of Regulatory Affairs and Public Policy at Bridgepoint Education provided a high level overview of the current regulatory landscape in education. College administrators are concerned about the burden or impact of current and proposed regulations. Ms. Schray explored some of forces over the last five years that have created our current climate:
Federal and state budget shortages
Increasing enrollments
2020 goals established by President Obama
A focus on consumer protection, transparency, and accountability
A demand for outcomes and affordability
As Ms. Schray noted, everyone has big plans for education in the United States, but there's a question whether these laudable goals can all be achieved while still meeting the President's 2020 goal of raising college graduation rates to 60% by adding at least 8 million graduates.
The final general session on day two was a refreshing take on competency-based learning offered by Dr. Larry Banks, Provost/Vice President of Operations at Daymar Colleges Group. The core idea of competency-based learning should a familiar one to everyone involved in distance education. The idea is to focus a school around developing accurate, detailed, industry-driven assessment of what a graduate needs to know to perform a job or succeed in a field – and to use that assessment process to make learning more efficient and meaningful. In his speech Dr. Banks drew on his experiences at Western Governor's University and Daymar Colleges Group to explain how a school or college could more directly adopt this model.
Our thanks to all who made the DETC 88th Conference a wonderful and mind-expanding event!
For more information on DEAC activities, visit deac.org. For information on Sessions College accreditation, visit this page. 

Sessions Staff is a restless soul who loves to share Campus News stories with current and prospective students.

Request Information
We'll gladly send you info on our online programs.