Sessions College Among Most Affordable Colleges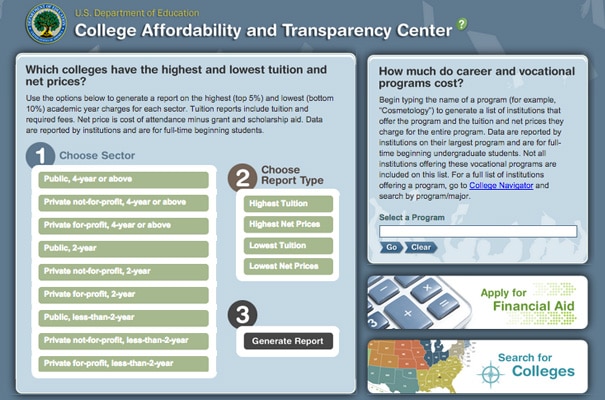 In today's polarized times, one of the few things politicians seem to agree on is their concern about the rising cost of higher education.
According to the Project on Student Debt, seven in 10 college seniors (71%) who graduated in the United States last year had student loan debt, with an average of $29,400 debt per borrower. The costs of attending college have ballooned, rising between 28% and 40% between 2001 and 2011 at public and non-profit institutions. In fact, according to many analysts, the cost of college over the last 20 years has increased at a greater rate than the cost of healthcare, housing, and energy.
What can be done about it? The  U.S. Department of Education believes that promoting transparency is one way to combat escalating college costs. To that end, it created the College Affordability and Transparency Center (http://collegecost.ed.gov/catc/), a Web site dedicated to highlighting schools with the highest and lowest tuition prices, the highest and lowest net prices, and the biggest changes in college cost.
Why are we telling you this? We're proud to announce that on the CATC site this year, Sessions College ranked in the top 10 in the United States in its category for lowest tuition per academic year.
The CATC data, which is released every year in July, showed that for the 2012-2013 reporting year, there were only five for-profit, 2-year colleges with a lower tuition per academic year. In fact, our per-year tuition of $6,650 in 2012-13 was 53% lower than the national average of $14,198 in our category. (The national average for tuition at private not-for-profit, 2-year schools was $13,125).
What does this mean? It means that if you are enrolled at Sessions College, or are considering enrolling, you can be confident that you will be enrolled in one of the most affordable programs of its kind. Our combination of industry-leading low tuition and no-textbooks policy, together with the fact that you are paying for a high quality education without supporting a traditional campus infrastructure, simply make Sessions College more affordable.
This recognition comes in a year when Sessions College received some other significant accolades:
Nomination for a Best Value School Award by the Best Value Colleges organization
Rating in the top 100 online schools by BestColleges.com, and
Listed by 2014 GD USA Magazine among its top design schools in the United States, alongside such traditional design schools as SVA, RISD, MICA, CCA, Parsons, and Pratt.
We'd also like to point out that not all online colleges or programs are designed to be affordable. In fact, the tuition at many of the other online schools with art/design programs (they know who they are) can be 50-70% higher than attending Sessions College.  So make sure you compare our tuition costs to other online art/design programs before you enroll!
Visit sessions.edu for more information on Degree Programs and Undergraduate Certificates at Sessions College. Financial aid is available for eligible students.

Sessions Staff is a restless soul who loves to share Campus News stories with current and prospective students.

Request Information
We'll gladly send you info on our online programs.