Sessions College Appoints New President, Gordon Drummond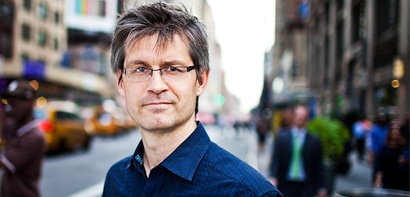 NEW YORK (February 18th, 2011) Sessions College for Professional Design, a fully online college for creative arts, today announced the promotion and appointment of Gordon Drummond as President. Mr. Drummond most recently served as Chief Academic Officer of the College. The appointment was announced by Doris Granatowski, Chief Executive Officer and Chairman of the Board of Directors.
"Gordon's promotion reflects a continued focus at Sessions College on academic excellence, program growth, institutional improvement, and regulatory compliance, as the school seeks to expand its degree and certificate programs in an increasingly competitive online arts education space," stated Ms. Granatowski.
Founded in New York City in 1997 and now licensed in Arizona, Sessions College offers fully online degree and certificate programs in the visual arts. The college was reaccredited without condition in January 2011 by the Accrediting Commission of the Distance Education and Training Council (DETC).
"Sessions College has always had a mission to provide quality, career-focused design education and I'm really energized by our transformation and our achievements of the last few years," stated Mr. Drummond.  "As President, I'm looking forward to working with our talented staff to help Sessions College reach more students, improve and expand its educational programs, and deliver more efficient, high-quality student services."
Gordon Drummond, 43, joined Sessions College in February 2001. Mr. Drummond is an educator and instructional designer with over 20 years of experience in private education. At Sessions College, he has served as a Director of Curriculum and Chief Academic Officer. Outside of Sessions College, he currently serves as a Commissioner on the Middle States Association Commission on Secondary Schools. Mr. Drummond has presented seminars on online education at conferences including Macworld, DETC, CCA, Angel Learning, Surtex, and the Graphic Artist's Guild. He holds an MA in English Literature from the University of Edinburgh in Scotland.
In a related move, Ms. Granatowski also announced the promotion of Tara MacKay from Director of Education to Chief Academic Officer of Sessions College.
"Sessions College has exciting work in store to ensure academic excellence and continue the tremendous momentum of our Education Department initiatives," stated Ms. Granatowski. "Navigating the changing design industry, and evolving our curriculum and approach to teaching accordingly, is an ongoing challenge, and one that Ms. MacKay will lead through effective research, assessment, and attention to students' needs as emerging professional designers."
Tara MacKay, 34, joined Sessions College in September 2001 as a faculty member with experience in Web design, logo design, and illustration. Since 2006, Ms. MacKay has served as Director of Education supervising curriculum design and course development. Editor of the book Graphic Design Portfolio-Builder: Adobe Photoshop and Adobe Illustrator Projects (Peachpit Press, 2006), she expects to be awarded a Master's in Higher Education from Drexel University in March 2011.
Sessions College for Professional Design offers online degree programs and certificate programs in the visual arts.  Sessions College students learn and are mentored by working, professional artists and designers who are trained in best practices for online education. Proprietary courses are developed and taught entirely online with a mission to help students build a well-rounded portfolio of design work for presentation to clients and prospective employers.
Founded in 1997, Sessions College is accredited by the Distance Education and Training Council (DETC) and at the certificate level by The Middle States Commission on Secondary Schools. The school is licensed by the Arizona State Board for Private Postsecondary Education with its main campus located in Tempe, AZ.  Sessions College is GI Bill and VocRehab eligible and is a Servicemembers Opportunities Colleges ("SOC") certified Institution of Higher Learning.

Sessions Staff is a restless soul who loves to share Campus News stories with current and prospective students.