Sessions College at Macworld 2011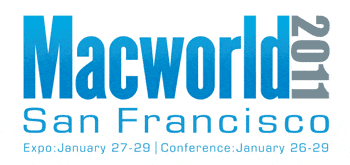 Starting our New Year off with a bang, Sessions College made its first appearance at Macworld 2011, January 26-29, at San Francisco's Moscone Center.
The Macworld convention was until recently known as the place where Steve Jobs would unveil the latest breakthrough Mac product. The Apple CEO was not present this year, but Macworld 2011 seemed to have lost little of its sizzle, with comedian Sinbad delivering the keynote address and the expo floor a mecca for all things iPad iPhone, app, or skin!
The Sessions College presentation, entitled "Distance Learning by, and for, Design: How Design and Design Software Is Being Taught Effectively in Non-Traditional Mediums" was delivered as part of the creative skills track in the Mac Users Conference, a series of skill enhancement sessions focused on Mac OS X skills, photography, graphic design, K-12 education, small business, music & video. Presenting talks on behalf of Sessions College were Gordon Drummond, Chief Academic Officer, and instructor/Digital Arts Department Head Andy Shalat.
The panel was moderated by Scott Chappell, publisher of Notes and Design, wearing one of his many hats. And joining us in the presentation (in what was a real coup for us and for the attending audience) was Lynda Weinman, founder of Lynda.com and author of several of the seminal books in digital media and Web design.
Scott Chappell of Notes on Design opened the panel highlighting the sheer variety of learning options now available online to anyone who wishes to improve their design skills. In the non-traditional environment, design students—or artists/designers seeking further education—can take advantage of an array of learning options, ranging from a Master's degree, to streamed high-quality video instruction, to information-rich resources such as blogs.
Lynda Weinman's presentation emphasized the many benefits of Lynda.com's extensive library of over 50,000 videos on visual design topics, focusing on the different ways in which video instruction can address the audio, visual, and experiential ways in which people learn. Attendees were treated to sample videos showing how Lynda.com is expanding from its traditional focus on software and tools, and skills and knowledge, to producing videos on design inspiration and design projects.
Gordon Drummond's presentation focused on 10 reasons to take an educational program at a high quality online school such as Sessions College. The presentation focused on 10 reasons that online art/design programs can be effective at teaching the skills and thought process required for professional practice, reasons that included quality, range of curriculum, flexibility, personalization, and the learning on and off your computer.
Finally, Sessions instructor Andy Shalat, who has taught design at Macworld and in traditional college settings for many years, built a convincing case for teaching and learning online by discussing the learning process that Sessions College students use to create their work. Andy delivered an interesting slideshow around examples of student work, ranging from design composition to illustration to video, showing how critique and feedback can be an essential component in helping a student achieved polished work.
At the end of his segment, Andy showed that his Macworld badge design (which we saw everywhere at the convention) was in fact inspired by some Sessions student work in his Advanced Typography class. The audience really seemed to appreciate this nugget, even quizzing Andy about his choice of typeface for the piece.
Overall, the presentation was a success and Sessions staff really enjoyed the opportunity to not only meet Lynda and present at Macworld but also to create a broader awareness of what Sessions College does and publicize the fact that there are more and more high quality educational options for design students and designers. Our thanks to Andy and to Paul Kent and Kathy Moran at Macworld for making it possible.

Sessions Staff is a restless soul who loves to share Campus News stories with current and prospective students.

Request Information
We'll gladly send you info on our online programs.