Sessions College Nominated for Best Value School Award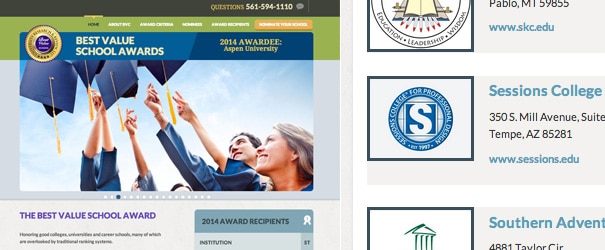 This summer, we are honored to announce that Sessions College was nominated for a Best Value School Award by the Best Value Colleges organization.
How did Sessions College earn this distinction? In the United States there is increasing competition between colleges for students, and yet the best known college lists – U.S. News & World Report, Bloomberg BusinessWeek, USA Today, and Princeton Review – typically only list the biggest, most elite institutions where affordability is not the primary consideration.
The Best Value School Award aims to provide an alternative to these established metrics-based lists by highlighting small- to medium-sized colleges and schools that offer not only an outstanding education but also value for money.
The award factors in both quantitative and qualitative data. The organization looks at publicly accessible government data to determine the school's effectiveness and affordability: IPEDS data, tuition, graduation rate, student debt, and accreditation status. It also assesses student feedback and school mission – the question of what makes the school a distinctive institution.
In developing their award process, the Best Value Colleges organization foregrounded many of the questions about value that a student should be asking themselves about a school before they enroll:
Is the tuition affordable and comparable to similar schools?
Do students support and recommend the school?
Does the school have a unique and coherent mission?
Do the majority of students graduate? How long does it take them to do so?
Do students graduate with debt? Is there a high default rate for those students who take out student loans?
At Sessions College, we believe we provide the best solution for the needs of the online art/design student. We are the first fully online accredited school of design. Teaching art and design online is all we do, and we've been doing it for 15 years. Our per-credit tuition (degree programs) is affordable, allowing many students to self-finance their education or pay for it with a minimum of loan debt. Our aggregate student satisfaction annually exceeds 90%, our graduation rate of 55% far exceeds the national average for 2-year programs, and the majority of students graduate on-time.
We thank Best Value Colleges for recognizing Sessions College with this nomination and for highlighting the importance of providing both value and quality in education.
Visit sessions.edu for more information on Degree Programs and Undergraduate Certificates at Sessions College. Make sure you request our latest catalog and check out Degree and Undergraduate Certificate admissions.

Sessions Staff is a restless soul who loves to share Campus News stories with current and prospective students.