Sessions Voted Among Top Online Schools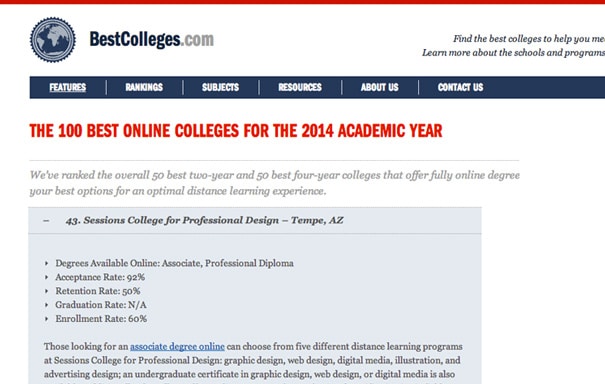 In June, BestColleges.com rated Sessions College among its top 100 online schools for 2014, and in the top 50 colleges offering online Associate degree programs.
How did BestColleges.com arrive at this evaluation? Their database is compiled "through the use of student surveys, faculty surveys, independent research, ranking systems, and the input of highly credible and authoritative sources."The goal of the site is to help students identify the best colleges for them by aggregating publicly available data that can be helpful to education consumers:
In-state tuition
Acceptance rate
Enrollment rate
Retention rate
Graduation rate
BestColleges.com site users can sort for factors that are important to them, comparing schools in ways that aren't necessarily easy to do without researching individual college sites across the Web. We applaud their efforts to give education consumers the information to make more informed decisions. And thanks for recognizing Sessions College!
Visit sessions.edu for more information on Degree Programs and Undergraduate Certificates at Sessions College. Make sure you request our latest catalog and check out Degree and Undergraduate Certificate admissions.

Sessions Staff is a restless soul who loves to share Campus News stories with current and prospective students.