Sessions Wins a GD USA Award for Animation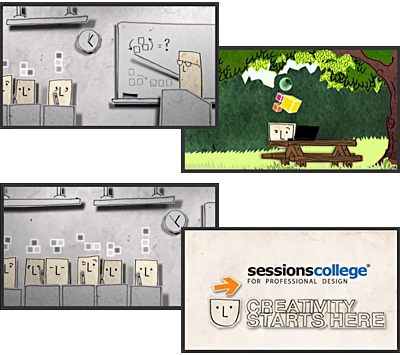 For the second year in a row, we're proud to announce that Sessions College has received an award from GD USA (Graphic Design USA).
Graphic Design USA has been a prominent news magazine for graphic designers and other creative professionals since 1963. One reason for its success is the GD USA awards program, which gives design companies large and small the chance to compete for recognition.
In 2011, Sessions College revamped the sessions.edu Web site (http://www.sessions.edu/) to improve site performance in navigation, information flow, content, and graphic design.  The design was recognized with a 2011 American Web Design Award, in a competition designed to "celebrate the power of well-designed websites and other online communications to attract audiences, generate engagement and response, and promote products, services and ideas."
This year in May, the Sessions design team added another accolade to its belt, as the Media Man Web promotion won a 2012 Inhouse Design Award. The goal of this category is to provide "a unique opportunity for inhouse design, marketing and communications departments to be recognized for their talent, for the challenges they face, and for their value to businesses and institutions."
The Media Man campaign was a short video in cut-out animation ad style developed by Sessions Director of Multimedia Ethan Herr and Creative Director Patricio Sarzosa. The campaign features a character called Media Man who was created to brand a suite of interactive learning tools used in Sessions College courses. The short animation presents a contrast between a dull classroom with a fun and inspiring vision of online learning.
The ad was animated by Sessions Director of Multimedia Ethan Herr, working with Creative Director Patricio Sarzosa. To develop a message about what makes online education a great environment for learning design, Herr thought it was natural to revisit the Media Man icon originally designed by Sarzosa to brand video tutorials, review kits, and other media tools.
"Media Man fits the message about choosing innovation over tradition," comments Herr. "He's round, he floats, he's inspired, and he's the perfect counterpart to the squarish characters stuck in the traditional classroom trying to solve two-dimensional problems. We also thought the cut-out style was perfect for the creative minds we want to attract to Sessions."
According to Marketing Director Robert Pullins, who originated the ad concept, the Media Man ad represents nothing less than "a contrast in the world of education. Media Man is the change, the progress, the excitement of the new way of online learning that Sessions College has developed. He became part of the campaign to symbolize the idea that there's a better way to learn design."

Sessions Staff is a restless soul who loves to share Campus News stories with current and prospective students.