Spring 2014 Scholarships Announced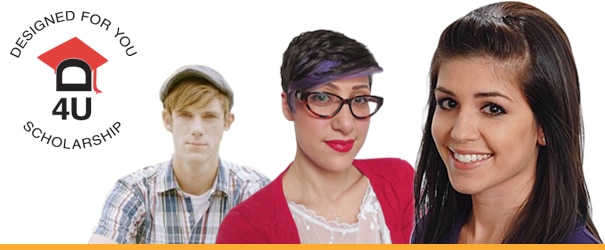 Sessions College is making school more affordable with its Designed for You scholarship programs awarding up to $3000 for students in different adult learner categories: First in My Family, 24/7 Parent, Bridge Student, International Student, Career Changer, and Entrepreneur.
We are delighted to announce that on January 23rd, 2014, six scholarship winners were selected for our spring 2014 class. We welcome these intrepid young and adult learners into the AOS program and to the online Sessions College community.
Jacob Ramirez – Associate Degree in Graphic Design, First in My Family
Cassandra Simpson – Associate Degree in Web Design, 24/7 Parent
Drew Knight – Associate Degree in Graphic Design, Bridge Student
Carmen Vargas – Associate Degree in Digital Media, International Student
Delilah Talbot – Associate Degree in Graphic Design, Career Changer
Sharz Miar – Associate Degree in Graphic Design, Entrepreneur
Here are some excerpts from their stories:

My parents are very hardworking individuals. They always told me that I can achieve anything that I set my mind too, but if I want to make it anywhere in this world I am going to have to work for it. Getting this degree in Graphic Design would not only be a huge achievement for myself but also for them. They have both supported me in everything I have wanted to do in life, and now that I have my head on straight I am going to take my shot and make them proud…

– Jacob Ramirez, First in My Family
As a child, every bit of art intrigued me. I spent countless hours drawing, coloring on, and creating with paper. Handmade cards, boxes, and playthings were always being made in my bedroom. That continued on into adulthood when I found every reason to craft just about every decorative item for my wedding. It was a hobby, which grew into a passion with every invitation, ceremony program and place card that I created. And I wanted nothing more than to continue working with stationery once the big day had ended. So I started helping friends with their own events…
– Delilah Talbot, Career Changer
Think you might eligible to apply for a degree program scholarship? Click here to find out more and request information. Or chat live with our knowledgable admissions team.

Sessions Staff is a restless soul who loves to share Campus News stories with current and prospective students.