Spring 2015 Designed for You Scholarships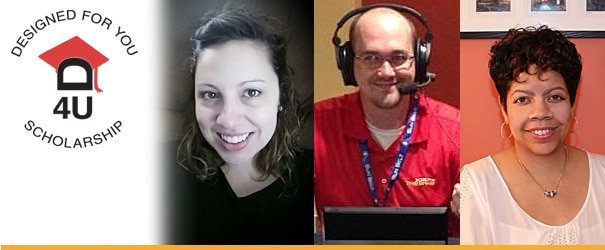 This spring, Sessions College continues to make school more affordable with its Designed for You scholarship program with awards for students in six adult learner categories.
We are proud to announce three scholarship winners selected for our Spring 2015 entering class. Thank you to all who apply to the scholarship for making the acceptance committee's job a challenging one.
Jennifer Wagaman – Associate Degree in Web Design, Bridge Student
Christopher Cox – Associate Degree in Digital Media, Career Changer
Leslie Cole – Associate Degree in Advertising Design, 24/7 Parent
We welcome these students starting spring classes. Here are some excerpts from their stories:
Bridge Student – Jennifer Wagaman
You might say I am a late bloomer in furthering my education. My life took a different direction when I became a military and wife in early 2013, a first time mom…  In March 2014, I took my first leap into beginning my career in Web Design, a field that for many years, often thought about and dabbled in, but never pursued. I love what I have learned and I thirst for the opportunity to learn so much more!
Some may think that online schooling does not give one the networking and/or classroom experience as a technical school or college campus would do. At Sessions College, I feel the exact opposite. The communication with the course instructors is great. The instructors are timely in their feedback, provide their insight and expertise, giving constructive feedback as needed. They "fix me" which gives me the ability to go back to correct myself and enhance my skill. Discussion boards allow fellow students to interact and share ideas which in itself is a type of social networking.
Career Changer – Christopher Cox
Sometimes the idea for change is gradual and sometimes it happens instantly. For me it was gradual. All of my life I thought I wanted to do sports radio and play‐by‐play for some professional sports team. A little over two years ago, I began my ultimate dream job: host of a drive‐time radio show with an up‐and‐coming company in a great city.
I've gotten to do some crazy things because of my first career in broadcasting. How many people can say that they have gotten stuck on an iced‐over highway in South Dakota with a minor league hockey team, then pulled out skates and went skating on an interstate highway?
However, with the radio industry dying, I started looking for something more than just sports radio. That's when I started to take note of all of the Web videos our station was doing. When I saw what our Web director was doing, it got me thinking. I would sit in church and think to myself how awesome it would be to a media director.
The Sessions program fits everything that I am looking to do ‐‐ from Web design to creating interactive videos; and it will give me a chance to further my education after completing my degree plan. Sessions is going to give me the skills I need to truly be happy and fulfilled —  skills that I can use for a lifetime, not just for a couple more years.
24/7 Parent – Leslie Cole
My husband Terrance has been in the military for over 20 years. I'm the primary caregiver for our two elementary school-age daughters. A few of my "mom duties" are chef, taxi driver, teacher, counselor, nurse, scheduler — and anything else I left off this list!
My online courses at Sessions College have been intense, yet rewarding. It has been a challenge to manage home and school simultaneously. I juggle the demands of an accelerated, full-time college schedule and the needs of my family.
Often the best time for me to study is when my girls are in school and at night while everyone is asleep. Truth be told, I'm no stranger to all-nighter homework assignments! However, as a 24/7 parent, I have continuously strived for and earned good academic standing.
To hear more student  stories and learn more about the degree scholarship program, visit our scholarship information page. Think you might eligible to apply for a degree program scholarship? Chat live with our knowledgeable admissions team and ask about degree program options. 

Sessions Staff is a restless soul who loves to share Campus News stories with current and prospective students.