Spring 2017 Designed for You Scholarships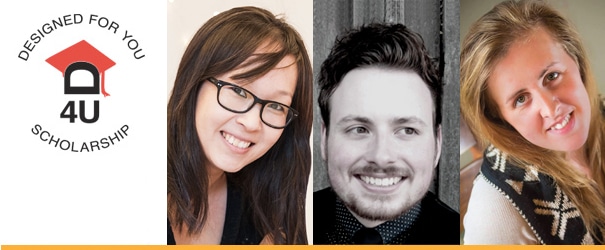 Sessions College continues to make school more affordable with our Degree Scholarship Program. The program for new Associate Degree applicants offers awards up to $2,000 in six adult learner categories.
For spring 2017, we are proud to announce three scholarship winners who entered the January semester. Our thanks to all who applied, making the acceptance committee's job a challenging one.
We welcome these students starting spring classes. Here are some excerpts from their stories:
Shannon Ready, 24/7 Parent
"I give so much of myself to my four children each and every day that I have little left to give to myself. The online degree program allows me to do something for myself by providing that flexibility of not being confined to a classroom. While I am at home I know my children are watching me while "mommy" is working on her assignments for my online degree program. 
I know I am setting a path and an example for their future. In addition, they will come to learn that the hard work and time pays off. Also, that it is possible to pursue their degree while they are raising children, working full time, being an entrepreneur, and more…"
Luke Hostetler, Career Changer
"After graduating, I worked in retail, food, and service industries for two years, then had enough savings to pay half my way through a programming bootcamp. I wanted to quit three separate times but staff persuaded me to finish and I'm glad that I did. All too often, hiring personnel filter out candidates by only selecting from those who have relevant college education. Getting that web design degree removes a potential obstacle to my hiring potential and helps me compete with other candidates. 
Without this education, it's still possible for me to land a design position, but vastly more difficult. Not to mention I wouldn't have any credentials for backing up my decisions. If a designer can't explain a particular detail or feature, that might be an indicator that the designer needs to dig a little deeper…"
Alexis Bartlett, 24/7 Parent
"Each day as a mum is different and it can be so hard to plan in advance when your plans can so easily come crashing down around you within moments!  Despite these challenges, I am excited and anxious to begin my Graphic Design studies online. I feel incredibly fortunate to be living in an age that can provide full time parents an opportunity like this. Being able to study online means that my toddler can have his tantrums and I don't need to give up my personal hopes and dreams; hopes and dreams for my own career and for helping to provide for my family via a career that I'm passionate and excited about.
An online education, ultimately, provides me with my goals and dreams and the ability to flexibly toward them, without having to sacrifice my duties and responsibilities toward my family. This means a lot to me, and I'm both thrilled and grateful to be given the opportunity. My husband works incredibly hard to provide for both myself and our son; to give us a life that's fortunate and comfortable. I can't wait to help provide support for us as a whole family once my studies have been completed. But that's a little way down the track…! "
To find out more about degree program scholarships at Sessions College, visit our Designed for You Scholarship page. Awards are available for eligible new program enrollees in a range of adult learner categories.  Scholarships may be combined with other forms of aid such as Federal Student Aid to make your program more affordable.

Sessions Staff is a restless soul who loves to share Campus News stories with current and prospective students.