2014 Student Ambassadors Announced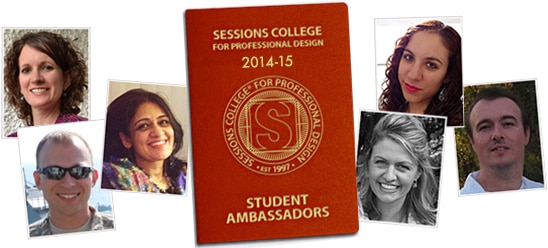 Who represents students at Sessions College? The ambassadors do. That's why we're excited to announce the launch of our 2014-15 Student Ambassador group.
For more than five years, the annually renewed student ambassador group performs two important functions for Sessions College and its students:
Helping communicate the student experience to the outside world.
Giving the school feedback on institutional strategy and planning.
Student ambassadors have provided the school a student perspective in numerous ways, appearing in our online campus tour and in video interviews, talking to accreditors and state officials about their students experiences, giving us feedback on Web site design, curriculum, marketing, and much more.
This year's ambassadors are:
Jessica Childs, Associate of Occupational Studies in Web Design
Heather Baden, Marketing Design Certificate
Robert Penner, Associate of Occupational Studies in Graphic Design
Carmen Vargas, Associate of Occupational Studies in Digital Media
Seema Kaushik, Digital Arts Certificate
Bryan Fisher, Associate of Occupational Studies in Graphic Design
For our Education, Student Services, and Marketing/Design staff, the ambassadors provide a sounding board that helps us make sure our new initiatives are consistent with the needs of students.

Sessions Staff is a restless soul who loves to share Campus News stories with current and prospective students.

Request Information
We'll gladly send you info on our online programs.