The Call of a Creative Life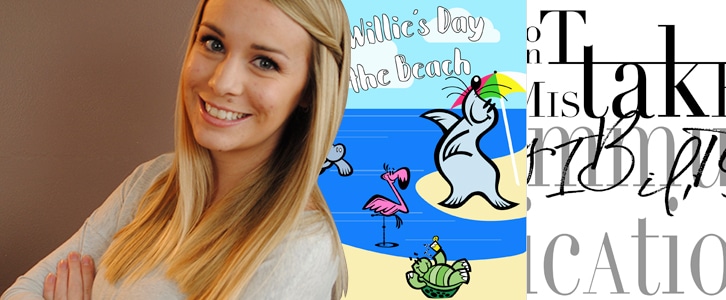 Korrin Kaiser
Upstate New York
Associate Degree in Graphic Design
Military spouse Korrin Kaiser was heading towards a career in medicine until the call of a creative life intervened. Looking for a high-quality program that could accommodate military deployments and the demands of a full-time job, Korrin enrolled at Sessions College in an Undergraduate Certificate in Graphic Design, later transferring credits into our Associate Degree. This Spring, she is about to graduate with a strong GPA and a body of work. We talked to Korrin about her experience. 
Q: Korrin, describe your journey towards becoming a designer.
Back in high school, I was looking for an elective class to fill a gap in my schedule. I had enjoyed taking the basic computer courses, and when I saw one that would go more down a design path, I immediately signed up. I enjoyed it, and took the advanced course later on. After graduation, my family, who are all in the medical field, convinced me that that was the way to go. There will always be a need for the medical profession. I started going to school, but was miserable! I dropped out, and ended up getting married and moved cross country with my husband, who is in the military.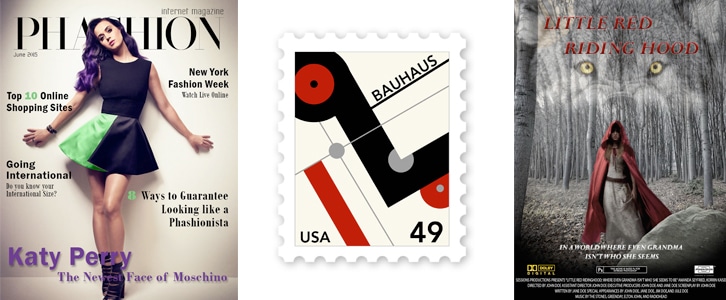 It took me a few years after my initial run with college to figure out that Graphic Design was the way I should be going. As a military spouse, I knew it was best for me to choose an online school, since I was moving back and forth cross country during my husband's deployments. During one of those stints, I got my first design job at a local ad company designing job ads. It was right on track with what I had learned in my Sessions InDesign course, and helped keep me in the loop while I took a break from school to handle the transition.
Between working with that client, and my current job, I have gotten a handle on what it's like to work in a small portion of the graphic design world. My current job has taught me how to handle large company customers and short deadlines, while juggling other companies and their deadlines as well.
Q: As someone who currently works in design, what have you gained from your studies at Sessions?
First and foremost, the design jobs I've held have worked primarily in Illustrator and InDesign, so those classes were a huge help. My courses at Sessions have helped me learn a great deal about the importance of hierarchy and layout design. It is with that experience that I feel I have been successful with my designs.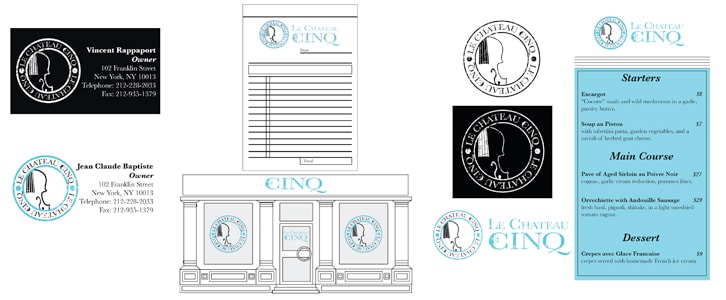 Q: What are the benefits of studying online at Sessions?
Studying online has been great! As a military spouse, between deployments, traveling, and changing bases, I knew it wasn't going to be possible to study at a local college. Not even just as a military spouse, but also with working a full-time job! It has been so easy to study on the go. I could bring my iPad to work with me, read my lectures or respond to discussions while on lunch, or while visiting family on the opposite side of the country.
Q: How does design fit into your day to day routine?
Whether it's at work, at school, or in my spare time, design plays a huge role in my life. I can apply what I learn at school to what I'm doing at work, or to a new craft I'm starting, or vice versa, I could take what I was doing at work and apply it to what my latest project is at school.
Q: Where do you get inspiration for your projects?
I gain a lot of inspiration from colors. The way a color can make someone feel can define a project. I like to pull a lot of colors from nature, so being outdoors on a clear, bright sunny day helps me with that. The more color I'm immersed in, the easier it is for me to find a direction for a project.
Q: Outside of Sessions, what do you like to do?
I love spending time with my husband and dogs. Though we currently live in upstate New York (in never-ending winter) when the weather permits, we enjoy taking our dogs out on hikes and spending time outdoors. I also enjoy crafting and dabbling in some woodworking.
Q: What are your professional goals after graduation?
It is my intention after graduation to get a job at a local design firm. There, I hope to learn all aspects of the business, since my current experience is mainly focused on one small aspect. I have enjoyed package design and branding, so I'd like to build my experience in those areas.
To learn more about Graphic Design programs at Sessions College visit sessions.edu and chat with an Admissions Advisor.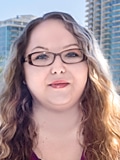 From 2018-2020, Angella was a Student Advisor at Sessions College. She has a Master's Degree in Educational Policy from ASU, and likes to use her knowledge of graphic design to make invitations, holiday cards, t-shirts, and more.