Transferring ITT Technical Institute Credits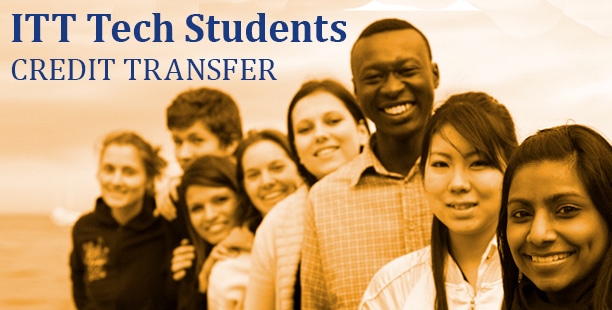 On Sept. 6, 2016, ITT Educational Services Inc., the parent company of ITT Technical Institute and Daniel Webster College, announced that they were closing online and live classes at 136 ITT Technical Institute locations across the country.
The closing of ITT Technical Institute in response to Federal compliance issues was a sad day for respected career school with a 50-year pedigree, and with thousands of students and staff, and many hundreds of thousands of graduates.
As a fully online school of visual arts, we at Sessions College for Professional Design (sessions.edu) fully support the efforts to help ITT students continue and complete their programs by transferring their earned credits to relevant programs at Sessions College.
In the media, there has been some suggestion that transfer credits earned by ITT Technical Institute students would not be accepted by other schools. At Sessions College, we invite ITT students to contact us to discuss program options. ITT Technical Institute was a nationally accredited school offering many fine courses and programs that should be transferable to equivalent courses.
Sessions College is an accredited fully online school offering a range of Associate Degree and Undergraduate Certificate programs in visual arts subjects including Graphic Design, Web Design, and Digital Media. Eligible students may access financial aid via a combination of Federal grants and loans in order to cover the costs of their programs.
Which Credits May Transfer?
If you are an ITT Tech student affected by the school closure, you may be able to transfer your credits to Sessions College if you were enrolled in one of the following programs:
Visual Communications
Web Design
Web Design Technology
Computer Drafting and Design
IT – Multimedia
If you have relevant prior credits in design or general education, you may be able to apply up to 36 credits to an Associate degree program at Sessions College. As an alternative, you may also be able to transfer up to 12 credits to one of our two-semester Undergraduate Certificate programs.
Visit our program pages below for more information:
If you're interested in learning more, visit sessions.edu to find out about our Credit Transfer policy and ask our Admissions staff about a free transfer credit evaluation. Also stop by our student gallery and find out what our students say about their Sessions College experience.
Here are some further Web resources to find out more about transferring your ITT Technical institute credits:

Sessions Staff is a restless soul who loves to share Campus News stories with current and prospective students.

Request Information
We'll gladly send you info on our online programs.