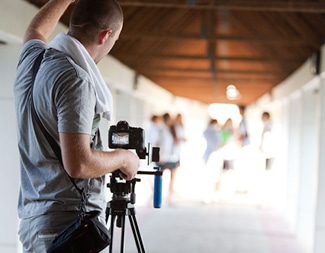 Professional photographers take pictures with a high level of detail or artistry. Photographs by Sessions alumni Jason Maclean
Design Career Guide
Photographer
What does a photographer really do? When you imagine the life of a photographer, is it filled with glitz and glamour? Extravagant parties and travel to exotic locations?
Photographers are hired to create remarkable images of everything we are interested in: people, products, landscapes, food, events, you name it. They capture reality in interesting and informative ways with artistic vision and a command of their medium.
View More Creative Jobs: Graphic Designer | Fashion Designer | Web Designer | Animator | Marketing Manager | Art Director | Illustrator | Multimedia Designer | UX/UI Designer
Photographers: Capturing the moment in images
Q: WHAT DOES A PHOTOGRAPHER DO?
Photographers
are often defined by their subjects—by what they take pictures of. Ansel Adams was known for landscapes, Annie Leibovitz for portraits. Many choose an area of specialization such as weddings, event photography, or product photography, and become known for that expertise.
All photographers must possess a good eye and a technical understanding of what makes a great photograph: from lighting to composition to camera settings. Photographers who work with people must be friendly and cool-headed. There is an art to making subjects feel at ease or revealing a desired quality in them. Photographers working in journalism or event photography must possess confidence and fast reflexes to capture the perfect shot.
For most professional photographers, taking pictures is one small slice of the pie. Much of any professional's time is taken up in with editing and processing images, communicating with clients, advertising, networking, and other business tasks. Photographers tend to work independently, so a good head for business and ability to promote your own services is key. The hours can be irregular and long, and the work may require travel and be physically demanding depending on the equipment needed.
Q: WHERE CAN I RESEARCH JOBS?
Though photographers live and work everywhere across the country, the majority of photographers are employed in California, New York, and Florida. Many photographers are self-employed, and jobs listed on career sites are mostly short-term in nature. Freelance photographers tend to cultivate business through networking, advertising, and customer referrals in their local communities.
Q: WHAT ARE THE CAREER AND SALARY EXPECTATIONS?
PHOTOGRAPHER SALARY: According to the U.S. Bureau of Labor Statistics, the 2018 median salary for Photographers was $30,000. 1 in 3 photographers work part-time.
The daily work environment for a photographer will vary greatly depending on his or her area of specialization. Some photographers work in studios, some work outdoors on location. For many photographers, the job involves a lot of back-and-forth travel between locations and a studio where images can be edited and produced. Some photographers work with assistants for makeup or production setup.
The U.S. Bureau of Labor Statistics lists the 2014 median salary for photographers as $34,000 per year (bear in mind that 1 in 3 photographers work part-time).
The Federal Occupational Outlook Handbook found that 68 percent of photographers were self-employed in 2018.
Q: HOW DO I GET STARTED?
With digital photography, the barrier to entry for exploring the medium has never been lower. So if you're interested in photography, start right now. Grab a camera and plan a photo shoot. Identify your favorite subjects. Research photographers you'd like to emulate and start to critique your own work. Check out beginner photography magazines online to get into gear.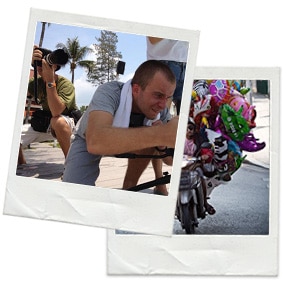 A degree is generally not required to become a photographer, as few clients demand credentials and many photographers learn by practice from years on the job. At the same time, many photographers benefit from formal art/design or photography training, and certain specializations, like photojournalism, industrial photography, and scientific photography, may require a degree. The bottom line is that you need to gain practical experience and concurrently acquire whatever knowledge will make you a better photographer.
As with many jobs in art and design, photographers need a strong portfolio for professional work in the field. Most photographers have an online portfolio that shows a selection of their work broken down by category.
Sample Job Description
Do you have what it takes? Here is a typical entry-level job description for a photographer:
Photographer
Retail Giant, New York, NY
Job Description: Retail Giant has an immediate opening for a Photographer in our Long Island City Photo Studio. You will support the Art Director in our fast-paced studio environment working closely with designers and stylists.
Learn more
Job Requirements
:
Produce high quality digital shots for use in marketing and advertising
Manage photographic workflow on a daily basis
Collaborate with other creative team members to achieve weekly goals
Knowledge of Adobe Photoshop and Indesign
Understanding of lighting including strobe, tungsten, and ambient lighting
Proficient in a variety of DSLR and medium format digital camera systems
Microsoft Office and Mac OS
Exceptional team player with the ability to work independently
RELATED JOBS:  Retoucher, Studio Director, Art Director