3 International Urban Design Projects to Watch For
No items found
| October 7, 2014
$104m design revamp of Glasgow's Queen Street Station
(Image via networkrail.co.uk)
Glasgow's Queen Street station is getting an expensive makeover. The station, which currently supports 20 million passengers a year, is being revamped to accommodate 8 million more passengers and longer trains.
Queen Street is already considered one of Scotland's most important stations, and according to the minister of transport, the stylish redesign will transform the station into a 21st century transport hub.
Visit the BBC article for more images of some of the proposed design changes.
Beautiful new transport hub envisioned for Finland's second city
(Image via dezeen.com)
A design team comprised of Danish architects COBE and Finnish firm Lundén Architecture has taken first place in a competition to design a new transport center for Finland's second-largest city, Tampere.
The winning design, called Reconnecting Tampere, aims to "unite" the center of the city. The design includes a new transport building with a large public plaza—or "urban living room"—above the railway lines.
Click through to Dezeen for more futuristic images of the illuminated transport center.
London's floating bicycle highway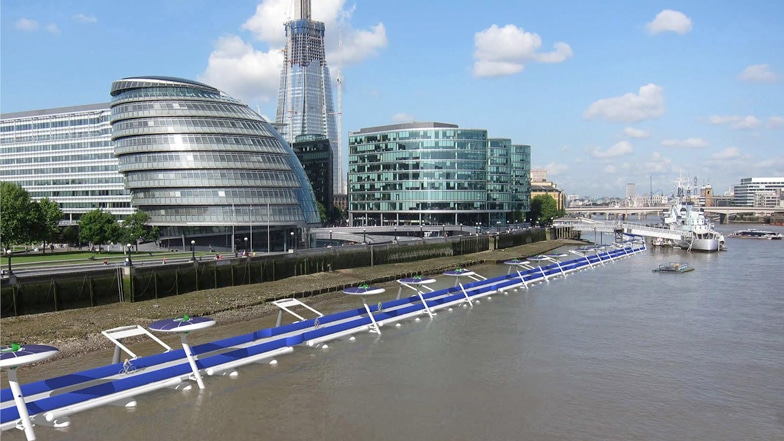 (Image via dezeen.com)
A group of British designers and engineers have proposed a visionary solution to London's traffic congestion: Why not build a bike path to float atop the River Thames?
The Thames Deckway, which would be over 7 miles long, would be more of a bicycle "highway" than a simple bike path. The Deckway would be protected from automobile traffic, would float up and down with the tides, and would be powered sustainably—by water, sun, and wind.
But the design isn't without problems. The Deckway design will need to account for mooring structures and bad weather, which could pose a threat to cyclists. There's also the issue of cost. The current proposal lands the project around 600 million pounds, which is over 960 million dollars.
Want more information about the proposed Deckway project? Click through to Dezeen and The Verge.
No items found