In-house with Brian Edlefson: Lead graphic designer in Whirlpool Corporation's Global Consumer Design studio
No items found
| July 24, 2007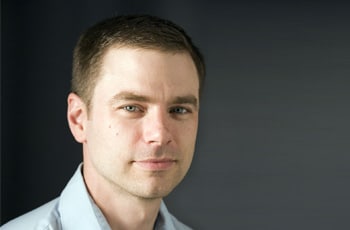 Brian Edlefson
Brian Edlefson strives for more graphic thought and less visual clutter. As a lead designer in Whirlpool Corporation's multi-disciplinary Global Consumer Design studio, Edlefson is responsible for infusing household brands like Whirlpool, Maytag, Kenmore, and Amana with smart graphic design strategies. Prior to moving to Michigan, Brian developed design solutions at Target, The Museum of Modern Art in New York, Herman Miller, and McDougal-Littell Publishing. He earned his BFA from Western Michigan University (1996), studied color in Bali, Indonesia with Ohio University (2000), and achieved an MFA from Yale University (2005). Edlefson's work has been recognized in many national and international creative competitions (New York Art Director's Club, Communication Arts, Creativity, Graphis, HOW, Print, STEP Inside Design) and chosen for inclusion in the National Design Archive at the Library of Congress. Recently, Brian was a featured speaker at the 2007 HOW Design Conference in Atlanta.

A limited edition poster commemorating Charles and Ray Eames. 24x36in, hexachrome offset
I'm curious about your current position at Whirlpool. What are you doing now that you've left Target? I heard you're no longer in Minneapolis- is that true?
Brian: Yes, I left Target and Minneapolis to accept a position with Whirlpool. Although I love Minneapolis-and my time at Target was rewarding-this new role offered the unique opportunity to help lead a multidisciplinary design team. It has been a very natural professional evolution. My most rewarding design experiences have involved collaborations with colleagues outside typical graphic design practices: architects and interior designers at Herman Miller, curators and historians at MoMA, marketing strategists and interior architects at Target, and now consumer product designers at Whirlpool. My current role also builds on my interest in defining and differentiating a collection of brands. Whirlpool is a big, global company with many household brand names (Whirlpool, Maytag, Amana, Kitchen Aid, Jenn-Air, Magic Chef, etc.). Making compelling design solutions-in collaboration with product designers—on a collection of 'un-sexy' products—offers a lot of challenges. In some ways it is different than Target because the 'bullseye' caché is almost universally appealing. Target uses design as a powerful marketing tool-whereas Whirlpool uses design to make tedious tasks like laundry and food preparation more pleasurable, easier.
What are the specific challenges of designing an 'unsexy' product? Do you find that the demands on your creativity and of your conception of design change with when it's focused more on everyday utility than marketability? Finally, which is more satisfying?
Brian: First-I should clarify/retract my description of Whirlpool's products as 'unsexy'—it is a prejudiced view of some very compelling product design. Better adjectives might be pragmatic, utilitarian, or under-appreciated. Now, the problems are similar in that everyone wants an attractive, compelling design solution—the challenge for these practical products is that customers typically don't pay attention to innovations and advancements in laundry machines unless their products need to be replaced. Our work revolves around differentiating our family of brands and ensuring that people make smart decisions—because (typically) they won't be in the market for new appliances for many years.
I find Target's dynamic marketing and Whirlpool's practical problem-solving equally compelling and satisfying. Generally, Whirlpool's research-driven process probably best fits with my personal problem-solving methodology.
You held a position on the AIGA Minneapolis chapter's board of directors as the Associate Programming Director for in-house designers. Why is in-house design an important professional category that needs to be recognized by the AIGA?
Brian: The Minnesota chapter was unique in recognizing the in-house segment of the profession and I believe that this role is important because it gives a voice to this specific design demographic.
What is unique about this demographic? What are the particular 'in-house' issues that you addressed?
Brian: In-house creatives tend to feel separated from the rest of the field simply by virtue that they are often in large companies without graphic design peers. It is a large portion of the field, but often in-house designers are located outside big metropolitan 'design' centers. The best way to combat isolation and build camaraderie is through forums or connections that allow open communication.
Working in-house sometimes gets a bad rap for being less 'cool' than working at smaller firms or freelancing, but you've made a career out of it—what are the pros of being in-house? What surprised you the most when you started as an in-house designer after freelancing?
Brian: I have to admit that I never planned a career path as an in-house designer. It really happened by accident; I have been very careful to consider job opportunities—both inside and outside large organizations. I suppose that I have found that within large organizations there is more opportunity to work with people from many different professions—from ergonomic research specialists to truck drivers. I also believe that I have an opportunity to participate on projects on a longer continuum, from the inception of an idea through the execution of the final form. As a freelance designer I was often frustrated that a lot of decisions had already been made before I was hired to 'begin' a project.
The most surprising part of transitioning from freelance to in-house was the work hours. There is a common misconception that in-house designers work an easy 9-5 day. That has never been my experience.
So, if you could change one thing about the in-house process, what would it be?
Brian: Fewer meetings

Hard Graft is my self-published thesis book from Yale-a graphic exploration on the subject of 'cut and paste'. 6x9in, 4-color digital offset, 132 pgs
Before your in-house experience, you freelanced for several years. What did you value in your career as a freelance designer? Did your experience as a freelancer contribute to your decision to dig deep in-house later?
Brian: I freelanced between multiple in-house gigs. Before Herman Miller I freelanced in Chicago. I freelanced for MoMA while at Yale-before Target. I often accept freelance projects in addition to my 'inside' jobs. Freelancing is similar to in-house positions in that they both require individuals to be facile in many different roles: project management, writing, print- and web-production, account management. I find the long-term relationships in large organizations to be rewarding. Freelancing can be a solitary life; I get bored if I don't have an opportunity to interact with people.

one (of 5) of the Picnic Posters I designed/illustrated for the Herman Miller Annual Summer Picnic. 24x36in, 9-color silkscreen

Many professions require periodic professional education to keep their skill set sharp; you completed your MFA from Yale in 2005. What prompted you to restart a course of study in the middle of a productive working life?
Brian: I had always thought that I would return to school eventually. I had worked at Herman Miller for over six years and was fortunate enough to gain some great experiences there. I was at a point where I wanted to consider other areas of design beyond what my position offered (like motion graphics, interactive media, writing and criticism). I had also become a father and was inspired witnessing my son's hunger for learning and experiencing new things.
I was complacent and very naive. The transition was more difficult than expected; now that I have some perspective I can see that the benefits were much different than I anticipated. I applied to grad school with the notion that it would land me the best jobs. Rather, it has made me a more critical practitioner; it changed my definition of what qualifies as the 'best job'.
So what qualifies as a 'best job' now?
Brian: A position with design authority and an environment that fosters experimentation, exploration, and continuous learning; a job that accepts occasional failures in the pursuit of excellence. A satisfying design process has become as rewarding as the outcome.

An address book for the curatorial committee, designed for the Architecture and Design department. 6x6in, 44pgs.
Over the course of your career, you've moved between several great positions at similarly great creative companies (MOMA, Herman Miller, Target and now Whirlpool)—how do you know when it's time to move on professionally?
Brian: When I don't want to go to work; when my job/projects become predictable.

A congratulatory Ad celebrating recipient of the Ad Council's Public Service Award. Creative Director: Connie Soteropulos
During your tenure as Art Director, Target won the AIGA's Corporate Leadership Award in 2006, though it's been producing great work under the slogan 'Design for All' for much longer than that. How do you keep things hip when you're working for a large corporation, especially one that aims to reach a very broad section of the population?
Brian: Target's Corporate Leadership award is a testament to MANY talented designers working very hard. The struggle lies in combining 'hip' with 'large corporation'. Strangely, that is also where organizations like Target get their momentum—the people. I found that the qualities that resonate with employees are also the things that attract public attention and admiration. Corporations like Target (and Apple, Google, and IKEA) know that they just need teams of people who can listen—and watch—for resonant touchpoints, such as environmental sustainability, affordable aesthetics, easy function, investment in the community, ticklish Elmos, and a useful cell phone.
Working for companies that offer lots of products and services means you've had to design for various media platforms. What are your strategies for keeping it coherent with such a wide scope of requirements?
Brian: I think a lot of companies assume that they have to design SOMETHING for every medium—instead of designing something WELL, in the media that attracts your audience. Herman Miller doesn't really advertise, but they know that they reach customers through other channels. Whirlpool depends on big-box retailers to sell their products, so they focus on designing great products. I personally think that the wide range of media/projects is exciting, but there is the very real danger that design solutions become predictable—cookie-cutter for the sake of 'brand' consistency.
How do you avoid cookie-cutter syndrome for brand consistency?
Brian: It's a fine line between establishing brand expectations and repeating the same thing for the sake of recognition. I believe the most successful brand designs accommodate an element of surprise—an organic method for applying the identity that defies any specific trend, time, or medium.
At the recent HOW conference in Atlanta, you spoke about ways to find time for creativity in a day filled with meetings, management and administrative tasks. What are your strategies for making time to design? Are the challenges different for freelancers and in-house designers?
Brian: Freelancers have more flexibility with their schedules and their calendars are not as transparent. Anyone I work with can view my schedule and see when I have some spare time. In Atlanta, I encouraged designers to carefully consider when they feel productive, and to schedule their responsibilities accordingly. Personally, I know that I have more clarity and focus early in the morning, so I try to keep my meetings scheduled in the afternoon. This ensures that I have the morning to design-and this makes me a more pleasant, less stressed attendee at meetings.
As you've become a management guy in a creative firm, how do you see your role? Are you still primarily a designer, or does pressure from the client influence your creativity differently now that you're in charge?
Brian: I am still a designer, but now I focus on less tangible design problems. Many of my projects don't get printed, produced, or manufactured—they are conceptual exercises or design strategies.
These strategies outline a vision for 'what it could be' by providing concepts that provoke the leadership to make decisions. I visualize equations: if you give me these criteria and objectives, you could get these (several) design results. I visualize those results and present them in concept form—many of them will never be seen. The benefit is that by the time the 'final' design is presented to the public it has been considered from many aspects beyond typical corporate financial, manufacturing, and legal considerations.
I am still acclimating to this change in my work and responsibilities. Managing talent and resources is an interesting challenge and it can be rewarding, but it requires a different sort of evaluation. I will always keep some pragmatic, tactical projects to maintain awareness of current trends and practices. It was hard enough to define 'graphic design' for my parents—now I'm trying to find a way to describe a job that involves consulting, strategy, and proof-of- concept research. And I used to be an art student…
No items found