Camilla Meijer: Bringing the Outdoors Inside
Born in Sweden, Camilla Meijer is a London-based pattern designer specializing in wallpaper and textiles. Camilla's technical training in Graphic Design has taken her on an unexpected, botanical path of pattern design. She elegantly draws upon her journeys through London's greenery to relate stories of her past and present into her Camilla Meijer Design brand. Staying true to her mission to spread the beauty of nature to others, Camilla's use of texture and color has gained her appearances in Design Week, Fashion Extras magazine, Home Décor & Furnishings, and the Essential Kitchen Bathroom Bedroom. In 2007, Camilla won the "New Designers One Year On Award" at New Designers Show in Islington, London. She is represented by textile agencies in New York, Paris, and Tokyo.
In this interview, Kerri Besse talks with Camilla about her creative print design process. From a stroll in the park to note-worthy design, she shows us that a career path less traveled can be surprisingly rewarding.

Notes on Design: When did art and design first enter into your life?


Camilla Meijer: I guess you could say that art entered my life as soon as I could hold a pen and as a child I always expressed my feelings and thoughts through drawing. What I loved then was to be able to lose myself in a world of fantasy… I still do today.


NoD: You have no formal training in textile design; instead you are trained as a Graphic Designer. How has your background in Graphic Design impacted your pattern and print designs?
CM: My background in Graphic design has helped me develop the eye for compositions, structure, colors and maybe the cleanness in my designs.
NoD: Walk our readers through what you do just before you start to work
on a print. Do you have any rituals?


CM: Before starting the work on a new pattern, I will head out into the London parks observing, studying and then collecting samples of flora that I then will bring back to my studio. I surround myself with my discoveries: leaves, branches, flowers; and allow myself time to fully admire and study them.
NoD: How does the study of your discoveries help further the design process?
CM: I want to be able to capture the magic that is found in natures flowing lines and its natural dance. I will first sketch its shape and movements and work out where best my line work will capture this. I create a wall from sketches to then start the work on my ink drawings that will then become the designs.

NoD: Do you have an end use in mind for a pattern before you begin to create it? Meaning, do you subconsciously think; "I am going to work on prints for wallpaper today"?


CM: Subconsciously all my designs are aimed for wallpaper as this is my most exciting medium to express my work, with wallpapers I got a whole wall in which to bring my designs to life. Before starting a new pattern, if it's for my own collection or commissioned work, I will know its medium before it's been created.
NoD: Which software, if any, do you utilize when creating your patterns?
CM: After I've finished my drawings and sketched my repeat structures for the designs, I then scan the artwork and import it into Illustrator where I set the colors and build the repeats for the finished designs and its finished product medium.
NoD: Are you inspired more so by your Swedish roots or your current
surroundings?
CM: You can't take the Swede out of me, but I would say it's thanks to this green island, England, that I have been inspired to create these nature based patterns. 
What I bring from back home is maybe my 'daring use' of colors and the cleanness that you see in my patterns. Swedish homes in general are very minimalistic and clean, but will always have some element of strong color. England with it's passion for gardening and its beautiful Victorian and Edwardian architecture allows me to find endless inspiration for my work.

NoD: What does the future hold for the Camilla Meijer brand?


CM: My wish for the future is for the Camilla Meijer brand to continue its journey on making beautiful patterns from nature. To be able to expand my product range and find new mediums for the home where I can apply my designs.
I would like the freedom to be able to continue to evolve as a designer.
—

From the NoD Sponsor:
Sessions Online Schools of Art and Design is an accredited online graphic and web design school offering:
– Graphic design classes and graphic design Certificate Programs taught by renowned design instructors.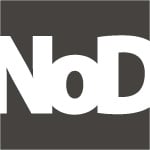 This post was authored by NoD staff. Notes on Design is a design industry blog sponsored by Sessions College for Professional Design.