Corporate Work: Rights and Usage
No items found
| November 29, 2007
You asked your legal, copyright, and trademark questions, and Jean has answered! All questions are culled from the comments section attached to the original 'Ask Jean' post. We invite you to ask more questions.
Dear Jean,

I am a web designer. Recently, the brand/company I worked for was purchased by another company, and I was "sold" along with the brand. The new company treated me very poorly, and my new boss was verbally abusive. I was forced to quit for my own health and well-being. They were very upset when I quit and have threatened legal action. They recently sent me a letter saying they were going to sue me for using their logo in my portfolio on my personal website. To clarify, everything on my site was created long before the brand was sold. I have taken the images down to be safe.

So my question is this: is it legal to display examples of your own work on your personal website portfolio if you produced it for a company?

Thank you so much,
Mitch

Dear Mitch,

If you are an employee of a company, all the work you create while employed belong to the company. If the company is sold, the purchaser acquires all rights, including the rights to the work you created while working for the prior organization. So, without permission from the old company while it existed or the new company now, you may not use your own work in a personal portfolio. You do not own the rights to it. The opposite is true if you work as a freelancer. Unless you transfer the rights to your employer/client, you retain them and can use your works in a portfolio. The best way to avoid these problems is to get permission in writing from prospective and previous employers, specifying that you have the right to use your own work in a personal portfolio.

Best,
Jean
No items found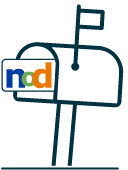 NoD Newsletter
Enhance your inbox with our monthly newsletter.