The New Creative Cloud – Everything New, or Just Better
No items found
| July 2, 2014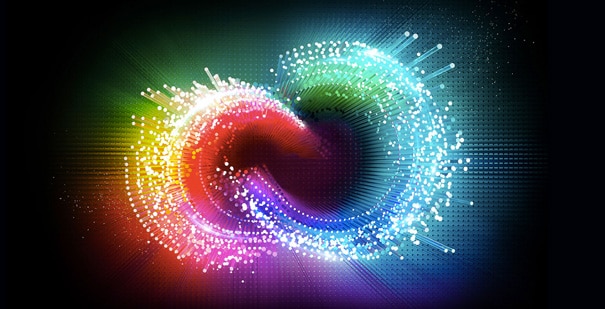 If you're on Adobe's mailing list, you'll have been bombarded in the last two weeks with news of the 2014 Creative Cloud release, promising "hundreds of new features," and "fourteen all-new apps," to name just two life-altering events.
Whether you're a CC devotee or a holdout still clutching your disk-based software programs, this product launch was a surprise. Wait, I thought the Creative Cloud meant no upsetting changes ever again? I thought I was supposed to subscribe, sit back, and feel the benefits of incremental software improvements wash gently over me, for ever and ever?
Instead, Adobe's press releases had the feel of a Steve Jobs product release: get this new product now, or forever be left in the dust.
There's no way I want to be left in the dust. So I headed over to the June 20th Adobe Workshop: Creative Cloud at SF Design Week, an event hosted at Adobe's fabulous and cavernous San Francisco office at 601 Townsend St. In the glass and brick lobby, there are sofa cushions monogrammed with app logos, so you can recline on Ai or Ps as you wish.
The 3-hour session was hosted by veteran software trainer and author Brian Wood. Wood is a tall and laconic westerner who somehow manages to make every aspect of a software program sound interesting, understandable, accessible, kinda neat, and actually no big deal–without going into a great deal of depth about anything, since there wasn't time.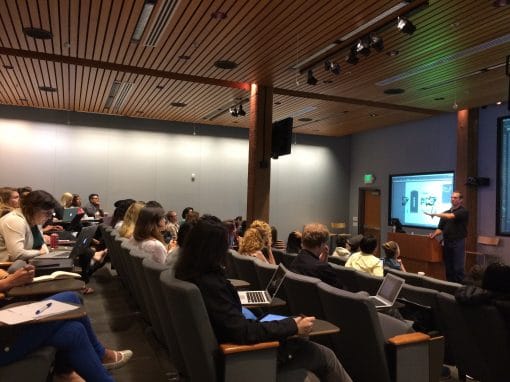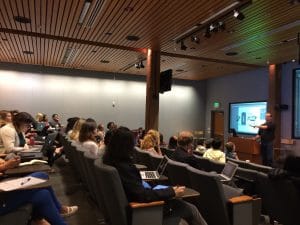 Adobe Creative Cloud event hosted by Brian Wood.
Brian Wood's gifts were a perfect fit for the workshop, because the overriding impression about this Adobe release is that it's not a world-shaker, but rather a case of the company's many products all improving in small ways that will help end users–artists, designers, photographers, and others–each do their jobs a wee bit easier and better. That plus some innovations in the product and mobile spheres that suggest interesting new directions for Adobe.
So what's really new? Three ambitious new mobile Adobe apps, Photoshop Mix, Adobe Line, and Adobe Sketch are all spanking new, and a Lightroom version for iPhone has been added. The mobile apps are a departure–Adobe makes desktop software, right? And in different ways they embody Adobe's vision for the Creative Cloud: creativity in motion, freed from the shackles of that square ol' mouse-keyboard-PC combination.
Photoshop Mix promises quick Photoshop tools on the hoof. You can edit images using compositing and masking tools. Adobe Sketch provides a free form drawing app, while Adobe Line provides a pocket architect's toolset, letting you draw curves, lines, and shapes in different perspective views. Cloud capability allows the tools to do surprisingly complicated or intensive tasks and share your artwork or access files, fonts, palettes or anything creative that you've stored in the ether while out of the office.
All of this sounds groovy, and it looked cool in presentation, but how will it actually affect designers? Can the sweaty digit ever compete with the mouse or pen in terms of creating professional artwork? You suspect the main value of these tools will be rapid prototyping on the fly, impressing the bejesus out of clients at meetings, or kicking around creative ideas. Which are all valid applications, now that I think of it…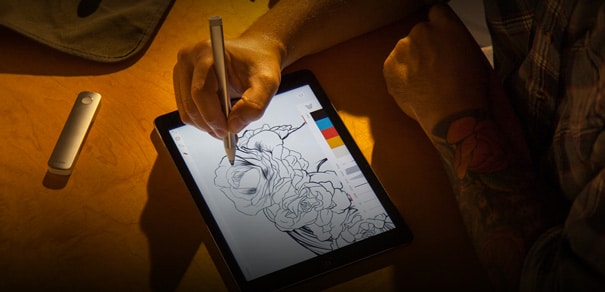 Image of Ink and Slide in action
Arguably more groundbreaking is Adobe's Ink and Slide, a foray into hardware! (What will they make next, designers?). The Ink product and its packaging, designed by Adobe with help from outside companies including Mindtribe, Character, and Uneka, aims to make the humble stylus look good and feel real. Its beveled shaft is an attempt to create a product that feels natural whether you are left and right-handed. Early reviews by people who can draw applaud its usability compared to other products with the caveat that it's still a stylus.
A third innovation is Adobe's decision to offer a Creative Cloud Photography plan that makes Photoshop and Lightroom available as a separate package for a low monthly subscription. That's a really interesting move that will give the massive photography market just what they want and need. Could the rest of the CC product ever be disaggregated?
While the press releases promise an update for every CC software, the Creative Cloud Workshop I attended focused mostly the Big Three: Photoshop, Illustrator, and Chris Bosh. (Uh, sorry, I meant InDesign – wrong big three.)

What could possibly improve in the 15th version of Photoshop? Quite a lot, it turns out. It's faster. It opens up in seconds, at least in demo. Like its partner applications, it has a built-in Typekit workflow, so it's easier to find fonts or missing fonts. You can live preview alternative fonts, making it easier to search and swap type designs on the fly.
You can filter layers by layer types, such as smart objects, to more easily root through complex layer trees to find what you're looking for. You can now Package and Place Linked files, so you can link to one central version of an image, making your files easier to edit quickly. Smart guides now include the pixel distance between objects, for more precise arranging. New blur tools like Path Blur and Spin Blur make it easier to create motion effects in parts of an image…
Feel free to stop me if this sounds like steady progress rather than a tipping point in visual design. Here's a nice quick tour of how the new Photoshop CC features might help you as a designer at 99designs.com. It's not a revolution, but it's a set of interesting new creative tools that will definitely save designers time and seem purposely designed not to change the world but address some persistent workflow problems or needs and make the product better. Which might just be the best approach for Creative Cloud subscribers, to just sit back, relax, and let software innovation make your life easier in small steps.
No items found