Emily Cohen: Doyenne of the Creative Brief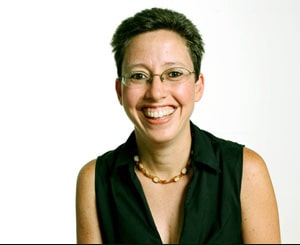 | | |
| --- | --- |
| | |
| Emily Cohen, Doyenne of the Creative Brief | |
Emily is a creative consultant with an expertise in the creative development process. Emily has spoken at: How's "InHOWse" Design Conference, AIGA/Chicago, (Discussion Panel: "The Path to Profitable Growth"), Apple Store in New York City, (Presentation: "Winning Strategies for Creative Professionals."
Q: What issues do creative professionals face over and over again? Can you recommend any alleviation for these issues?
Emily: While I find designers incredibly smart, many often have little or no experience running and managing a business or a creative services department. They often leap before planning in many areas of their business, from how they market their firm to their hiring strategies. This organic growth strategy ultimately has its limitations. At some point, designers realize they want more from their business: higher fees, better clients, more respect, and more staff. This is when the common issues become apparent: How can I charge more money? How do I get my client's to better value my services? And, who should I hire next?  All of these issues can be alleviated with a comprehensive analysis of their entire business structure and the development of short and long-term planning to accommodate each person, firm, or department's unique expertise, culture, strengths, and weakness.
Q: What are some of the recent trends that have impacted the design profession?
Emily: In order to provide more consultative, value-driven services to clients , designers are offering more integrated strategic thinking – including, but not limited to, brand research, positioning, strategy, naming and editorial/copy development. As a result, the creative profession overall is differentiating themselves, increasing their value with clients, commanding higher fees, and developing more collaborative relationships with both their clients and a variety of interconnected alliances.
Q: Since the creative profession is always expanding and changing, how do you stay informed and current? Why is it important to do so in this profession?
Emily: I read several industry magazines and business publications, as well as books of all sorts. I also speak at—or attend conferences—socialize continually, and am an active member of several industry organizations. Through these sources, I continually seek out best business practices and trends that are applicable to the creative profession, and love to meet new people who inspire me. It's all about six degrees of separation; everybody knows everyone else—I truly believe in not burning bridges, connecting people and developing long-term open and authentic relationships with everyone; no one is a competitor, and everyone has the potential to help each other in some way.
Q: You've written and spoken extensively on Writing Effective Creative Briefs: (upcoming webcast here) What is a Creative Brief and why do you need one?
Emily: A creative brief is a written document that summarizes—as comprehensively and concisely as possible—both the business and creative objectives and requirements for a specific project or relationship. It is not a proposal, RFP (request for proposal) or initiation form. Those that are tactical and include project specifications, such as deadlines and budget. A creative brief is much more about the business objectives—it digs deep into the project and discovers the main factors that will drive the creative strategy.
Creative briefs are best written at the start of the relationship, and prior to the development of any design solution. They should be written after the research and discovery phase. The research and discovery phase includes identifying key stakeholders, decision makers and people on your team who will be part of the process; reviewing background material provided by the client; conducting a planning meeting with the client and stakeholders; and collecting additional research if necessary. The final deliverable will summarize everything you've learned during this process, including findings and related recommendations, and provide a clear set of expectations. It should align the client's business objectives with your creative strategy.
Q: I see you went to design school and started your career as a designer. How did you make the transition to consulting and how does that experience impact how you approach your consultative engagements?
Emily: After working for several years as a designer in a range of different environments—
including a magazine, corporate design department and design studio, I realized very quickly that there were many, many designers who were much more talented than me. It soon became apparent I wasn't passionate about the act of designing, but I still loved the industry. I am also a very ambitious person, always wanting to be the best I can be—and I knew this wouldn't happen if I continued working as a designer. I chose, instead, to remain in the profession I loved, but leverage my organization and management strengths instead. I soon became a studio manager of a small eight-person studio that grew, over the seven years I was there, to over twenty five people. My consulting practice grew out of this experience. I've never looked back and truly love what I do and who I work with.
Q: As an experienced consultant, you have tremendous experience consulting with both design firms and in-house corporate creative departments. How are these different career paths similar and different? Do they share the same business struggles?
Emily: Design studios and in-house corporate creative departments, while different, also struggle with similar and/or related issues. They both struggle with the unique challenges inherent in managing highly creative and passionate personalities while still adhering to clear project parameters, budgets and schedules. Our industry, as a whole, is trying to better express and sell the value of what we do—that we are more than decorators and more than a vendor or pair of hands—instead, our strategic expertise and insight can truly help create powerful brand experiences and drive organizations forward.
One more common day-to-day struggle all designers share is working within often unreasonably- low budgets and tight schedules. In-house design departments are unique in that they also have to work within a heavily siloed, slow moving and often change-adverse corporate culture. They must continually explore new ways to inspire their design team while still embracing the reality that they have strict brand guidelines, tight deadlines, and often limited access to diverse creative opportunities. Yet, they can offer better benefits, higher salaries (sometimes) and more reasonable work hours than most design firms.
Design firms, on the other hand, have to embrace that they are indeed a business, which requires a focus and skill at marketing, negotiating and time, project, budget and client management. Finding people skilled in these areas can be challenging. In addition, finding and retaining talented staff with the right mix of experiences and qualifications is also difficult. Yet, design firms are often far less corporate and more collaborative (thus catering to the creative personality) and can offer diverse creative opportunities.
Q: How do you find your own personal style of consulting helps your clients make changes to how they manage their clients, staff, and projects?
Emily: I find that my direct, honest style of consulting along with my extensive industry experience has more resonance with clients who are ready and willing to make significant changes in how they run and manage their business. My depth of experience working with a range of designers and in-house corporate creative departments allows my clients unparalleled access to best business practices and insights and provides them with real-world success stories that motivate and inspires them to change. Without this particular focus and passion within the design industry, most management consultants provide cookie-cutter solutions that don't necessarily consider the unique issues inherent in the design profession. I understand that each of my clients are unique and require customized, relevant recommendations – thus resulting in greater impact.
Q: Let's pretend I am a new client, and I'm coming to see you for the first time. Where do you start?
Emily: Ultimately, it depends on the service each new client requires, as I consult on a range of areas—including pricing, proposal development, staff, and client management. Most new relationships, will, of course, begin with a proposal outlining our mutual expectations for our relationship and their commitment to change. I then meet with and/or interview the owners of each firm (or manager of the creative services department) as well any other related stakeholders that may have additional insight in the area of my consultation (clients, staff, vendors). I also review any additional background material that will provide additional context and understanding of my new client's unique issues (such as: organizational charts, employee handbooks, client proposals and contracts, creative briefs, time sheets and other management tools). Once I feel I have truly immersed myself in better understanding the specific personality, culture and strengths and weakness of each client – then, and only then, can I begin to provide tangible solutions-driven impactful consultation. My services are built on trust, mutual respect, and collaboration.
Q: What criteria do you use in taking the 'temperature' of business you are consulting with? Do you have a checklist?
Emily: I pride myself on customizing my consultations for each client and not on providing generic solutions. It's very important for me to get to know the unique personalities driving the design firm or department. The best way to check the temperature of the firm or department I'm consulting with is to evaluate those in management and leadership positions – as these people have an enormous impact on the success or failure of their team. This can be a difficult process, as no one person is perfect, and my job is to recommend enhanced operational structures, systems, and staff that leverage the strengths and weaknesses of the department/firm and those leading and managing the team.
Q: Can you offer parting words of advice to aspiring creative professionals looking to take their careers to the next level?
Emily:
Check your ego at the door – be flexible and humble (we all can learn from others)
Each client and project is unique
Honesty works both ways
Do not be embittered by past relationships, learn, and move on
Don't burn bridges
Under promise and over deliver
Always return calls – no matter who it is
Put everything in writing

Designer and writer Kate Andrews was the original editor of Notes on Design blog, founded in 2007.