Eric Karjaluoto, Creative Director & Principal, smashLAB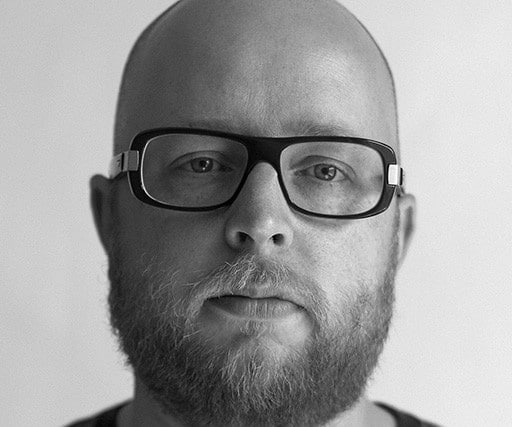 Eric Karjaluoto, Creative Director & Principal, smashLAB
Eric Karjaluoto is a bald man with a lot of ideas. He studied at the Emily Carr Institute and now leads creative efforts at smashLAB, where he focuses on brand strategy, identity, and interactive design. He has worked on a number of diverse projects for clients in the public and private sector. He strongly believes in a sobriety in design that results in work that is both pragmatic and meaningful. Eric often writes about design on his blog: ideasonideas. He is strangely obsessed with type design, and is an exhibited painter. He is working on his first book.
Q: Have you visited the new Intersections Digital Studio at your alma mada, the Emily Carr Institute yet? I heard that it cost $4.3 million to build and features some fantastic new digital equipment meant for projects in: sustainable design, health-related product design, video gaming and interactive digital entertainment.
Eric: I'm embarrassed to say that I haven't. I still drop by the campus from time to time, but I hadn't realized that the new studio had already opened.
Q: What's your earliest memory of making "art"?
Eric: I've always been interested in making things. I remember drawing logos in third grade and trying to make little comics, newspapers and the like. (I was a little nerdy.)
An ad for Northern BC Tourism which playfully interpreted bear-safety messages. The photo shoot took place in our old office. We had 8 people stuffed in to 350 square feet, on the hottest day of the year.
Q: What's a day in the life of Eric Karjaluoto?
My work habits vary from week to week depending upon the projects we have underway. This week I have been revising website comps and working to determine an appropriate photo direction for an internal project. Last week I spent time writing some blog articles and worked through some iterations of client work. I generally spend the first couple of hours responding to email and sorting tasks, managing projects, et cetera. I'm a little foggy in the mornings, so this works well. After that I focus on one project for the rest of the day. I find this useful as it keeps me from switching gears all day.
Q: Eric, you are quite good at marketing and promoting yourself/smashLAB, ideasonideas. Are there any tips you can offer designers looking to promote themselves and their unique skill set?
Eric: I believe that our more recent marketing efforts have been the most effective, as they have been personal. This seems to have resonated well with our audience. In the early years of our business, we used a lot of catch phrases and business rhetoric–that was a terrible mess. It strikes me that as a graphic designer your greatest strength is the ability to communicate. I believe that making a connection with a potential client in your own marketing materials illustrates a command of this faculty. My best "tip" is to do what feels right for you, instead of trying to meet a perceived need. In my experience this has always proved the most fruitful.
The Lab and Work brochures featured random stories about smashLAB and project samples. The covers were photos of studio items brought together to form the titles. We wanted to imply a laborious process with clean results.
Q: How do you attract new clients at smashLAB?
Eric: Most of our work comes from referral. (Such a typical response—I know.) We have more recently sent out some promotional pieces. I still feel that we're rather haphazard in our efforts. It seems that we just put out what we do, and somehow people seem to find us. I hesitate as I say this, as it is certainly not the kind of advice I would ever give to one of our clients looking to attract new business.
Q: What was the most difficult/satisfying project you ever had to work on?
Eric: We're working on it right now. It's an effort to encourage sustainability in the graphic design community, and it's called Design Can Change. We want to do our best with the project, as it's a topic we feel is important; however, we're not sustainability experts, so we've had to work particularly hard on the research component. We're now refining the content and it's starting to feel as though we're seeing a light at the end of the tunnel. For as daunting as it has felt at times, I think we have all really enjoyed being part of something that may have a positive impact.
Q: Did you always know that this is the profession you wanted to be in?
Eric: Yes and no. In high school I remember saying that I wanted to be a commercial artist—at the time I didn't even know what a designer was. (That was way back… in the eighties.) I never had any doubt that I would do something creative, but it was particularly hard to decide upon a path when I was in my early twenties: photography was exciting, I enjoyed writing immensely and painting made me feel very alive. I spent several years painting (www.karjaluoto.com) before I fully embraced graphic design.
Q: Tell us a bit about your forthcoming book. What is it about, how long have you been working on it, what inspired you to write it?

Eric: Its focus is on ideas: how designers come up with them, the processes they use to refine them and ultimately how they defend them for long enough that they can survive on their own. The book is still in the very early stages of development. I hope to focus on it more when we finish with Design Can Change.
Q: What advice would you give to a designer just starting out?
Eric: To love the work. If you enjoy what you are doing, it will be it's own reward.
Q: How do you stay motivated when things get tough in the studio?
Eric: It's not always easy, but I just keep working. I read a great deal, and that mitigates the impact of harder stretches. When I look at the bodies of work created by people like Alan Fletcher or Paul Rand I see just how far I have to go. It's when a little voice in my head kicks in, "Okay Eric, I know this part of the gig is tough, but suck it up and get on with it."
We recently completed this site for the Cariboo Chilcotin Coast Tourism. It was a long process, in large part due to the many layers of content.
Q: What are some of the projects you are working on currently at smashLAB
Eric: We're entirely focused on Design Can Change at this time. We just have to get it out there, so we've put nearly everything else on hold in order to complete it. It's a nice way of working, as it builds momentum for the project and allows you to finish before you lose interest.
I should also take this opportunity to make a bit of a plug, if that's okay. I'd ask any designers interested in becoming more sustainable to visit www.designcanchange.com on March 1st, 2007.
Q: Where do you see yourself in five years?
Eric: I like where I am at right now. I have the opportunity to try new things, work with people I enjoy and respect, and I'm always challenged creatively. In many respects, I'd like to just continue along this path.
If there's one thing I would really like to move towards, it's to use design to do good. My wife has really opened me to the possibilities inherent in the work I do. I find this exciting as it helps me see greater purpose in what I do.
(I'd also like to visit New York more often.)
Q: You are the man behind the wonderful blog ideasonideas. When did you decide to write a blog, a blog that tackles the really tough issues relevant to "communication designers and brand strategists?" How do you find the time?
Eric: We started to work on the blog late in 2005. It seemed like a good outlet, as we wanted to share ideas with others. To be honest, we were a little surprised that people actually read it. The posts are long and sometimes a little dry. It has however been received well.
As for time management, I try to put aside a few hours every two weeks to focus solely on a post. Additionally, I keep a running list of potential articles and notes so that new ideas are always percolating.
Q: How do you see the industry in Vancouver/Canada differ from that in the States?
Eric: I haven't worked in the U.S. so I can't fairly compare the two. Vancouver is a beautiful and cozy city, but it does feel a little like an outpost at times. People often remark on how relaxed the pace is here. I believe that may be a "west coast" characteristic however.
Q: Do you have a memory of a very special moment in your professional career?
Eric: I remember a euphoric drive home from the studio one particular night. I had been working on a project, and seemed to make a breakthrough. It felt as though I had designed something beyond my capabilities. In retrospect, it really wasn't a terribly big deal, but those little moments are why I do this. For me, the best moments are when I'm learning or growing. It's a wonderful profession as it allows you to continually explore new territory.
Q: Is there a project you have worked on that turned out even better than you could have imagined? What made it better?
Eric: The studio itself has been my greatest surprise. My business partner and I started it at a bad time, with no money, and in a much smaller market than the one we are in now. It was an unnerving experience, as we didn't have any kind of safety net. We have now been working together for seven years and we've taken on many varied projects. I have to say that I owe everything to my business partner, Eric Shelkie, who has shared in the ups and downs, and is a brilliant developer. Additionally, we have a great young designer named Peter Pimentel who has become a part of our family. My mom also flies in once a month to help with our bookkeeping. She brings fresh baking when she visits which I think is a pretty great perk.
🙂

Designer and writer Kate Andrews was the original editor of Notes on Design blog, founded in 2007.
This blog is powered by Sessions College, the leading online school of visual arts.