GRADUATE SEASON: Chris Welsby – Graphic Designer
Chris Welsby is a graphic designer who graduated in 2009 from Cardiff School of Art and Design with a First Class Honours in Graphic Communication. A year on since graduating and as part of Notes on Design's ongoing Graduate Season, we spoke to Chris this month to find out more about his journey and what he's up to now.
Notes on Design: When did you first realise you wanted to be a part of the creative industry?
Chris: I got into art and design during my teens as a way of avoiding organised sport in school; I didn't really have many other options when I left school so I decided pursuing design at college would be a good idea. It was during my time at college that I began to learn about the role of design and it really resonated with me.
Notes on Design: What is it about design that excites you?
Chris: Design for me is about communication and it is the challenge of communicating in an efficient and engaging way that really gets me excited. I relish variety and enjoy being really tested as I believe that it forces me to consider what I am doing and refine my work. I am excited by the broad role of design and its potential, I believe it can range from just making something easy to understand or look good, right through to profound effects on a personal or cultural level. Asides from being excited by being a designer I am also really thirsty to engage with design and really enjoy that moment when you see something that is perfectly considered and executed and really stops you in your tracks.
Notes on Design: Did you feel prepared as you began the transition from graduate to professional?
Chris: I felt like I was fairly prepared but I certainly could have been more so. The degree course obviously has a big effect on this, but I feel it is largely due to the individual to ensure they are aware of what is expected of them when they graduate.
Notes on Design: Could you tell us about your journey after graduating?
Chris: I started a five week internship with Brighton based red design a few weeks before graduating, I was then offered work as a freelance designer and fortunately it turned into a full time job. I was really lucky to walk straight into a job, but I think it's crucial for graduates to start opening doors long before they graduate. I already had a good taste of the design world through two design internships both in very different studios. The first was at a large branding agency in London and as much as I enjoyed my time there I think it was apparent it wasn't where I wanted to work. My second internship was at a small studio in Cardiff and I really felt at home in the small studio environment. Asides from great experience of the role of a designer I felt having a good knowledge of the type of studio I would like to work at in future was invaluable in helping me target my future efforts.

2009–2010 © red design
I found some aspects of the transition from graduate to designer really hard. My main difficulties were the lack of time and managing multiple projects at once. It's also really hard to work on real jobs for serious clients as they can be extremely demanding. For the majority of jobs you don't have the luxuries of time and freedom that you have at university so you almost have to approach entering the real world with a starting from scratch mentality. One final issue that I really struggled with and still do a bit is working in a team. I do enjoy the collaborative approach but it is a very different mindset to how I worked in university but thankfully I have some amazingly talented colleagues who I am constantly learning from.

2009–2010 © red design
Notes on Design: How do you facilitate development of your understanding and awareness of your practice?
Chris: I am not really into social media or blogging so I don't use these at all to show my work but I do engage with other peoples a fair bit. I am pretty much the stereotypical designer in that I spend a fair chunk of my free time checking out other designers work and reading up about various goings on, but I see this more as an interest rather than a chore. In terms of extra curricular work I do take on small freelance projects that wouldn't be suitable for red and I try to just experiment and explore various self initiated projects. I am really interested in digital media and spend quite a lot of time working on little projects to brush up on various skills. This extra work really helps my day to day design and I have on a couple of occasions been able to apply things I was experimenting with to commercial projects.

2009–2010 © red design

2009–2010 © red design
Notes on Design: What's next for you?
Chris: I am really happy at the moment and consider myself to be lucky that I get to do what I love everyday and get paid for it — I hope that will continue for the foreseeable future. I want to ensure that I continue to test myself and get as good as possible with a view to ending up in a studio where I have a considerable say into the type of work the studio produces, whether this means setting up my own thing alone or in collaboration with others.
Notes on Design: Based on your experiences do you have any advice for this years graduates?
Chris: I think it's really important that students love what they do and are genuinely interested in it. If you find yourself in a situation where you're not inspired and engaged with what you do you're probably just looking at the wrong work / inspiration. I found it really useful to look at studio websites and get inspired by what the pros were doing. It's this interest and thirst to be really good that will prevail I don't believe that natural talent is good enough.
I would say getting some work experience is really important in ensuring you have a realistic view about what studios are looking for from young designers. This experience will help you enormously if you approach it with the right attitude, there's not much worse than an apathetic or cocky intern so be humble, be eager and work your ass off.
It is important to be technically able but don't get bogged down with worry about this as there is always room to learn on the job and no one is expecting a junior designer to be a technical wizard. I recommend you try and broaden your skill set so don't just play it safe and stick with just print, try your hand at motion, photography and web as even a small bit of knowledge in one these areas can really impress a potential employer especially if they don't have those skills.
As I mentioned earlier the transition from graduate to designer will be hard so be prepared to be back at the bottom and have to relearn everything you thought you knew. Most of all just enjoy what you do and work hard.
—
See more of Chris' work at ChrisWelsby.co.uk and red-design.co.uk.
—

Designer and writer Kate Andrews was the original editor of Notes on Design blog, founded in 2007.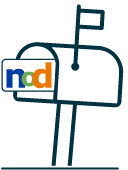 NoD Newsletter
Enhance your inbox with our monthly newsletter.