Hjalti Karlsson & Vera Yuan: Marriage of Designing Minds
Hjalti Karlsson and Vera Yuan at home with their son Dagur
Married couple Vera Yuan and Hjalti Karlsson live together in New York with their one-and-a-half-year old son Dagur. They are both designers and, as with all creative people, their work is an important part of their lives. Which also makes it an important part of their relationship ("It IS the relationship," Vera jokes before the interview). We thought the marriage of love and design was an interesting topic and sat down with them on a hot and humid June morning to explore it further.
Brief Hjalti bio: Born and raised in Iceland, moved to New York in 1989. Graduated from Parsons in 1992 and worked as a graphic designer at various companies and as a freelancer before spending four years at Sagmeister Inc. 1996 –2000. In late 2000 he launched the design firm KarlssonWilker with partner Jan Wilker whom he had met while working at Sagmeister. In 2004, the duo published the book "Tellmewhy" about their first 24 months in business. To learn more about KarlssonWilker see this month's cover story for Creative Review
Brief Vera bio: Born in Chicago and raised in California, moved to New York in 1997. She received a BA in architecture from the University of California at Berkeley. She worked at Landor Associates as a graphic designer for four years before becoming the art director at Anne Klein and leading the creative team there for six years. She then moved on to become Vice President, Creative Director at Ann Taylor where she worked until the end of last year. To learn more about Vera's work click here

How did you meet?
V We met in 2000 at a party at our friend Laurie's.
H Yeah. And then Christoph was kind of scheming to get us together…
V [with surprise] He was involved?
H Yeah, he said "let's go to this bar and meet some people" so that we would meet there.
V I didn't know that Hjalti was going to be there and I was very surprised. I thought it was just going to be me and Christoph meeting for a drink.
H Well…. maybe I asked Christoph to set it up, who knows?
V Maybe?? Yeah! Huh?
H And our first date is a funny story. We went out to a restaurant, drank, got tipsy, and went to a bar and had fun.
V We stayed out until 4 in the morning.
H Yeah, she had a blast. And at the bar I had been talking about NYC and how it's so safe here, nothing ever happens to you. And then I kissed her good night and we said goodbye. And then on the way back I hear someone running behind me and to make a long story short: I got mugged on her block on our first date. And I was wondering should I call her [in pathetic, whiny voice] "Hey I've been mugged, can I come up?" But I didn't call her, I called the police instead. But the next day I had a great reason to call instead of wondering, if I should wait a few days. And she said: "Why didn't you call me you moron?"
V And then I felt so bad so I said "Hey let's go out again." And then that was such a great first date story that we were like: OK, that seals it!
Was work part of the attraction?
V When we met, I was working at Landor and he would ask me what I was working on. And it would be a logo for Philip Morris or Proctor & Gamble or some other really corporate, dry stuff, And then I asked him what he was working on and he would say: "Oh you know, I just did a CD cover for David Byrne, and Stefan [Sagmeister] just did a video for Lou Reed," and I was like [in a small, humbled voice] "Oh, cool".
H I don't normally show off, but I may have been showing off a little bit…
V And I was a young designer, I was impressed. My experience was very corporate and very few of the projects I worked on actually came to fruition, whereas they were a small studio that had all their work produced and got a lot of attention. Hjalti and Stefan's work was published in a lot of design books and publications so Hjalti was in a lot of magazines and stuff. And it was very cool to see that. And to hear about it too.
H I thought it was great that she worked at Landor. I had interviewed there and I didn't even get the job…
V When Hjalti and I first started dating we would amuse ourselves by looking at design everywhere. We would go to delis and just goof off by looking at the stuff on the shelves. We would look at the typeface and just laugh at how bad it was. We still do that. Hjalti totally amuses me by showing me things in magazines, we're not necessarily critiquing it, we're just having fun.
H I'll look at a magazine and I'll see something that I find really horrible and I'll say: "Look Vera, it's that ad that you really like!"

Anne Klein ad art directed by Vera

When you first got together you made some big work transitions. What was that like?
V The first year we were together was very exciting. I was getting to the point where I was done with Landor. So little of what I worked on was actually produced and sometimes I felt like I was just there to bill the client. But it was definitely a very formative time for me, I learned a lot. Then I went to Anne Klein as the art director. They had never had an in-house art department before, and it was a really great opportunity for me to go there and build that. I went from doing packaging, graphic design and logo work to doing art direction for a fashion company, overseeing their campaigns, logos and web site. It was a big transition.
H It was very natural for you. You did a freelance job doing their logo and all of a sudden you were their art director doing these big photo shoots. I thought it was fantastic that you were working at Landor but I remember being so happy when you left to do your own thing. I was sure that it was going to be so good. When we met I already knew that I was not going to work at Stefan's in the fall. He had told me a year and a half earlier that he was going to take a sabbatical. I was like: What do I do now? Well, I guess I should start my own thing. I was never the kind of person that had to have my own company. I loved working with Stefan, I had no stress, came to work every day, had fun and got a check at the end of the month. So it wasn't a big planned out move. We basically just a got a space and a phone and started the company.
V It was just good, everything just happened. I stayed at Anne Klein for six years and then I was offered Vice President Creative Director at Ann Taylor. It was another good opportunity. And I was there until end of last year.

KarlssonWilker's designs for MoMA
Do you talk a lot about your work?
H I think we always talked a lot about work. From day one. If I'm doing something in the office, like this morning I had a photo I was looking at, I will show it to her and ask her what she thinks. If she hates it, I'm going to be like OK I won't use it.
V But we don't always follow the other person's advice. We listen to each other but we
don't always do what the other person thinks. We always talk about everything and I LOVE hearing about what's going on in his office. There's always something exciting going on.
H I think hearing about your stuff is exciting too.
V Really?
H Yeah like when you were doing these photo shoots and were looking at models and photographers and I would be like "What about this photographer?" I loved that stuff.
And then one day a few years ago there was this photo shoot with the model Bridget Hall. And I was brought in as an extra on the shoot, and I was like "Great! I'll be in an ad campaign!" I was sitting in a sofa with this supermodel and I was fixing my hair and everything and in the end they just used my shoe.
V The photographer was like: "Hjalti, it's OK, don't worry about your hair, I'm just capturing your foot!" But we're always aware of what the other person is working on.
H Yes. Always.
V It's a good mix. Because I'm more corporate so I'm more in that mind set, and then he's got that small agency where they're very open and not so constrained by typical politics and expectations, so it's always very refreshing to hear his point of view.
H Same for us, we have our little office and sometimes were in a little bubble. So it's good to have you come in and be like: What are you doing? And both Jan and I appreciate that.
V It's really fun to work with their studio. I've actually hired them to do work, some identity projects.
H We love these jobs!
V One was the redesign of the lion that Anne Klein has as its brand mark.
H There was a lot of identity, some patterns.
V And it was funny because we actually end up working on it together because we can't separate it, much more than if it was someone I wasn't involved with.
H It was great!

KarlssonWilker's work for Anne Klein

Have you ever done jobs together that weren't part of your job or an assignment, but were just for fun?
H I would say that these jobs ARE a lot of fun for us.
V Yes!
H It's not like these jobs are boring and then we need to do something fun in the evening.
V: Yeah we don't watch a lot of TV at all, because by the time that Dagur goes to bed, all we want to is to talk. We try not to talk about work in front of Dagur, because we want to pay attention to him.
H: Once or twice we were going to do a little project together, like this one little book job, but it's sort of sitting on the shelf. Mainly it's been projects that Vera hired us for or when I bring her to the office to get feedback. We still haven't done a full-blown collaborative project. We should.
You seem like good collaborators
H Yeah I think we are.
V Hjalti is just so talented in many ways, it's so different than my set of skills.
H But then when you do your thing I don't know how much help I am.
V But you are!
H You show me these ads and I sort of say stuff, but I think you know much more than I do.
V I think the part that is so helpful is when you're at that point when you have an idea but you're not ready to share it with everyone yet. When I get his opinion I feel like I'm not working in a vacuum and then I feel like I'm ready to take it to the next level, it's almost like sign off. It's an extra set of eyes and another creative mind looking at it. And it's not totally lateral from where I am.
H The other thing is, when you're in the office, you don't know if someone is just saying "Oh yeah it's great," without meaning it. But with her I know it's her real opinion. And the same with me, I'm not going to say "Oh yeah honey I think it's great" when I really think it sucks.
V Yes! We're very honest!

Hjalti and Jan being funny on this month's Creative Review cover
Would you have been different designers if you hadn't met?
V: For me definitely. I think that Hjalti probably gave me a lot of affirmation on what my strengths were when I was working as a graphic designer and then moving on to art direction. It was definitely new but I had someone that I felt was kind of like a silent partner behind the scenes, helping me through it and give me the confidence to make my decision.
H I don't think I directly influenced you to do it, it was more passive, I was just saying a few things every once in a while.
V And I also think I've been able to be more open-minded and not so "corporatized". What I mean by that is that by seeing how he works and how KarlssonWilker operates I have been able not to fall into these expected ways of doing creative projects. Which is great. I'm constantly reminded of a different way of thinking. I always ask to see their work because it just makes me laugh – I love it! And with the positions I've had at Anne Klein and Ann Taylor, you kind of work independently although you're in a corporation. And you have this creative vision for the brand and at the same time you're part of that corporation and you kind of have to stay true to that. So it's very easy to stick to what's expected and what everybody wants, but what you really want to do is to stay an individual and not get too affected by what's going on and being creative in a way that no one would have ever expected. But then when they see it they like it. So being with Hjalti helps me take more risks.
H I think being so involved in each other's work is actually necessary for us. I think it would be completely weird if you were in another field and I showed you something and you wouldn't have a clue about what I'm doing and not be interested in it. I would have a hard time with that. Something would be missing. It would be boring.
V So you're only with me because I'm an art director? Ha ha!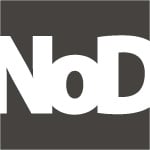 This post was authored by NoD staff. Notes on Design is a design industry blog sponsored by Sessions College for Professional Design.