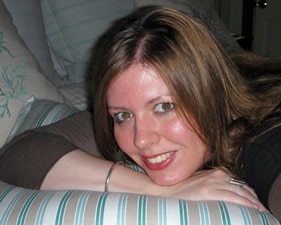 Holly Becker, décor8
As a freelance writer and interior design consultant, Holly Becker has created a very loyal readership to her blog, décor8. Holly is an Interior Design Consultant practicing in New Hampshire, Boston and the surrounding areas. She's also a published freelance writer, having 10 years of combined writing and design experience, working for Fortune 500 companies and smaller companies in both the U.S. and Canada, including designers, salon owners and artists.
Q. Holly, on décor8 you point out that you look to reach out to others who share your passion for design and the need for creative living. Can you tell us what you mean by "Creative Living?"
Holly: Yes, I'd be happy to expound on this. Creativity is expressing yourself, being original, imaginative, authentic, and productive. We are all alive, but there is a difference between being alive and living. A person who works a job they dislike, comes home to chaos, and has few deep and meaningful interactions in their life, is not really living. At least in my opinion. To really live, you need to tap into your true self first and figure out what your passions and dreams really are. Not the ones you think you should do, or what your friends are telling you to do, or what your parents expect of you. It may not even be the career you've been doing for the last 15 years.
You need to be comfortable with who you are and you need to like yourself. And once you have that down, you will start to take better care of yourself – your health, your home, everything will fall into place once you realize your worth, passions, and goals. Layers will start to unfold as you continue to examine who you are, listen to your inner voice, and do things you've always wanted to do. Take a long vacation to that exotic locale you've always wanted to visit, just because. Once you've tapped into what makes your heart feel warm and your outlook bright (whether it is cooking, sewing, taking classes to learn about something that fascinates you…whatever), start doing those things and see where each experience leads you—One step at a time. Don't wait for the perfect moment. Live for today. This is creative living.
Q. I'm sure there are many artists who inspire your drawings. Can you tell us about the designers who inspire you?
Holly: There isn't one in particular that I can point to and say, "They inspire me". Honestly, I'm more inspired by those who are not at the top, at least according to who the industry says are at the top dogs. I find myself inspired by mothers who work as artists while trying to support their family, parents who start their own business because they're passionate about something and want to showcase it to the world, someone who has no formal training in what they love, but love it enough to do it anyway (a cafe, a bakery, anything). I tend to look at the 'underdog' as the top dogs. I find that it's harder to create a winning product when you're not on top. You're broke, living in a tiny apartment, living off Ramen Noodles, have little contacts, but you love the letterpress stationery you create and that love helped you start a little Etsy store and now you are making the rent and trying hard to get into boutiques… Those are the people I look at and say, "Wow, I'm inspired". Maybe it's because I was once there myself. Broke, living on Ramen Noodles, but I had hope and talent and knew I would emerge. I think that's why I'm drawn to others that started off on the basement level and have slowly made their way to the top (the top as defined by themselves, not society).
Q. How would you describe your personal interior design style? How has it evolved as you continue to grow and expand?
Holly: I'm eclectic. I love contemporary design, clean and modern, with vintage pieces scattered in and lots of handmade items. A Danish mid-century chair with an ornately-carved 19th century painted wood headboard, a fluffy white duvet, and a top sheet that is different from the bottom sheet, and both pillowcases from two different sets— vintage prints. I love coordinating lots of patterns and colors, and don't care too much for following rules. I was into this style before it was winked upon and approved as "trend." I'm into art – mixed media, collage, watercolors, textile arts, abstract oil paintings, I am a huge lover of contemporary art. I also love graphic art, silkscreens, wood blocks, anything that was created out of passion. I am definitely a city pre-war apartment lover over a country or suburban home or loft person. Give me ceiling medallions and crown moldings, soaring ceilings, and a wrought-iron balcony in the city any day— I'll gladly trade in the peace and square footage of the country/suburbia for city life. Not American city though, my heart is in Europe. Germany, Scandinavia, England…
Q. You recently featured ink sketches and watercolor paintings by Stella Hultberg. I have just recently become acquainted with her work, and am a huge admirer. Her work is something many women can relate to…as was so eloquently stated on your blog, her work "…perfectly exudes the sad, sophisticated energy of the postmodern ingénue." With all the content to choose from, how do you know what the next "trend" is going to be? What the next "must-have" item is going to be?
Holly: Stella's work is gorgeous. But I do not post something only because it's trendy or may become a trend. I think the trend-setters are a dime a dozen and can be found everywhere you look. Everyone wants to be a trend-setter, the next 'big voice' in design. The more you try to set trends, the more you look fake and things become commercialized. If you're authentic, you are a pack leader by nature, you remember yourself as the kid in school who was always different, and despite teasing from the "in" crowd, you still did your own thing and created your own following – then you're a true trend-setter. I think a trend setter is someone who follows their inner voice with a 'screw what the rest think' mindset. They are authentic and aware of that voice and follow it. They wear socks with high-heeled sandals and crimp their hair (ala Kelly Wearstler) and do not care when someone says they look dumb. They love it, so that's all that matters to them. People who respect that are drawn into it and sometimes trends start this way, which is so funny to watch sometimes! When I write on décor8, my blog, I'm not thinking, "Oh I hope my readers like this and want this" I'm thinking, "I like it and I want it and this speaks to me and I'm sure someone out there will like it too". Am I making sense here?
As far as knowing what the next must-have item will be, for me, it's gut instinct. I've been calling out the trends since I was in high school. I always knew what the next movement would be, for music, fashion, design, whatever. I still can do this, but choose not to talk about trends a lot on my blog because I don't want to create fanatical trend followers. I use to design clothing (sketches on paper) in the 1980's that became big trends in the late 1990's. I never put my drawings out there, but when I saw the designs 15 years later, I said, "Ha, I knew it!" It makes me feel good to trend spot and be on my game, but at the same time, I appreciate that some people do not follow trends and do not care what's hot. I am 50 percent trendy; 50 percent "Who cares?!" in my approach to design. If I like it, and it's not trendy, then it either will be in the future, or it won't be, but if I like it, it's hot to me and that's all that matters. I think everyone should have this approach. If you love it, then own that you love it and don't be afraid. Rock that crimped hair!
Q. Can you tell us about your background? Did you always know you wanted a career in design?
Holly: I went to school to study business and then marketing, and from there I entered the corporate workplace. I continued to go to school by night, taking courses in everything from graphic design to web design, project management, immigration law, voice lessons, public relations, Russian studies, creative writing, sales, drafting, Spanish, modern quilt making, space planning, you name it.
I've taken a class on it – all driven either by what I was doing on the job at the time, or simply personal endeavors – I was curious! I've always been a very curious person. I'll still be enrolling in classes when I'm 80. I'm currently involved in a terrific Interior Design program at a local art school, where I've been taking classes since '05, and I'm a student ASID member. I pace myself, because too much at once either bores me or I don't absorb it all and feel like I didn't get what I invested my money in, so I take things slowly, one semester at a time, and enjoy every moment of it. I'm in no rush. I live in the present.
Q. What was the first professional job you held in the area of Design?
Holly: Not design as much as facilities planning. In the corporate world, I managed projects within Human Resources that included space planning, facilities management, employee relocation, and corporate communications. I've managed everything from massive employee relocations (2,000+ employees) to smaller moves, international moves, and design and redesign projects. My favorite project was when I worked in Boston as was assigned to manage a design project where we gutted a 35,000 square foot floor, built labs, reconfigured the entire floor plan to fit over 1,000 employees, and my favorite – materials selection, including art! I was solely in charge of working with the corporate art curator to select over 100 pieces of fine art for the space. We had to research everything from furniture to lighting, and although it took nearly a year to complete, the party we were given as a thank you from the business group was amazing. I never felt so pleased about a project in my life— it was amazing!
By way of a décor8 blog post featuring a great tip, "If you find a paper pattern that you like, use the same one in a different colorway in a nearby room. Works especially well if the space is an open plan, you can continue the pattern from the living room to the dining room, just in a different color."
Q. Is there a common misconception people have about interior design?
(If so, what is it/why…?)
Holly: Yes, that you need to attend design school, have a degree in hand, go work for a creative firm, someday hope to be promoted to a bonafide designer, and then maybe you can create your own following and go off on your own and start a design practice. I say that is a bunch of years, fluff, and no guarantees. Sure, if you want to be a designer in the traditional sense, you need a degree and training and to rise to the top through the successful completion of projects. If you want to decorate, become a stylist, offer design/floor plan advice via consulting, then you do not have to follow the traditional route, which is why I did not. When people ask me how I got started, I tell them that I didn't and that's how I did. What I mean is, I didn't wait until I finished everything and dotted all my i's and crossed every single t until I was in a place where I could call myself an interior designer. I decided, first, that I wanted to help people create beautiful spaces that they loved and cherished. After I decided that this was truly what I wanted, which I didn't know fully until '04, I enrolled in a design certificate program while still working a day job. A year into the program, I resigned and started taking on clients, while still a student.
I mean, I was a student, but I had so much passion and talent, that I felt sometimes more aware of interiors than those I'd worked with in the past in corporate that held master's level degrees in design. I have a lot of confidence in myself, and with that, I took on clients and was honest with them. I told them I didn't have a degree in design, but I was good, I loved it, and they would love the results. So far, I've had only success stories. I think people try to become perfect at something before they start, and that's the biggest mistake. Take everything one step forward, baby steps, and build your experience that way. If you want to go to school and become board certified and work for a firm, that's your decision and that's great. But don't think that's the only way to get started.
Q. What do you believe are the most important skills an aspiring designer needs to have?
Holly: Self-confidence. If you are confident in your abilities, you will shine. Care less about competition, care more about becoming YOUR best. Be open-minded to the ideas and critiques of others – including clients. Listen to what people have to say. Listen even more when it's critical advice.
Q. Can you offer any words of advice to aspiring designers who are out there job hunting?
Holly: I could write a book on this, but I'll keep it simple. Never stop believing in yourself. We hear this so often in song lyrics and as the theme of movies, and throughout motivational books. But few of us stop to think about what that really entails. You'll meet those who wave their scarves at you and shoosh you out of their office. You didn't make the cut, you weren't good enough for their firm, etc. Don't let their insecurities or their false sense of pride discourage you. Head up, eyes forward, keep moving. If you find yourself in a rut, change that immediately by changing your surroundings, go to the local bookstore, which is where I go when I'm in bad mood or need a positive boost. Flip through magazines and books and jot down notes, sketch ideas, speak your mind into a handheld recording device. Also, offer your services on Craigslist. That's how I started building my client list, I put ads on Craigslist in Boston and found several clients that way. Word spread from there, and now my work comes to me, I never advertise. Word of mouth follows once people experience you and what you do and like it. Never stop believing in yourself.
Q. Where do you see the interior design industry moving in the next ten years?
Holly: Where I see it and where I'd like to see it may be very different things, so I'll comment on where I'd like to see it. I'd like to see more designers become accessible – attracting clients in non-traditional ways. Not appearing as only something for the rich and famous to enjoy. I'd love to see designers offering 'per room' packages for set rates, design advice through their blogs, charging fees for online consultations, using blogs instead of static, stuffy websites to attract clients, teaching more and talking less, interacting with clients through the mail or email for consultations that do not involve meeting, these are all very appealing to me. I'd like to see interior designers hop online and appear more fresh and approachable. I'd like to see interior designers take on the budget homes and get more involved with community design projects. It's easy to work with the rich. Offer free services to a local family in need, seek sponsors and those at the top to support your cause and go in and design rooms for an orphanage, senior center, and so on. I'd like to see more designers act like they care about more than impressing others— I'd like to see them jump in, roll up their sleeves, and help others. Often a space that is beautiful and functional can lead those in hard times to higher grounds.
Q. Who are some of the best interior designers today, and what makes them great?
Holly: Well, there are so many. I mean, I love Kelly Wearstler and Kelly Hoppen, two very different design sensibilities, but both very talented and confident, which I love. Then there's the quirky Jonathan Adler, who takes design outside of the traditional lines and infuses spaces with these wacky color schemes and glam furnishings, but it all works and charms us because it's happy and playful. I love the work of Wary Myers, who I only recently learned about; they create playful interiors that I love, very eclectic, much like my own style. Then of course, there are the legends like Philippe Stack, Nina Campbell, and Alberto Pinto. I also like Pappas Miron, Kelley Proxmire, Vanessa DeVargas, Taylor Howes, Kara Mann, Gaile Guervara and of course, Nate Berkus and Candice Olsen because they have such vision, even when I don't connect with their colors or furnishings, I love how they can transform a space, putting it to the best use, it's great.
Q. Where do you see yourself in five years?
Holly: Oh, the road ahead. I'd love to work on a design project where I am unpaid, helping out for a charitable cause. I use to volunteer (for 10 years) on building and landscaping projects for non-profits, like Habitat for Humanity. I'd love that more than anything – to design a room or an apartment for someone living on little means who just wants to feel like they have a home that supports them and sparks their creativity, which could lead them to greatness. Outside of that, I also see myself living full-time in Germany with a small design shop where I hold classes to teach children and adults how to tap into their creativity and challenge their imagination. I'd also continue to visit people in their homes and show them how to best design their space for maximum comfort and beauty, but also a home that functions and gives back to its occupants. I'd love to sell handmade items that my friends create, paintings, ceramics, paper products. I want to have small art shows with cupcakes, champagne, and great music. The shop would be small and cozy, and I'd even have a small section of my favorite books for adults and children in English, and I'd read stories to children on Saturday afternoons from some of my favorite children's books that are gorgeously illustrated. During slow times, I'd continue to write my blog, work on my book, and write for American and British publications, about design and travel, of course. I would love to have a few children, I'm 34 years old, so it's about time. I also see a cage of finches in my future, 6 or 7 would be nice. A dog or a cat maybe, I love a blue-eyed husky. All this being said, I'm still open to doing other things, seeking adventures I may not be thinking about right now. Life is like that, what you set out to do isn't always where you end up, and for me, that's the best part of the ride.

Designer and writer Kate Andrews was the original editor of Notes on Design blog, founded in 2007.