HOW Design Live: 2015 Conference Preview
No items found
| February 6, 2015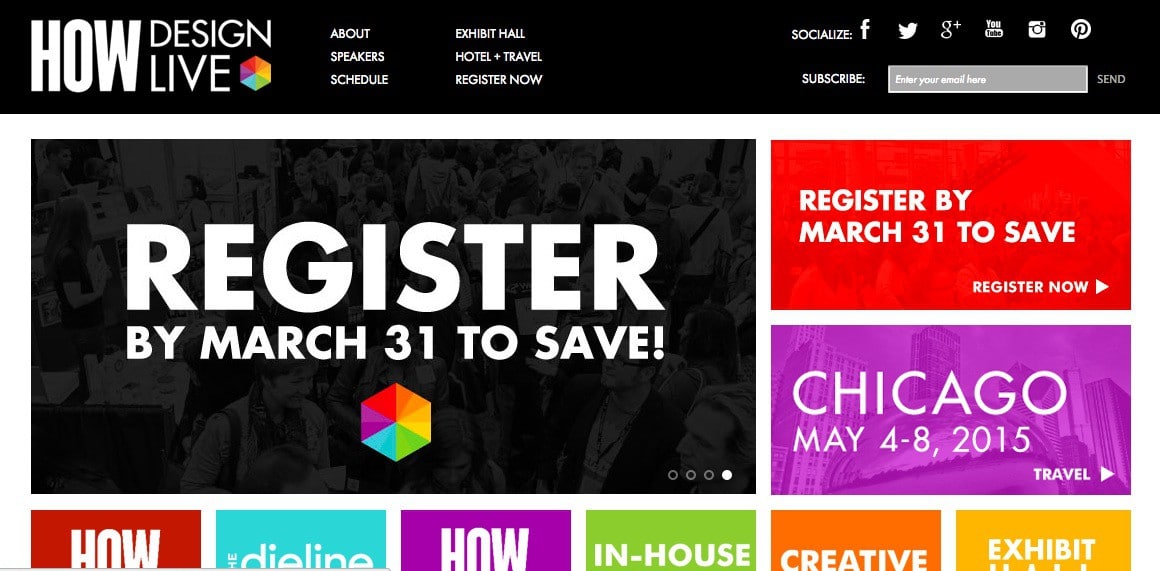 From May 4th-8th, designers of all stripes will descend on Chicago for this year's HOW Design Live Conference. The conference will be celebrating its 25th anniversary this year, and it promises to be the most inspirational, informational, and talked-about HOW Design Live yet.
This year's conference is divided into 5 different programs, each with a specific focus. If you're considering attending, here's a preview of what the 2015 HOW Design Live conference has to offer:
1. HOW Design
Presented by Bridgid Agricola: Join How Magazine senior art director Bridgid Agricola for a program that covers all different aspects of building and maintaining a successful creative career. Learn about working with clients, choosing the right typography, and keeping on top of demanding deadlines.
Power of Visuals: Infographics and Storytelling
We've Gotta Stop Meeting Like This: Bringing Sanity to Meeting Madness
Big Possibilities for Small Screens
2. The Dieline Packaging
Presented by Andrew Gibbs: Join Andrew Gibbs, founder and CEO of The Dieline packaging blog, for a program packed with brand case studies, marketing strategies, and best business practices. Learn what it takes to boost your brand to the next level.
Packaging of Tomorrow
Package Ideation Through Concept
Break the Structural Mold: How Bold Forms Create Game-Changing Packages
3. HOW Leadership
Presented by Debbie Millman: Join Debbie Milman, president and CMO of Sterling Brands, for an inspiring program focused on leadership in design. Learn from top authors, designers, and creative professionals about developing a personal leadership mantra and fulfilling your leadership goals.
Leading, Teaching and Inspiring the New Generation of Creative Nomads
Idea Networks and Media Bosons: Finding + Harnessing Creativity
How Leadership with Randy J. Hunt, Creative Director of Etsy
4. In-House Management
Presented by Ed Roberts and Andy Brenitis: Creative director Ed Roberts teams up with Creative Services Leader Andy Brenitis for a program filled with time-tested strategies to keep your team running smoothly and effectively. Learn how to manage the delicate balance between "corporate" and "creative" and push your design team to the next level.
How to Pitch Persuasively
Bossy Pants: Making the Transition from Designer to Design Leader
Diplomatic Design at the United Nations
5. Creative Business
Presented by Ilise Benun: Join Ilise Benun, founder of Marketing-Mentor.com, for a complete crash-course in the business of design. Whether you're freelancing or working with a team, this program will offer strategies for business plans, pricing guidelines, connecting with clients, and more.
How to Make Hourly Pricing Work
Marketing Your Freelance Business: What Works, and How to Stick to it
How to Handle Rejection & Criticism as a Creative
---
Interested in the HOW Design Live conference, but on a tight timeline? HOW also offers one- or two-day registration options. Visit their registration page for more info.
No items found