It's a Bird? No. It's a Plane, and It's Star Wars!
No items found
| October 30, 2015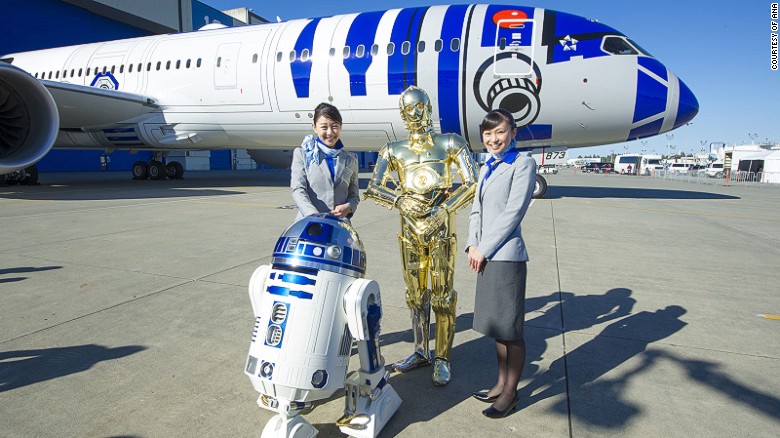 Stars Wars fans are swooning over the design of ANA's newest addition to their jetliners. Just in time for the much-anticipated new Star Wars release, the airliner has planned a trilogy of jetliners featuring a visual feast from the Star Wars galaxy.
Japan's 'All-Nippon Airlines' will be adding three new designs to their fleet each with a theme from the film series. Each plane will feature a character from Star Wars: Episode VII – The Force Awakens, which will hit theaters on December 18th.
The Stars Wars mega-franchise is legendary. It is an American epic space-franchise centered on a distant past in a galaxy far, far away. And now, we can pretend to fly there.
It's hard to believe that the first film of the series was released back in May 25, 1977, though it quickly became a worldwide sensation and pop-culture phenomenon. Followed a number of sequels and prequels, the series graduated into iconic proportion and expanded into a universe beyond television series, books, comic book, computer and even video games. And the franchise went from George Lucas to Walt Disney.
So when the ANA decided to add new designs to their fleet of jetliners, they went with Star Wars, signing a five year agreement with Walt Disney to help generate publicity for the newest film. Ergo, ANA's Star Wars flights will feature headrest covers, in-flight decorations, and even cups and napkins with the movie's beloved characters.
The six Star Wars movies will all be included for ANA's in-flight entertainment system which is the very first of its kind in the world. Star Wars junkies will be delighted during the flight with the whole new entertainment experience that ANA has to offer them. The first flight took place from Tokyo to Vancouver and showcased the R2D2 'Dreamliner 'Jet.
Another treat for fans is set to hit the skies in November: the second in the trilogy of jetliners will feature a brand new character from episode 7, whose name is apparently 'BB-8.'
Star Wars design-enthusiasts and concept artists alike will be pleased to note that Disney is also in the planning phases of opening a brand new theme park completely devoted to the series. Since we're huge fans of digital illustration, we're giving you a sneak-peak at some of the incredible, artist-rendered illustration below:
"These authentic lands will have two signature attractions, including the ability to take the controls of one of the most recognizable ships in the galaxy, the Millennium Falcon, on a customized secret mission, and an epic Star Wars adventure that puts guests in the middle of a climactic battle."
– Source: Walt Disney
Hopefully soon, this galactic trend will catch on and we'll see news from the Creative Cloud about Adobe-wan Kenobi?
No items found