John Paolini, Executive Director, Sullivan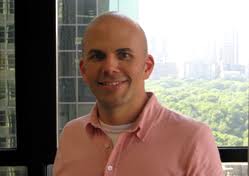 Interview by Laura Schwamb
As Executive Creative Director for Sullivan, a marketing strategy and design firm in New York City. John supervises all aspects of creative development across all media. For almost 20 years, he has worked closely with writers, designers, and technologists to create communication experiences that shape perceptions and change behavior. At the core of his process lies a deep understanding of the needs of the audience, and the ability to craft a visual language that dramatizes an organization's values and vision, always keying off the big idea that will bring the core message home.
As the leader of Sullivan's creative group, John brings a full range of experience from working with a broad spectrum of clients that covers financial services, media, healthcare, and not for profit. Clients include American Express, Fidelity Investments, Schwab, HNTB, Dow, IBM, Meredith, Better Homes and Gardens, Playboy, Tribeca Films, Gentiva, Medtronic, and NRDC. The company Web site is www.sullivannyc.com.
Sessions faculty member Laura Schwamb talks to John about his inspirations, his achievements and his goals..
Q: Tell me a bit about yourself and your current position.
John: I am the Executive Creative Director (ECD) for Sullivan, a marketing strategy and design firm. My responsibilities cover a wide range—from managing staff and budgets, to client service, to developing strategy, and of course, overseeing all design work. I like to think that no mater what I do, my role as ECD is still a creative function. Over the past twenty years I have worked in numerous environments: from branding agencies, to boutique design firms, and in-house studios. Regardless of the setting, I have always learned something new about myself, and about being a creative person in a business environment.
The most important thing that I have learned about design is to trust my instinct. You do not need to have a business rationale to believe in something, or to understand why some things work and others don't. In order to succeed as a creative person operating in the business environment in which our clients live, you need to help them see the way you do, and in many cases, help them learn to articulate what they don't see.
Q. What sets Sullivan apart from other companies?
John: I don't think of brands and identities as monolithic constructs that restrict creativity. On the contrary, I see them as organic living entities that have a real soul. Our approach is to identify strategies for key graphics, so the graphics are not just empty vessels, but rather elements that have a purpose in projecting an attitude about the company and reinforcing the things they believe in. An example of this idejntity branding is the orange square for HNTB. When it is used outside the logo-type, it serves several functions, most importantly, to authenticate content, and to signal authorship. Likewise, the blue streaks for American Express Business Travel reinforce their commitment to being wherever travelers are and that ABT is serving them whenever and wherever they need them.
When I started working in ID system design, graphics were governed by aesthetic drives and where concept/strategy did exist, it rarely made it out of the studio and was prescriptive in terms of composition and placement. In our work, we look at how the systems are used and build logic and meaning into them. In-house teams implementing these systems get to think about the message, not just the graphic form. Sullivan has for the past 15 years focused on understanding and creating communications systems for companies on a deep and operational level. This appealed to me and gave me a place to advance my thinking on how systems can work harder for everyone: the client, the designer, the in house designer and, of course, the end user.
I do not think of Sullivan as an ID design shop, like Siegel & Gale is, where I was a creative director prior to joining Sullivan. At SG you made the logo, assigned the colors, fonts, image style and put it in overly prescriptive guidelines and sent it off. Over time, I saw many systems fall apart because the system had no connection to the needs of the marketing departments, the advertising partners, or any of the other in house agencies who implemented the seemingly endless number of pieces that a system yields.
Sullivan sets itself apart because we get into the heads of all the parties who need to communicate on behalf of our clients business, products or services.
Sullivan has history of working in financial services, media and entertainment, and recently has expanded into healthcare and functional communications.
Q. When creating, what do you feel is the most important aspect. Planning, design or implementation?
John: It's somewhere in the middle of planning and designing; it's coming up with the idea, knowing what you're saying, and to whom…once you have that nailed the design comes easy.
Q. What was your favorite project? Tell us about it.
John: Whatever is next on my plate. Inevitably, whatever I am working on at that moment becomes very consuming. I completely dedicate myself to it and, as such, I become very engaged. If I am working on something for Better Homes & Gardens, I become the biggest Better Homes & Gardens fan. If I am working for an architecture firm, I become an architect. I find that assuming the identity of those on the receiving end of the project that I can really get inside of what I am working on—lending it that meaningful edge that is not often found at other design firms.
Q. Where do you go for inspiration? Any must have magazines?
John: I like flipping through Creative Review and Communication Arts. But for real inspiration, I like to go to the source. I like to talk to the people my work has to serve, listen to what inspires them, gets them motivated and what is lacking in or frustrates them about an experience.
Q. You handle many projects on a daily basis, can you give us an idea of how many, what kind and how do you keep track of so many?
John:As the ECD of Sullivan, I am involved in many projects. We are a very busy studio, handling on average 30 live projects at any given time. In general, our designers each work on three live projects at the same time, all in various phases of development. We run a weekly status meeting, and have project managers to assist in keeping the projects running fluidly. Workflow is one of the hardest aspects of running a studio—there are so many variables in flux at any given time, that there is always a constant challenge of juggling and shifting priorities according to client demand. The only way I have learned to manage it is to follow a few core principles/guidelines:
1. Write it all out. Start every project with a solidly written creative brief that everyone on the team agrees to, and then present it to the client and make sure that they understand it.
2. Set expectations. Create a project plan right from the start that has clear presentation dates with enough time built in for thinking, and a realistic amount of time incorporated in the project plan for review and discussion on the progress of the work.
3. Manage yourself. Even when there is a project manager assisting you, you are ultimately responsible. Every designer works differently—some like to slowly evolve an idea, while others wait to the last minute and do it all in the days before it's due. What it comes down to is knowing yourself and how you work, and managing everything around that knowledge.
If you can successfully implement and manage these three points, you will be in the best position to create and put your best thinking forward.
Q. Do you often have to go the extra mile? If so, how often? Give us your most extended example.
John: Yes. Going the extra mile is usually related to client education. Most recently, I have had to go through almost four months of revisions with a client. It wasn't due to an issue in the quality of the work, but rather, was because the client did not know how to articulate what they wanted or know what to ask for. We ultimately helped the client see what she needed and delivered on it.
Q. What has been your highest pressure situation to date?
John: Same situation as above.
Q. When you're designing a project, do you keep the personal out of it and make all your decisions based on solid research, trends, and related information?
John: My work is equal parts strategy, humanity, and emotion. However, I do not let my personal aesthetic get in the way. I critique my work against the brief and in many cases ask my colleagues if the work is meeting the objectives.
Q. Considering the importance of keeping current, how do you keep up? What are the current trends in packaging, color, design?
John: Stay true to your beliefs and the trends will work themselves out. People who try to set trends usually end up creating design that is an exercise in style manipulation.
That being said, you have to remain aware of the current thinking on topics such as type and color, knowing what the sensitivities are around readability, color blindness, and designing for all age groups. Also cultural sensitivities, if your design goes abroad.
Q. Tell us how you start a typical day from when you first wake to when you finally get home.
John: I tend to write in the mornings when I feel the most focused. I have meetings in the afternoon, and produce things in the later part of the day. Of course, there are late nights once in while.
Q. Do you travel much? How much? Where, and tell us all about your favorite work/travel experience.
John: I do travel a lot— mostly to Boston. However, I go wherever the clients choose. I usually travel 4-6 days a month—it seems to come in waves. Business travel is not what it used to be—mostly you go and try to get in and out with as little hassle as possible. I try to make the most out of any city when possible – go to the museums, find good junk shops.
Q. What is your favorite aspect of your job? Photo shoots, travel, meetings, presentations…? And why?
John: I love seeing the seed of an idea grow, watching it change, and seeing how my team takes it and develops it, and evolves its meaning and its expression. But truly my favorite aspect of my job is the people I work with. Regardless of their individual expertise, be it marketing ,design or writing, I am fortunate to work with an extremely talented group that make it all seem easy. We have a great time, even when we disagree.
Q. What is an experience designer? Tell us why you love this part of design.
John: Experience Design is about helping people make decisions. It's not a specific medium, technology or aesthetic, but a process of decisions. It depends on who you ask.
Q. What were you doing right before you decided to answer these questions?
John: I was meeting with our firms HR person discussing a new hire.
Q. Who has been your biggest design influence and why?
John: Walt Disney. Although he was not a designer in the conventional sense, he put into practice so many of the principles that make good design:
Understanding your audience
Having conviction about your work
Using technology as a tool
Making art and emotion essential
Knowing who you are and what you stand for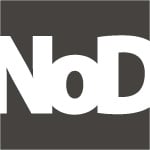 This post was authored by NoD staff. Notes on Design is a design industry blog sponsored by Sessions College for Professional Design.