Khoi Vinh: Design Director of NYTimes.com
Khoi Vinh is the Design Director of NYTimes.com, where he and his design team seek to communicate the prestige of The New York Times via an innovative online user experience. Khoi has his own blog, Subtraction.com, and also recently launched his dog's blog, Misterpresident.org. Before joining NYTimes.com, Khoi worked with other high-end clients, including HBO and the Smithsonian, through his design firm, Behavior LLC.
In this interview, Khoi takes us behind the scenes at NYTimes.com. He also tells us which skills and sensibilities are, in his opinion, most important for today's web designer.
Khoi Vinh, from his website Subtraction.com
Q: Please tell us about what you do at NYTimes.com. For example, how is working for an in-house design department different from working for, or in your case founding, a design studio? What are the pros and cons of each environment?
A: Working in house is much more about building long-term relationships and developing a broad understanding of the larger context and the way design figures into the business. It takes a lot more patience, but the rewards are potentially greater. When I was working at a studio, we'd labor long and hard over design solutions and the just hand them off to clients to use – who might change and build upon the concept — sometimes with unsatisfying results. When working in house, you have more control over a much longer lifespan.
Q: It sounds a lot more satisfying, having that control. Tell us a bit more about the longer project lifespan that comes with working in-house. Since you obviously can't redesign NYTimes.com constantly, what sort of design work do you and your team typically do on a day-to-day basis?
A: Well, in a sense, we are redesigning NYTimes.com constantly. We're just not making the dramatic and visually apparent changes that people normally associate with redesigns. Most of our projects involve overhauling existing sections of the site. We add new features and functionality and continually evolve and improve the overall user experience as much as we can. We're also adding new things all the time — like My Times, which recently launched after a long and intense design, development, and beta process. So, in a manner of speaking, we're redesigning right now — just in slow motion.
The customizable My Times Beta.

Q: How do you achieve the level of consistency that The New York Times requires?
A: We use a lot of documentation in an effort to better articulate — to others and to ourselves — what we're doing, why we're doing it, and how it should be done in the future. The key to consistency for a site as large as ours is documentation, documentation, and documentation. We use a wiki to do that, because we want to make the process as simple and as widely available within the organization as we can.
Q: That's the first I've heard of a Wiki being used for design documentation, and it's a great idea! What other applications and tools do you and your team employ while designing and coding? Photoshop? Dreamweaver?
We use Photoshop to mock up our pages. It's not the perfect tool, but it's the one that affords us the most control on a pixel-by-pixel basis. Everything is hand-coded here; we don't use WYSIWYG software at all. We prefer text editors like TextMate on the Mac to get that work done, though personally I'm a fan of skEdit.
Q: What, in your opinion, are the benefits of hand-coding over WYSIWYG software, like Dreamweaver, in the NYTimes.com work environment? Do you also prefer to hand code your personal sites?
A: We don't use WYSIWYG authoring software at all [at NYTimes.com], and neither do I use it for Subtraction.com. I hand code everything. At some point, we'll have software that will allow for direct manipulation of layouts and behaviors, but it's a ways off. And when it gets here, it won't look anything like Dreamweaver, a program which, though it has its merits (I can't think of any right now), I think is pretty much a waste of everyone's time.
No WYSIWYG here! Khoi Vinh's personal site Subtraction.com.
Q: For years, the web design industry has been unable to decide whether visual design and coding are independent or one and the same. Thinking back to your work at Behavior as well as your current undertakings, what makes the most sense to you, and why? When you're hiring new designers, do you look for people who have experience with both sides of the coin?
A: In an ideal world, everyone I hire would be both a skilled coder and a skilled designer, but that's not realistic. I try to hire specialists who can think like generalists. The visual designers I look for have a sensitivity to code and information architecture, and the technologists I tend to hire have a sensitivity to visual design and information architecture. Our information architects have to know everything.
Q: That's a tall order! And speaking of knowing "everything", how much do you and your web designers need to know about print design, given that you're working for a primarily print publication?
A: It's helps to know both print and web design, because having both sensibilities generally makes one a more well-rounded, deep-thinking designer.
On the other hand, I like to remain open-minded when it comes to qualifications. I believe there are some people who really excel in a given medium, and it wouldn't make sense to disqualify them from working in that medium just because they don't know another. For instance, it would be silly to disqualify a film director because she doesn't have experience directing for the stage. It would be nice if she did, but it shouldn't be a prerequisite.
Q: How can print design sensibilities improve a web design? How does one build an exciting, aesthetically pleasing web design around a print publication?
A: There are lots of things that a strong foundation in print can bring to web design: typography, layout, a sensitivity to how text and image collaborate to structure a narrative. It's a valuable foundation, but it's also only part of the picture. The secret to translating those skills properly is to be as true to the medium you're working in as you can be.
Q: What print and web resources and designers inspire you when you're working on both NYTimes.com and your personal sites, and why?
A: I actually look at print designs quite a bit. Annuals from the Society of Publication designers are always a inspiring. The work of Massimo Vignelli, Josef Muller Brockmann, Alexey Brodovitch are enormous creative resources for me, too. On a practical level, I've learned a lot from the way they do things for the newspaper at the Times. Tom Bodkin, the Assistant Managing Editor and Art Director of the paper, produces an impeccable publication, and his staff has taught me a lot about news design.

Designer and writer Kate Andrews was the original editor of Notes on Design blog, founded in 2007.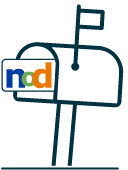 NoD Newsletter
Enhance your inbox with our monthly newsletter.