Lew Baldwin, Founder of Team Agency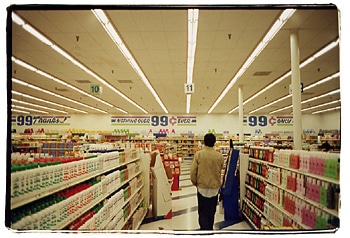 Lew Baldwin is a creative art director for web, film, sound, broadcast and motion graphic design projects. He works out of his Los Angeles-based studio team agency, which just recently located from New York.
Lew recently shot and directed a series of video for Nike Soccer, including a music video starring Clint Dempsey from the U.S. National Team. He is also a musician and created the musical score for the Sony feature film "November" starring Courteney Cox.
He has exhibited artwork at The Whitney Museum of American Art, The New Museum of Contemporary Art in New York, Foundation Polar in Caracas, Venezuela and is recognized internationally for his videos, visual art and installations. Lew currently resides in Los Angeles.
Margaret Penney has known much of Lew's work since he launched one of the first online interactive narrative art projects at Redsmoke.com.  Lew's style is distinctive, as it moves across a variety of mediums from new media to film, television, theater, and music.
Margaret interviewed Lew about his career, inspirations, and designer toolkit.
Q: What did you want to be when you grew up?
Lew: Well, at first I wanted to be a pilot, when I was a little kid.  Then I wanted to be an artist and filmmaker pretty early on.  I was a big fan of Andy Warhol and his multi-tasking work ethic when I was quite young, around 16.  My older brother was always turning me on to interesting creative people at a young age.  He would bring stuff back from Austin where he was attending college.
I used to skip school and silkscreen.  I sold my first 'product' – a stenciled, painted belt – to a clothing shop in Austin when I was 17, so I was pretty psyched to do my own thing.
Q:  Were you always interested in visual communication?
Lew: I was always pretty visually-oriented.  I wasn't interested in visual communication for corporate purposes until I needed to make a living.  I always associated design with Advertising— which was not fine art so to speak.   I used to keep commercial work separate from my personal work, but the lines are more blurry these days.
Q: How did you get started?
Lew: I studied at The School of The Art Institute of Chicago (SAIC). When I got out of school I only wanted to pursue Filmmaking and Art.  I was never interested in design.  While in school, I made a few shorts and I worked as a PA on the all-star film A League of Their Own and several big-budget John Hughes films like Home Alone 2 and Dennis the Menace.
At SAIC all the teachers were abstract filmmakers who were into people like Michael Snow and Stan Brakhage, which is great, but it would have been nice to have a bit more career 'real world' input.
Anyway, when I got my BA, I planned on attending the NYU Graduate Film program, but it didn't happen that way.  I didn't have the money.  So, I took a bit of time off back in Texas and worked on my music.
During this time I got a part-time job at Apple Computer.  They had just moved their tech support to Austin and I had always loved working on Macs in school.  This was in the very early days of the Internet.  At Apple everything was wired. I remember using Homer to chat and the web browser Mosaic 1.0.  So, that experience kind of kick-started my interest in computers.  I was fascinated by the speed in which you could reach an audience online.
I moved to San Francisco in 1994 and got a job at a small start up called c|net, which back then was heavily into the idea of TV and the Internet being connected. You would see a story on TV then log online to find out more about it.  This is second nature now but in 94' it didn't exist.  I did all of their on air graphic design the first year.  I quit after a year and started freelancing doing TV design and some online work.
When I quit c|net I bought my first website: redsmoke.com.  This became an art project for me.  It was a way to incorporate a lot of my interests into one place (cheaply!): narrative, sound, music, visual arts, and film ideas. Redsmoke was shown as a big projection in 1999 as part of Hell.com at Bergamot Station in Santa Monica and was included in the 2000 Whitney Biennial.
Q: As a new media artist, you've shown work at The Whitney Biennial, New Museum, Siggraph, among other places. You did a lot of fantastic new media art before many people even knew it existed and you continued to churn out forward-thinking and visually captivating projects that reflected on our current culture and how people interface with technology. I remember I particularly liked Heroes and Villians and Milk Milk Lemonade. Could you tell us about some of these projects?
Lew: Heroes and Villains was shown in a gallery space in Jackson Hole, Wyoming and also online.  It was a voting 'machine' that allowed viewers to vote for various public figures as either a Hero or a Villain.  The interface was kind of an ESPN vs. Disney approach, very surreal.  The gallery was dark and Heroes and Villains was the first thing you saw when you walked in. It was a large rear-projection screen with two buttons mounted into the wall representing a Hero or Villain vote.  I wanted to incorporate a tactile, almost childlike interactivity into the experience of voting—reducing something that can be politically vehement into a simple act of pushing either of two big red buttons.  It was online and there could be other votes happening in real time.
The Milk Milk Lemonade (milkmilklemonade.net) installation was part of a show called Bitstreams at The Whitney Museum of American Art (New York, NY) in 2001.  It was shown on three floors in the stairwell.  Again, it was about the idea of physical control of something that was Virtual.  The installation incorporated three large projection screens.  When you moved through the stairwell space, overhead cameras connected to computers, tracking your movement.  Then, your movement triggered the website and sounds and graphical elements on the screens.
On the first floor, huge text was projected.  This was being generated online by anyone, saying anything they wanted.  This became the most important and immediately powerful part of the artwork.  It was really the first live interactive 'graffiti' wall, allowing the world to speak to one another in real-time, in a public location.  It spawned several other versions of MML, shown in Venezuela and later in Brooklyn.
Q: You had another art project called GoodWorld that seemed to be about reducing everything to just content as color and shape, I think. What was the idea behind that project? What technologies did you use to realize your vision?
Also, both Heroes and Villians and GoodWorld have a kind of political aspect to them. Was that a response to the time, or had you always been interested in reflecting on the political?
Lew: Goodworld (goodworld.ws) was political in the sense that it re-formatted the web into an abstraction of shapes and colors when you looked through it.  This idea of looking at everything through rose colored glasses… but also being able to make a porn site look like an amazing colorful print – using the code and pictures from that site—is great.  It erases all sense of commercialism, news, smut, unnecessary information and makes everything 'good'.  This was my final piece online.
It was done as a commission for The Whitney Artport site.  It was a sort of reaction to the web becoming so commercial, but also I just wanted to see if we could do it.  I worked with programmer/collaborator Charlie Killian and he wrote amazing proprietary code.  I was excited with the outcome.  I made a series of prints that were shown in 2003 at LA's Bank Gallery.  New prints are now on sale at The New Museum of Contemporary Art in New York.
Q: Do you think your base as a new media artist informs your commercial work, if so, how?
Lew: You know, I'm trying to make that happen more.  I've been fortunate enough to have quite a bit of freedom on some commercial projects.  But this commercial work isn't really related to the artwork I've done in the past.  That work has been conceptual and personal, which doesn't always translate into marketing and sales.  Also I don't want to really use that term 'new media' too much—because it categorizes you as a tech artist possibly, which I'm not.  Simply put, if it was up to me, I wouldn't do nearly as much commercial work.  The fact that I have to work commercially, no doubt, has an effect on my personal endeavors.
Q: Can you tell us more about moving between mediums?
Lew: I've always moved between mediums.  It's never been interesting for me to stay in one place… I also find a relationship between everything I dabble in.  I wear a lot of hats… I find it necessary at times. But I'm trying to hand stuff off to people more and more. Use time more precisely.
Q: What are some of the differences and similarities of technique or process you found while moving between a variety of mediums?
Lew: That's an interesting question.  I think Doug Aitken's new book Broken Screen addresses this.  I think when you do design you naturally start to balance things in space in everything else you do and see.  The big difference in working with time-based work and film is that you are moving things in and out of frame.  You're finding a balance or pace through action.  This is done through editing.  This is entirely different than doing an illustration.  Then, when you get into acting and emotion, it becomes a different ball game.  But I find it really exciting to play with actors like you might an illustration on a page.  They become a symbol or a color.
I think music and sound is a powerful conduit that ties everything together.  It is the glue behind everything: flat design, photography, film, motion graphics will all feel different depending on what you hear while viewing it – it's the current pop culture glue.
The idea in the end is really what counts no matter which process get's you there—is it working or not?  That's what you need to ask.
Q:  How does working in film differ from working in TV design or new media?
Lew: Film is just a larger medium altogether.    It also can move quite a bit slower.  You work differently because stuff reads differently on the big screen— it's a lot more to take in.  The emotional impact is much bigger and you can play with that.  It's also a different auditory environment because you're working in a surround sound 5:1 mix in a large theater.  Of course, practically everyone has a home movie set up now, but the theater experience is still magical.
I did the musical score for the film November in 2004 and we mixed at Lucas' Sky Walker Studios in their big theater room.  It was amazing… mainly because I had been working on the music in a bedroom in LA on my computer.  Then, to hear it in a theater, and have the ability to move sounds around with a joystick in 3D space was just mind-blowing.
Q: What kind of TV and film design work have you done?
Lew: I worked at c|net television the first year they existed doing all their on-air design.  I used the Harriet Paint Box and After Effects. That next year I directed my first commercial for a virtual reality place called Magic Edge were you flew around in these pods that were controlled by hydraulics – simulating jet fighters.  The commercials incorporated graphic design as well. During that time I also created graphical videos that were shown outdoors at the 1996 Olympic Games. They were huge twenty foot projections of graphics and hi-energy sports footage on the outside of the Olympic Pavilion. I did several little films for Baz Luhrmann's Romeo + Juliet CD-ROM and many other TV based promotional videos for Fox, Sony, Fiery, Organic, etc. In 1999 I created the opening title sequence for Groove, a film about raving in San Francisco. I also did two songs featured in that film.
Q: So, you've mentioned that you create music, and how important an ingredient it is in many of your projects. What kinds of sounds do you create? What's the story there?
Lew: I played the drums from a young age.  I played with punk bands in Dallas growing up.  Now I make music using acoustic instruments – drums, guitar, along with the computer.  Redsmoke is one moniker I do music under.  It's beat-driven—I guess you might say electronica.
I'm working on a concept album that will be a narrative and will be released on DVD with animated movies.  The original idea behind Redsmoke (circa 1996) was this 'ficticious' animated band – and I was the wizard behind the scenes… so this is a realization of this in a collectable format.  The first Redsmoke video, Take It On The Run, was a bit of a hit in the film festival circuit in 2003 – 04.  So I'm creating several other new videos for Redsmoke.
Q: Ok, what was the most inspirational/exciting/fun project you've worked on recently?
Lew: Hmm…. I just edited a video for Italian artist Francesco Vezzoli called Big Balls.  It was a remake of Bruce Nauman's original video.  Was quite interesting, to say the least. And the Nike Soccer music video for Clint Dempsey (U.S. National Team) I did recently was the first big commercial shoot I've directed, so that was good.
Q:  Do you recommend a 'jack of all trades' approach to new designers, or do you think they should stick to just one area, like print or web?
Lew: It really depends on the person.  I don't think it's ever really a conscious choice.  I never considered myself a designer; it was simply a means to make a living while continuing to pursue my other goals.  In the meantime, I was pleasantly surprised by some of the creative ideas and processing that came out of this type of problem solving.  I would imagine if you're studying graphic design your approach would be totally different than mine.
Q: What parts of your designer toolkit do you carry with you across all your projects?
Lew: The computer.  Framing, composition, and balance.  Unifying otherwise unrelated subject matter and elements.
Q: How would you define the Lew Baldwin style?
Lew: Well, in the sense of design  I'm fairly free associative—I let things happen naturally, then kind of re-evaluate and look at the work objectively from a distance.  I would say a sense of story-telling is vital to my well being.
Q: What are you working on now?
Lew: I just finished a fashion mood film for the clothing designer Rebecca Taylor; it's playing at her store in Tokyo.  I did an illustration of God for the French magazine Standard.  I'm optioning a thriller/ horror script which I intend to get into production this year.  I'm looking for a rep—any takers ?!
Q:  How do you get into the creative zone? Do you have any design rituals?
Lew: A fourteen hour meditation ritual, then espresso shots.
Q: What words of advice do you have for the designer just starting out?
Lew: Don't eat vegetables.  Draw pictures. If risks don't feel satisfying then become an Art Director at a large agency.
LINKS:
lewbaldwin.com
team-agency.com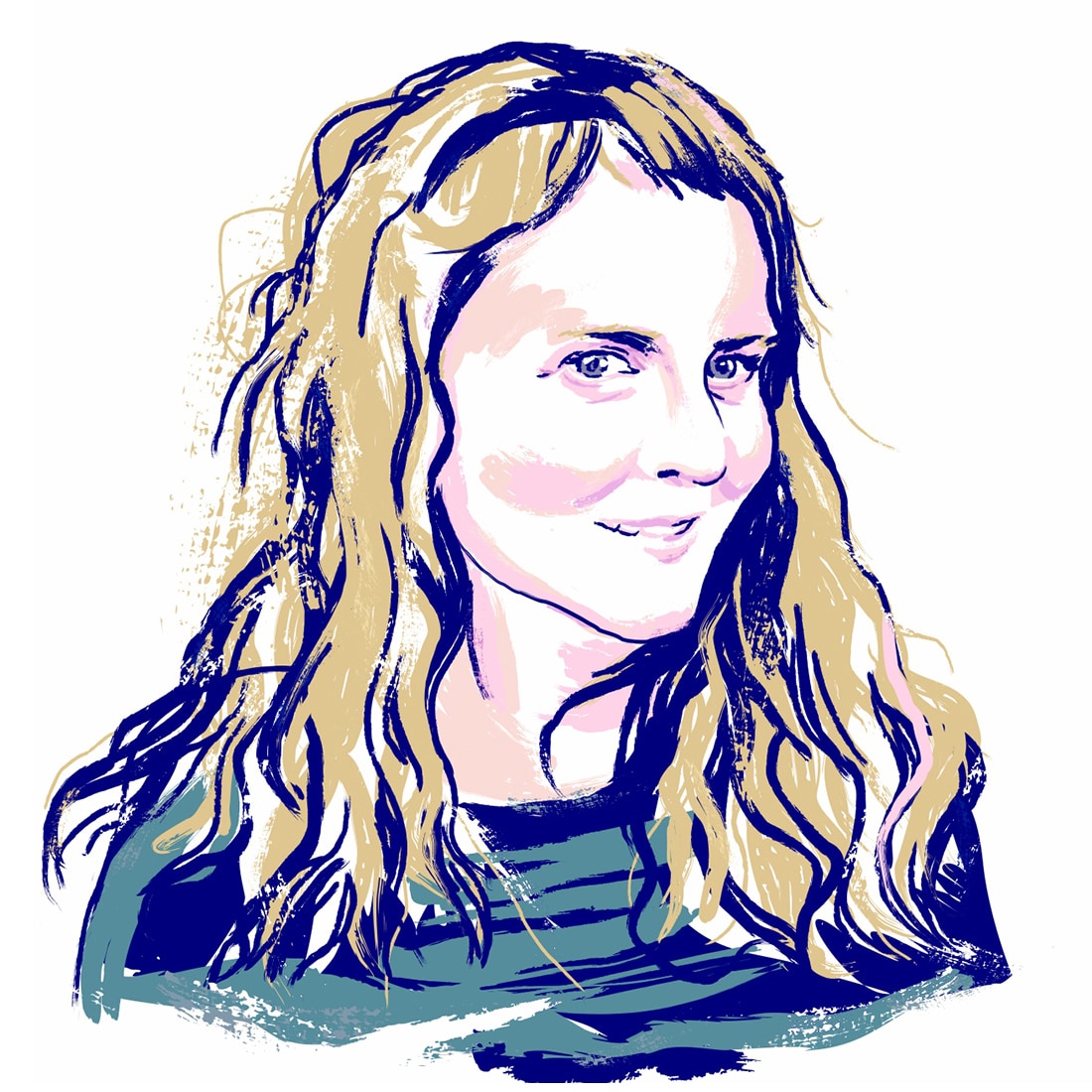 Margaret Penney is the Managing Editor of Notes on Design. Margaret is a teacher, designer, writer and new media artist and founder of Hello Creative Co.
This blog is powered by Sessions College, the leading online school of visual arts.