No items found
| May 18, 2007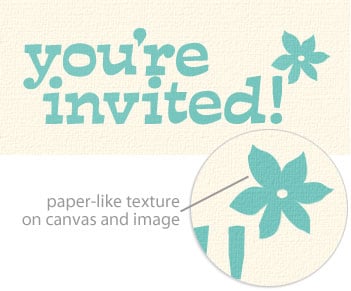 Print designers are crazy about letterpress these days. Inked designs are pressed into paper, creating a colored imprint. The resulting look is typically very organic, handmade, retro, and minimal.
It's gained popularity through sort of a rebellion against high-tech, ultra-Photoshopped designs, and through the resurgence of the DIY crafting movement. Designers are using letterpress for business cards, invitations, even book covers to project that vintage, handcrafted look… but Web designers need not feel left out just because this is a printing technique.
The letterpress look can be easily simulated in Photoshop. Perhaps that defeats the purpose behind the rebirth of this technique, but it sure looks good!
To get started, create a new document in Photoshop and give your canvas a soft, natural color, resembling the types of papers and cardstock often used for letterpress. Scan in some textured papers or use subtle settings of the Texturizer filter (Filter > Texture > Texturizer) to enhance this effect.
Now add type and/or very simple, organic shapes to the canvas. Retro fonts work great, as do a lot of the shapes found in the Custom Shape tool options. Pick a color that reflects the letterpress aesthetic: friendly, fun, but a tad desaturated to keep that organic look. Rasterize the text and apply the same texture as your paper to the text and image.

Start out by simulating the look of natural paper on your canvas, text, and image.
With your text and image in place, you're ready to "press" them into the "paper." This is done in your trusty Layer Styles dialog with the Inner Shadow style (Layer > Layer Style > Inner Shadow). Letterpress art is visibly indented in the paper, giving it hard edges but extremely subtle shadow.

The shadow should only subtly hint at indentation in the paper.
I made the shadow color just a bit darker than my original color, rather than default black. I reduced its opacity and gave it a very small distance and size. This gave me the edges and subtle look I need.
As a final touch, you can apply a bit of toning to the text and image that simulates a bit of light shining into the pressed area. A quick pass with a large, feathered Dodge tool will do the trick. Then just optimize your file (with a high-quality setting so as not to lose the "paper" details) and you're all set to upload it and give your site design that lovely letterpress look.
—
From the NoD Sponsor:
Sessions Online Schools of Art and Design is an accredited online graphic and web design school offering:
– Web design classes and web design Certificate Programs taught by renowned design instructors.
No items found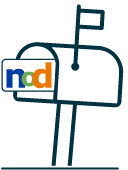 NoD Newsletter
Enhance your inbox with our monthly newsletter.