Marketing Mentor Tip #10: Stop Wasting Your Time Writing Proposals for Jobs You'll Never Get
No items found
| October 3, 2007
Last Friday, I was speaking with a Marketing Mentor client about two proposals she was about to spend the weekend writing.
She was very excited about these new projects, but when I asked her what the budgets were, she said she didn't know. It wasn't that she had neglected to ask that all important question. In fact, she had, but the prospect wasn't forthcoming with that information. My client didn't want to push at the time, perhaps because she didn't wish to annoy or anger this potential customer.
To her, each job was worth at least $20,000, but in reality, she didn't know if her prospect would be able to afford that. To me, preparing the proposals without first learning this essential information sounded like a potentially colossal waste of her time, not to mention her weekend.
So I suggested she get on the phone before putting pen to paper, and I told her to ask the question that even a client who refuses to give you a budget can't evade: "Are you thinking $500, $5000, or $25,000?"
Could that work for you? Would your clients answer that simple question?
No items found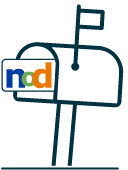 NoD Newsletter
Enhance your inbox with our monthly newsletter.